We Didn't Need Any Money To Buy Our House — Here's Every Step of Our 6-Month Journey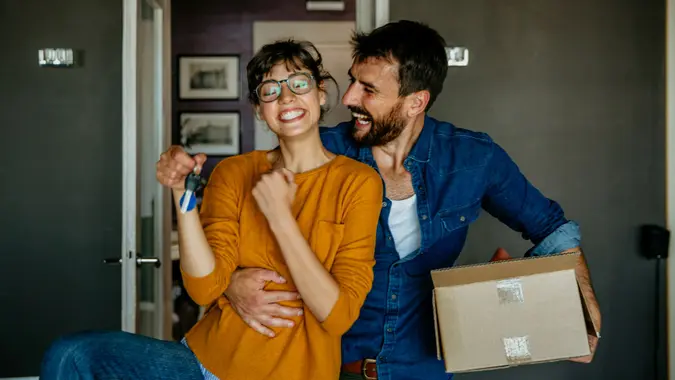 Studio4 / Getty Images
In a recent study from GOBankingRates, more than 41% of respondents said they "agree" or "strongly agree" that a mortgage is the best solution when buying a home. But if you are graduating college saddled with student loan debt, obtaining a mortgage might seem like an impossible dream.
Doug Crouse, who co-authored "Hippocratic House: Do No Harm When Purchasing Your First Physician Home" with wife Tammy, a physician, noted that doctors in particular often wind up in this situation. If the mortgage company looks at student loan debt as part of the overall debt-to-income ratio, physicians and other professionals often won't qualify for a mortgage.
However, these individuals are at an advantage due to future projected income. Banks have specific programs tailored to helping them afford a home. "The default rate on doctor loans is near zero," Crouse, who is a physicians loan specialist at BMO Harris, said. "When a certain profession is employable, like doctors are, they are always going to be able to pay their bills. Even in a downturn, the doctors, historically, still paid their mortgages."
One Redditor, Almondtini, in the r/FirstTimeHomebuyer sub-thread, credited Crouse's book with enabling them and their partner to secure a sub-$350,000 mortgage in Columbus, Ohio, with no money down, no closing costs, and no private mortgage insurance (PMI) required. Almondtini and their partner had $230,000 in debt before the mortgage, with $200,000 of that from student loans. "We had decent reserves but we didn't want to put any money into the transaction," Almondtini wrote.
Crouse agreed with the concept of doctors and other professionals leaving their cash reserves where they are, especially if they can secure a loan with a low interest rate and no PMI. "A no-money-down mortgage can help them get into the house a little quicker," he said, explaining that a doctor may not have the full down payment immediately but their cash reserves will grow quickly once they finish their residency and their salary grows exponentially.
Steps To Buy a House With No Money Down
In the post "How we bought a house with no money," Almondtini detailed how they closed the deal on a six-month timeline, beginning in December 2022. The first step was to read Crouse's book and follow "The Financial Residency Podcast" — specifically, episodes titled "The Mortgage Minute."
From there, the couple found a Realtor they trusted who also helped them choose a lender. Putting together a team of people you can trust is a key during any home purchase, but especially crucial when you're applying for an unconventional mortgage. "We also asked our Realtor who she recommended, she left the decision up to us but encouraged us to go to a local lender since big lenders have a reputation for hidden fees and delayed closings," Almondtini said.
The prospective homebuyers interviewed eight different lenders, using Crouse's criteria of finding someone with a competitive interest rate, no fees and good customer service. "All three are equally important," Crouse told GOBankingRates in an exclusive phone interview. "One lender with a lower rate may not be the best if they charge high fees. And it doesn't matter what rate you're getting if someone can't get the deal closed for you."
As they were interviewing lenders, the couple explored various neighborhoods to consider and combed Zillow and Redfin for listings. "I paid close attention to list price v. sold price so that when the right house came up we were confident making an offer," Almondtini wrote.
By February, the couple had applied for pre-approval with their three top lenders. By March, they were actively looking for a home in their chosen neighborhood. That month, they chose a house and went under contract following a thorough inspection. "The only expense we had throughout this process was paying for the inspection," Almondtini wrote.
As they waited for closing through the spring, the couple took the opportunity to ask questions about the area and about specifics of the home. The couple may have closed sooner than May but the title company — the only professional in the transaction not hand-selected by Almondtini — had delays.
Can Anyone Buy a House With No Money Down?
Understanding that doctors are very low credit risks, you might wonder if you could secure a mortgage with no down-payment requirement without a medical degree and fairly solid guarantee of future high income.
While these type of programs are typically reserved for high-income professionals, including medical professionals, veterinarians and lawyers, some programs are available for lower-wage earners to qualify for a mortgage with little or no money down.
"VA loans don't require any money down and neither do USDA loans, though the latter have to be in a rural area determined by USDA to qualify," Kevin Watson, senior home loan strategist for Churchill Mortgage, noted in an email interview. "There are other great programs for down payment assistance, most of which are based on maximum income qualifiers, which do not allow borrowers who earn over certain incomes to utilize those programs."
Likewise, if you have a down payment but are looking for an affordable home, you may qualify for the HUD's Good Neighbor Next Door sales program. The program offers law enforcement officers, pre-K-12 teachers, firefighters and emergency medical technicians access to homes in revitalization areas at 50% off the list price. The professional must commit to living in the home as a primary residence for 36 months. "This is great because it gives people an opportunity to buy a house at a deep discount before real estate investors have an opportunity to bid on them," said Danny Johnson of Danny Buys Houses in San Antonio, Texas.
HUD's FHA loan program has fewer restrictions than the Good Neighbor program and helps buyers purchase with as little as 3.5% down.
Whatever your income level or profession, finding a knowledgeable team to help you through the home-buying process is the key to securing a mortgage that works for you and your budget. Johson explained: "You will want a great Realtor, lender, inspector, insurance provider, contractor and possibly a real estate attorney."
He recommended starting your search by looking for a good Realtor. He suggested searching on Realtor.com for houses for sale in your market and finding the agent who "dominates the area." "That's who you want," Johnson said. "I've found that after locating one of these professionals, they will help you build the rest of the team by way of recommendations."
Redditor Almondtini would agree about the importance of a good Realtor to guide your home-buying journey. In the thread, Almondtini credited their Realtor for "negotiating so hard on our behalf" and the lender for being available on a Sunday to help them submit the contract on the home of their dreams immediately.
More From GOBankingRates