Buy Now or Wait a Year: What the Current Mortgage Trends Mean for Homebuyers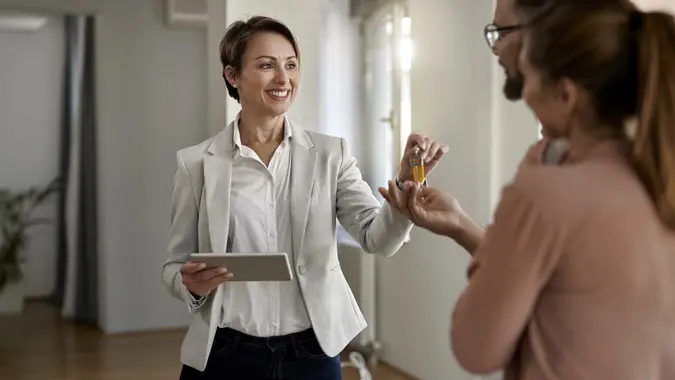 Drazen Zigic / iStock.com
Homebuying has been nothing short of a frenzy over the past two years, for a multitude of reasons. If you've been thinking of buying a home but haven't yet pulled the trigger, you're now facing a conundrum as both home prices and interest rates have spiked higher. This combination of forces has made homes unaffordable for many would-be purchasers, especially first-timers. The obvious question buyers face now is whether it's too late to jump into the housing market or if things will only get more out of control over the coming year? Here's some information to help you make that choice.
Be Prepared: 10 Hidden Costs of Buying a House
Helpful: 10 Important Questions To Ask Before Buying a House
What Are Current Mortgage Trends?
In early 2021, 30-year mortgage rates bottomed out at about 2.65%, depending on the lender. Since then, rates have trended higher, accelerating in early 2022. In mid-March alone, rates spiked up to 4.72%. Interest rates have risen in response to a number of factors, including uncertainty over the war in Ukraine, sharply rising inflation and the Federal Reserve promising to raise rates aggressively in 2022. 
How Have Home Prices Performed?
Home prices have risen dramatically over the past two years, and indeed have been rising over the past decade, with the median sales price in February 2022 doubling that of February 2012. In February 2022 alone, prices rose 15% on a year-over-year basis, just the latest in a string of significant year-over-year price jumps. Prices have been moderating somewhat, but the gains remain impressive. 
Good To Know: Buying Property in These Western Destinations Could Be a Great Investment
What Do Rising Rates Traditionally Mean for Home Prices?
Traditionally, rising mortgage rates slow both the rate of home purchases and the rise in prices. Thus far in 2022, rising rates have moderated sales numbers but they have yet to curtail rising home values. If rates continue to rocket higher, it can eventually be expected to have an effect on home prices. But no one knows exactly when that equilibrium point will be breached, even the experts. 
Trends That May Shift Historical Patterns
The year 2022 has seen a wild crosswind of an overheating economy, geopolitical upheaval, and various demographic and socioeconomic factors affecting the housing market. Here are just a few that may alter the historic trends when it comes to home buying patterns.
Persistent Stay-at-Home Workforce
The stay-at-home workforce that began in 2020 has yet to fully return to normal, and it may never happen. Many companies have realized that their workers can be just as efficient, if not even more so, when working from home, and it typically saves businesses money as well. Some workers have grown accustomed to more time at home and with family and simply don't want to return to their offices. All of these factors contribute to more remote workers buying permanent homes and fewer owners looking to sell.
Historically Low Interest Rates
Mortgage rates have spiked dramatically just over the past few months, and they are rapidly approaching 5%. However, even if they were to crest 5%, they are still far below long-term averages, which are closer to 8%, according to Freddie Mac records going back to 1971. Although rates of 5% no doubt crimp affordability for new buyers, and prices may no longer jump by 20% per year, on a historic level, mortgage rates remain low and attractive for homebuyers.
Greatly Reduced Supply
The housing supply is at its lowest since the 1970s, and analysts around the country agree that this imbalance won't be resolved overnight. Goldman Sachs said the housing shortage could last for years, based on a number of factors ranging from millennial homebuying to fewer housing starts.
So, Should You Buy Now or Wait a Year?
It's true that home prices have gone nearly parabolic over the past two years, and at some point, that has to end. But the problem for would-be homebuyers is that most of the reasons that prices have gone up so much still remain intact. According to experts at Norada Real Estate Investments and others, there is still a multiyear undersupply of housing, and sellers still have the problem of finding another home if they do cash out. The demographic trend of millennials buying homes should remain in force for at least a few more years, and the temporary work-from-home situation caused by the coronavirus pandemic is looking more and more permanent. Add in the fact that even in the mid-4s, mortgage rates are still relatively low historically and you've got a perfect storm for continuing demand in the housing sector.
Waiting a year could create another problem as well. Although home prices may stabilize, and perhaps even tick down a bit, rising rates make taking out a mortgage more expensive, perhaps negating any home price declines. Meanwhile, rents are also on the rise, meaning staying put could be more expensive than buying. Add it all together and it seems as if waiting a year to buy your home could be riskier than purchasing now.
More From GOBankingRates