What Is Earnest Money in a Real Estate Transaction?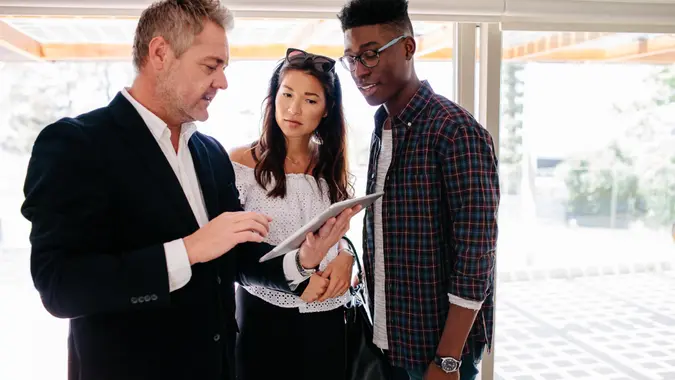 jacoblund / Getty Images/iStockphoto
Earnest Money is similar to good faith deposit made by a home buyer as a sign of commitment; however, there are some noted differences. The buyer deposits a certain percentage of their offer within two to three days. The buyer's willingness to put money on the line proves their seriousness to buy the home. In return, the seller removes the house from the market and gives the buyer time to complete other processes associated with the purchase.
After payment, there are different ways to handle earnest money. You can also lose it if you default or go against the agreement. That's why you should be keen to read and understand every detail of the contract before signing it. Otherwise, it's pretty easy to lose your earnest money deposit.
How Earnest Money Works
After negotiating and making your offer, you give earnest money to show seriousness about the purchase. You sign an agreement with the seller which states the time you need to complete the other processes associated with purchasing the home. During this period, the seller delists the home from the market. As the buyer, this is the time to seek funding or carry out inspections and appraisals.
Earnest money isn't a fixed amount — your agent will negotiate with the seller to determine the size of your deposit, usually between 1% and 5% of the home value. The percentage may vary in more competitive markets.
As a buyer, you can also offer a higher amount to show your seriousness. The money goes to an escrow account until the purchase is complete. Depending on the sale agreement, the funds can act as a deposit or cater to closing costs.
Is Earnest Money Refundable?
Earnest money refund isn't automatic. If the deal falls through, the contingencies agreed upon before making the deposit determine whether or not you get your money back. Bearing that in mind, make sure to include contingencies to secure your money. These include:
5 Types of Contingencies

Appraisal contingency: This contingency protects your money if the appraisal falls below your offer. If your mortgage approval depends on appraisal then a low appraisal may put your plans in jeopardy.
A home inspection contingency: This secures your funds in case inspection uncovers severe defects. Sometimes the inspection can unearth problems that are too expensive to fix. Make sure to include an inspection contingency so that you'll be free to walk away with your deposit intact.
Financial contingency: Sometimes you may not be able to secure financing. Financial contingency covers you if you don't get enough funds.
Contingent on selling your current home: Many people plan to finance a new home by selling their existing one. Unfortunately, the home may fail to sell or it may sell for less than you anticipated. If you're planning on selling your home in order to purchase a new one, be sure to include this contingency in your deposit agreement.
When Can You Lose Your Earnest Deposit?
If you break the terms and conditions of the agreement, you can lose your earnest money. For example, if you decide to walk away from the deal for any reason outside the contingencies, you won't get the deposit.
Sometimes you can find a better house and decide to quit an existing agreement. Other sellers can also offer you better deals to persuade you. If you take the bait, then chances are your earnest funds are gone.
Missing deadlines can also lead to the loss of your earnest deposit. Make sure you are well versed with any timeframes within the agreement before signing.
How To Protect Your Earnest Deposit
To protect your earnest deposit, you may want to do several things:
3 Tips To Follow

Make sure to include all contingencies in the agreement before signing. Without them, nothing abiding secures your deposit. So, brainstorm with your real estate agent before signing to ensure you cover everything.
Do not give your earnest money directly to the seller. The handling of the deposit is very critical. The funds should be held by a trusted third party such as an escrow company, real estate brokerage or a legal firm. Be sure to verify all transactions and keep any receipts.
Read and understand the agreement before signing. Most people lose their deposits because they failed to understand specific clauses. For instance, if the contract states that you should carry out a home inspection within a stipulated time, and it elapses without you carrying out that inspection, you risk losing your deposit.
Takeaway

Earnest money can come as an unplanned burden, but it's an invaluable asset in the end. As long as you understand the agreement and plan well, this money is still yours. Plus, you can use it to offset the closing costs or use it as a top-up for the house.
GOBankingRates' Homebuying Guides
Our in-house research team and on-site financial experts work together to create content that's accurate, impartial, and up to date. We fact-check every single statistic, quote and fact using trusted primary resources to make sure the information we provide is correct. You can learn more about GOBankingRates' processes and standards in our editorial policy.