What Is a Home Warranty and Do You Need One?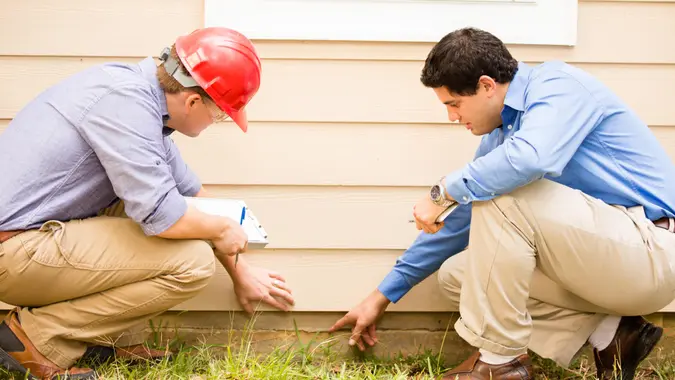 fstop123 / iStock.com
Being a new homeowner is one of the most fulfilling things in life. But, imagine weeks after moving into your home, the refrigerator or the air conditioning stops working. Even worse, it's pretty expensive to fix or replace.
Buying and maintaining a home can be extremely stressful, and looking for ways to lower the risk of tapping into your savings is understandable. Along with homeowners insurance, you've probably heard of a home warranty.
If you're considering getting a home warranty, it's important to know the positives and negatives of one and whether it's worth it. Here's an overview of what a home warranty is, how much it costs, what it covers and whether you should get one.
What Is a Home Warranty?
A home warranty is a service contract that covers the cost of repairs or replacement of major appliances and home systems that break down over time. The contract is between the homeowner and the warranty company.
Unlike homeowners insurance that covers major perils like fires, water damage or theft, a home warranty essentially covers the major appliances used daily in your home.
If any of your covered appliances break down due to wear and tear, the warranty company will repair or replace them for a discounted cost or at no cost at all. Contract terms and coverage vary based on the home warranty company you choose. It's, therefore, crucial to read the warranty contract closely to ensure that you understand what's covered, your limits and what's excluded.
Home warranty costs vary based on the warranty company and several other factors, such as the plan you choose and your home's location and property type — condo, townhouse, duplex or single detached. Generally, the more items you want to be covered in your home warranty, the pricier it will be.
How Much Does a Home Warranty Cost?
In addition to the annual premium, the warranty company will charge you a service fee. This is the fee you'll pay each time you request a service provider to come to your house. The fee can be anywhere between $75 and $125.
It's important to note that having a home warranty doesn't mean you'll never spend a penny on home repairs. The warranty won't cover some items, either because you didn't choose to include them in the contract or the warranty company doesn't offer coverage for them at all. Also, if the cost of repairs exceeds the contract limit, you'll need to cover the excess.
What Does a Home Warranty Cover?
A home warranty covers the cost of repairs and replacements of your home appliances and systems. The items covered vary by the warranty company, but the most common ones include:
Refrigerator
Dishwasher
Water heater
Heating and air conditioning
Plumbing
Electrical
Washer and dryer
Stove
Not every home warranty will cover all of the above repairs. Other items like swimming pools and garage door openers can often be added onto the contract at an extra cost.
Benefits of a Home Warranty
Here are some of the advantages of investing in a home warranty:
Peace of Mind
When you have a home warranty, you don't have to worry if any of your covered appliances or systems break down due to normal wear and tear. This is specifically useful to first-time homebuyers who don't want to tap into their savings to pay for repairs.
Convenience
With a home warranty, you don't have to waste time sifting through repair companies or collecting contractor quotes. You only need to call the warranty company and they'll send a professional right to your doorstep.
Protection From Unplanned Expenses
You don't have to tap into your emergency fund when any of your appliances or systems need a repair. A home warranty covers the repairs and replacements included in the contract.
Affordability
A home warranty will cost you around $25 to $75 per month, which is pretty affordable compared to paying for repairs yourself. Keep in mind the additional service fee of $75 to $125 each time you get something repaired.
Things To Consider Before Purchasing a Home Warranty
Before buying a plan, ensure that you read the fine print of the warranty contract to understand what it covers, what it doesn't and if there are any limits. Here are a few things you want to consider:
Premium Costs
Usually, a home warranty premium is paid annually. The downside to an annual premium is that if you never need a repair, you might feel you've wasted money paying for the coverage. Whether you need a repair or not, warranty coverage can still offer the peace of mind you want.
Coverage Limits per Repair
Just because an item is in your warranty contract doesn't mean the item is covered entirely. There's always a limit to how much the home warranty will cover for each repair, and if it exceeds the coverage limit, that extra cost is on you.
Not Everything Is Covered
A home warranty will not cover everything in your home. If an item that's not included in the warranty contract breaks down, you'll repair or replace it at your own cost.
Should You Get a Home Warranty?
The question of whether you should get a home warranty or not depends entirely on a personal situation 一 your income, how old your home is, the number of appliances you want covered and much more. At the end of the day, it's your home that you're protecting, so it's up to you to make the best decision.
Takeaway

A home warranty can be a great investment considering the many benefits it offers. From giving you peace of mind and protecting you from unexpected expenses to simply offering convenience, you can't really go wrong with it, especially if you're a first-time homebuyer.
If you decide to buy a home warranty, be sure to review the contract closely, especially the standard coverage, optional coverage and limitations. Also, be sure to understand upgraded options, which may not be necessary unless you need a specific item in the contract. If the idea of getting a home warranty in exchange for peace of mind and other perks doesn't sound appealing, building an emergency fund for unplanned expenses is a great alternative.
Our in-house research team and on-site financial experts work together to create content that's accurate, impartial, and up to date. We fact-check every single statistic, quote and fact using trusted primary resources to make sure the information we provide is correct. You can learn more about GOBankingRates' processes and standards in our editorial policy.