What's on the Housing Horizon in the Biggest US Cities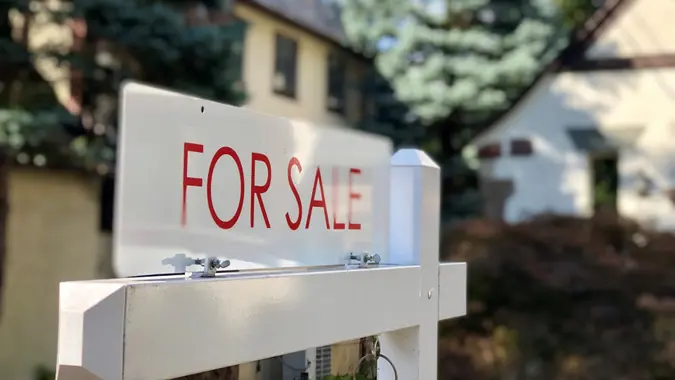 SondraP / Getty Images/iStockphoto
Home prices are expected to continue rising this year, with Realtor.com's 2022 Housing Market Forecast predicting a 2.9% increase in median home prices. However, price increases will be steeper in some cities than in others.
GOBankingRates spoke with Realtor.com chief economist Danielle Hale to get her predictions for the housing market outlook in some of the biggest cities across the U.S.
More Ideas: 8 Insider Tips To Get Rich in Real Estate
Real Estate Investing Gurus: How Women Can Cash In on the Booming Housing Market
Cities Where Home Sales Are Expected To Soar in 2022
The top three markets for sales in 2022 are expected to be Salt Lake City, the Indianapolis metro area and Columbus, Ohio, according to Realtor.com's Top Housing Markets report.
"Each of these markets is expected to see sales growth of more than 13% compared to 2021," Hale said. "Affordability is a big driver of interest in these markets. Indianapolis and Columbus are affordable to buyers from anywhere, with median list prices below $300,000 in each market. With a median list price of $564,100, Salt Lake City is more expensive than the typical U.S. market, but remains affordable compared to pricey California markets."
Salt Lake City, in particular, appeals to buyers who are looking to be able to enjoy the great outdoors.
"We expect to see Salt Lake City benefit from its relative affordability in addition to its attractive outdoor amenities, like skiing, hiking, fishing and mountain biking," Hale said.
Also Read: How To Pick the Smartest Investment Strategy for Your Money
Cities Where Home Prices Are Expected To Boom in 2022
The top four markets for price growth in 2022 are expected to be the Portland, Maine metro area; the Providence, Rhode Island metro area; Salt Lake City; and the Worcester, Massachusetts metro area.
"Each of these markets is expected to see price growth of more than 8% compared to 2021," Hale said. "These areas are expected to benefit from the ongoing shift to more remote locales as workers enjoy enhanced workplace flexibility in 2022. Portland, Providence and Worcester, in particular, are poised to benefit from workers looking to move outside of the pricey Boston and New York City housing markets."
Cities Where Home Sale Are Expected To Decline in 2022
After a huge boom in home sales around the country in 2021, some metro areas will now be on the downswing this year.
"We are expecting home sales to decline in 16 of the largest 100 markets in the country, but the declines are expected to be small," Hale said.
The cities with the largest anticipated declines are the Fort Myers, Florida metro area; the San Francisco metro area; Bakersfield, California; and the San Jose, California metro area. Realtor.com predicts that home sales will slip by 4% or more in each of these areas.
"High home prices and rising costs are expected to dampen demand in these areas slightly, but even after sales slip, 2022 is expected to be the second-best year for home sales in these markets since 2006," Hale said.
See: 20 Most Affordable Places To Live That Have Great Weather, Too
Cities Where Home Prices Are Expected To Decline in 2022
Unfortunately for buyers, Hale doesn't believe there will be a break in home prices in any of the major U.S. cities this year.
"None of the 100 largest markets covered in our forecast are expected to see home price declines in 2022," Hale said.
Which Cities Are the Best for Prospective Buyers in 2022?
"For buyers who want to buy in markets that are expected to see the most real estate activity over the next year, the Mountain West is a good place to look," Hale said. "Our Top Housing Markets — based on combined expected sales and price growth — are Salt Lake City; Boise, Idaho; and Spokane, Washington."
However, these might not be the best places for first-time homebuyers.
"For younger buyers who aren't ready to grapple with fast-rising prices and sales, look to markets that are desirable and expected to see growth in 2022, but that also offer a bit more availability of homes for sale and relatively more affordable prices," Hale said.
Realtor.com's Best Markets for First-Time Homebuyers in 2022 identified Magna, Utah; Chalco, Nebraska; and Mauldin, South Carolina as the top choices for new buyers this year.
More From GOBankingRates