The State of Women & Real Estate in 2023: Why Are They Lagging Behind Men When It Comes To Homeownership?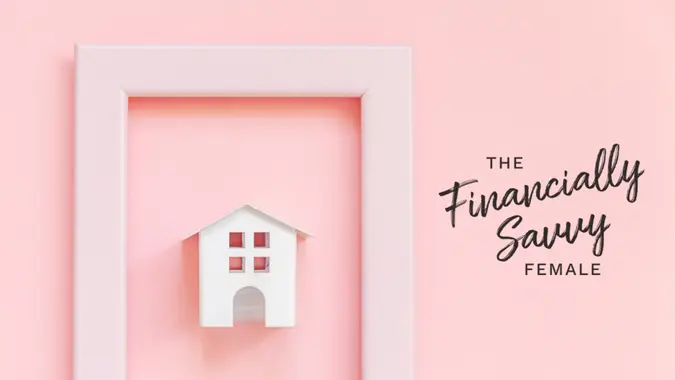 Buying a home is a major personal and financial milestone — and it's one that men are more likely to reach than women. A new GOBankingRates survey shed light on the inequities in homeownership between the sexes, and it found that not only are men more likely to be current homeowners, but they are also more likely to own more expensive homes than women.
In this "Financially Savvy Female" column, we're taking a closer at the state of women and real estate in 2023, and the reasons why women are currently lagging behind men.
One-Third of Women Do Not Own a Home
The GOBankingRates survey found that 33% of women do not own a home versus 21% of men. This could be due to their financial circumstances, but also due to financial biases.
"Women still earn less than men, on average, which makes it more difficult for them to save for a down payment," said Derek DiManno, founding financial advisor at Flagship Asset Services. "They are also historically more likely to be denied a mortgage than men, even when they have similar financial qualifications."
Women Are Slightly More Likely To Never Own a Home
While some women are working toward the goal of homeownership, some say they will never own one. And women are slightly more likely than men to never own a home — 7% because they can't afford one and 10% because they don't want one, versus 6% of men who can't afford one and 8% who don't want one.
For the 10% who don't want one, Dr. Lee Davenport, a real estate coach at Real Estate Bees, said this may be due to antiquated beliefs single women have about homeownership.
"'I didn't know I could buy a house without a man.' 'I want to wait until I get married to buy a home.' 'I'm afraid to intimidate any potential suitors.' 'If you buy a house before you get married, you will likely die alone, surrounded by cats.' 'I can't afford my dream home alone.' Those are all direct quotes shared since 2020," she said.
"In short, there are a myriad of reasons why women buy fewer and smaller homes than men, including the gender wage gap. But I will focus on a sentiment that is 50 years past its prime that has yet to die: 'It is not proper for women to buy homes alone.'"
Davenport notes that even though some women are financially able to buy homes, they may choose not to because they don't see it as being socially acceptable.
"The stigma and corresponding tropes and myths are slow to die," she said.
Women Are More Likely To Own Less Valuable Homes
Of those who do own a home, women are more likely to own a less expensive home — 47% of women spent $200,000 or less on their homes versus 30% of men. Women were also more likely than men to have spent between $200,000 and $300,000 on their homes, with 20% and 18%, respectively, buying homes in this price range.
In addition, women are significantly less likely to own seven-figure homes: 10% of men bought homes that cost over $1 million versus just over 2% of women.
There are several reasons behind these disparities.
"Women are more likely to be single parents. Single parents often have less disposable income than married couples, which can make it more difficult for them to afford a more expensive home," DiManno said.
The other factor is that they may not be able to afford the same homes as men due to the gender pay gap.
"Women are more likely to be employed in lower-paying occupations, such as teaching and nursing," DiManno said. "These occupations often pay less than occupations that are traditionally seen as 'men's work,' such as engineering and finance."
More From GOBankingRates
Methodology: GOBankingRates surveyed 1,004 Americans ages 18 and older from across the country between May 26 and June 5, 2023, asking 19 different questions: (1) When do you expect to buy your next house?; (2) How much do you plan to spend on your next house?; (3) How much did you spend on your current house?; (4) How much (as a percentage of the home cost) did you put as a down payment?; (5) How much is your monthly mortgage payment?; (6) What is the most you are willing to spend on a monthly mortgage payment in your current financial situation?; (7) How long did it take to save for your down payment?; (8) When you bought your house, did you pay more than you originally planned/budgeted for?; (9) How much do you spend on yearly maintenance for your house?; (10) When buying your current house, which costs were more expensive than you expected? (Select all that apply.); (11) How much do you have saved in an emergency fund for house repairs/maintenance?; (12) What is holding you back from buying a house? (Select all that apply.); (13) How much did you spend on home renovations in the last year?; (14) Do you expect a housing market crash to happen in the next two years?; (15) Do you think that homebuying will become easier or harder over the next 10 years?; (16) Are you currently using real estate/buying properties as a way to build wealth?; (17) How much did you spend on your vacation home?; (18) Where would you most want a vacation home?; and (19) Which of these fast-growing big cities would you consider relocating to? GOBankingRates used PureSpectrum's survey platform to conduct the poll.