Housing Market 2023: Why Middle-Income Buyers Can't Afford Homes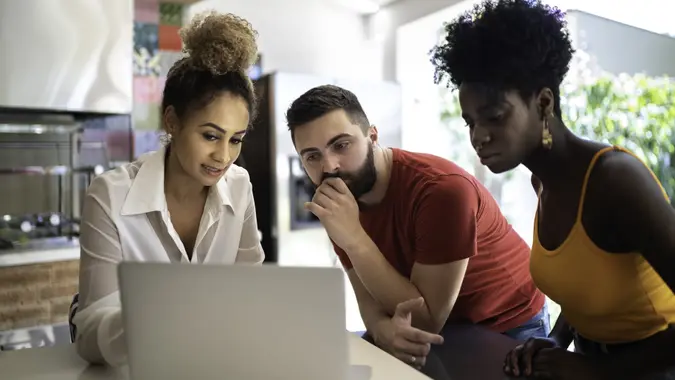 FG Trade / iStock.com
The housing market in 2023 has so far presented significant challenges for buyers of all kinds. Although prices have begun to slowly decrease in some areas, they still aren't far off the historical highs reached in March of this year, after an astonishing 131-month streak of increases. Inventory is also low, around 46% less than the historical average going back to 1999.
According to a recent report from the National Association of Realtors, it's low- and middle-income buyers — those with household earnings of $75,000 or less — that are being hit the hardest. Five years ago, middle-class households earning around that $75,000 mark were able to afford about half of all available homes. Today that number has declined to 23% of listings.
Here are some of the contributing factors that have made the housing market hostile to middle-class Americans.
Wage Growth Hasn't Kept Up With Inflation
Everyone has felt the impact of inflation on their daily lives over the last few years. However, wages have not been increasing at nearly the same pace, creating a major loss of purchasing power for those households that don't have high incomes.
"The Case-Shiller U.S. National Home Price Index, as of Q1 2023, shows an annual appreciation of 7.9%, while wage growth has hovered around 3.2%, according to the Bureau of Labor Statistics. This imbalance creates an insurmountable affordability gap for many," said Dutch Mendenhall, founder of RAD Diversified REIT.
Mortgage Interest Rates Are Higher
The Federal Reserve began increasing interest rates as a means of combating runaway inflation. These increases impact financial markets in a number of ways, one of which is higher rates on mortgages. With higher rates come higher monthly payments, making houses less affordable, and there's really no way around that unless you can make a larger down payment — something that is difficult for most middle-income buyers.
But higher rates have consequences beyond just making homes less affordable. They also tend to reduce the available supply of homes for sale.
"The result is fewer people want to sell as they fear they would not be able to afford the same or better-level home for their next purchase, which has prevented many potential sellers from putting their homes on the market," Mendenhall continued.
Competition With Investors
Institutional investors — large corporations with deep pocketbooks — also play a significant role in affecting middle-income buyers. These organizations have always purchased homes that might otherwise have been sold to individual buyers, but their share of purchases surged during the pandemic. According to a report from the Department of Housing and Urban Development, investors purchased 28% of all single-family homes sold in the first quarter of 2022, compared to 19% the year prior.
Institutional investors have several advantages that often allow them to beat out individual buyers of houses. Because of their significant financial resources, they are often able to make all-cash offers on a house. They will also often waive typical steps in the buying process, like home inspections, to "fast-track" their purchase. These practices are either too risky or simply impossible for middle-income buyers.
High Debt-to-Income Ratios
Another factor that puts middle-income buyers at a disadvantage is something called the debt-to-income ratio. "A debt-to-income ratio (DTI) is calculated by dividing monthly debt payments by someone's gross monthly income. Most lenders use this number to measure someone's ability to repay the money they plan to borrow, whether for a home, car or other type of loan," said Adena Hefets, co-founder and CEO of Divvy Homes.
"For lenders, a lower DTI ratio makes a borrower more attractive and less risky, as the borrower is more likely to have enough income to cover any existing and new debt payments," continued Hefets. "[T]he common advice has typically been that your DTI ratio should be no more than 36% – this indicates that you have a healthy amount of income each month to cover your debt payments in addition to contributing to other expenses and savings."
Middle-income buyers are, obviously, disproportionately affected by the DTI compared to higher-income buyers. In addition, many carry credit card and student loan debt, tilting their debt-to-income ratio further in the wrong direction.
Local Markets Matter
While the headwinds affecting middle-income home buyers are a nationwide problem, it's worse in some areas than others. Out of the hundred largest metro areas, El Paso, Texas, Boise, Idaho, and Spokane, Washington have the least number of homes available that are affordable to middle-income households.
On the other hand, Ohio has among the most availability, with Youngstown, Akron and Toledo topping the list for available homes. Other notables include Pittsburgh, Pennsylvania, and Syracuse in upstate New York. Talk to a local real estate agent to get an idea about your city's real estate climate.
More From GOBankingRates