Why Now Is the Time To Buy a Tiny House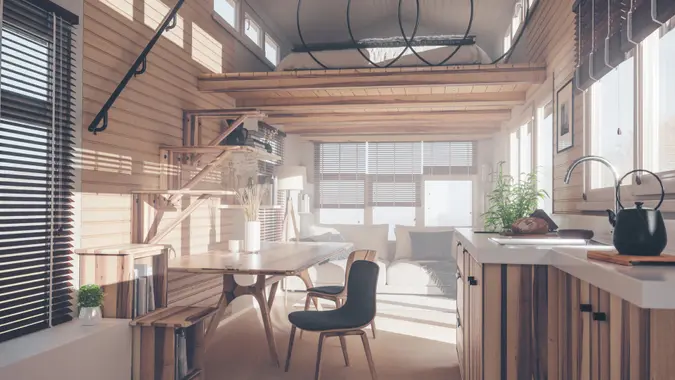 ©iStock.com
You've been thinking about purchasing a tiny home for a while now, and you're finally ready to make it happen. Whether the home is for you or a family member to live in or a way to collect rental income, there are plenty of benefits associated with owning this type of property.
Read: 40 Cities That Could Be Poised For a Housing Crisis
And if you're looking, it's lucky for you that now is a great time to buy a tiny house for several reasons, said Lindsay Wood, a real estate investor and affordable housing developer based in Southern California. For starters, she said affordable housing was already an issue in many areas across the U.S. before COVID-19, and it has only gotten worse.
"The pandemic has caused renters to be evicted, and there is a need for smaller, more affordable housing," said Wood, who is also a tiny home consultant known as "The Tiny Home Lady."
Wood said millennials want to buy their first homes, but sky-high prices are a barrier. And not just for the younger generation. Baby boomers are looking to get rid of their mortgage, retire and have less home to manage — or want the option to live near family.
See: 25 Things To Sell When You're Ready To Retire
Additionally, Wood said natural disasters have lowered the number of available homes in the U.S.
Of course, a tiny house isn't for everyone, so Wood said the decision to purchase one comes down to a few factors. This includes your budget, financial benefits — i.e., lowering rent or mortgage payments — and the portability of the property, in the case of a tiny home on wheels.
Beyond living in a tiny home yourself, Wood said she believes it would also make for good rental income. She said a tiny home on wheels is not permitted in all areas of the U.S., but many do allow a tiny home on a foundation — legally known as an accessory dwelling unit.
Discover: 40 Legit Companies That Will Pay You To Work From Home
"The ADU is giving a revival of a multigenerational family living on one property," she said. "It is also giving homeowners the option to reduce mortgage by having rental income in their own backyard."
Wood said the return on investment varies according to the sale price, but her team is seeing an average payback cost of four to seven years for a tiny home with the rental income it can command. Therefore, she said this is one of the best investments a property owner can make because the home is on their land.
"Our buying strategy is to find a single-family home on a lot that can easily fit a 400- to 700-square-foot tiny home," she said. "Then, when we put that house back on the market, we'll attract buyers who want the property to bring family members closer or use the tiny home as rental income."
More: 50 Cities With the Most Overpriced Homes
Sherry Chen, a real estate agent in San Diego who specializes in ADUs, said the demand for tiny homes and ADUs has surged amid the COVID-19 crisis.
"The housing market has exploded during the pandemic, with millennials making up the largest buying pool today," said Chen, who is known as "The ADU Agent." "These are buyers who are more investment-savvy and looking for rental income potential in the first property they buy."
She said there's also a growing trend in intergenerational living, where parents are helping their children with the down payment so the entire family can reside on the same property.
Read: How Each Generation Has Been Affected Financially By the Pandemic
"Being able to add another dwelling to a single-family home creates the perfect co-living solution," Chen said.
She reiterated Wood's response that the affordability of tiny houses is also making homeownership possible for more people.
"As home prices have increased, tiny homes in particular have become increasingly popular amongst those who want to own their own home, but can do so at the fraction of the cost of an average single-family home," she said.
Before making a purchase, Wood urged potential buyers to do the extra legwork to make sure their tiny home is legit. For example, she said to steer clear of a tiny home on wheels that isn't certified.
See: In Less Than a Decade, You Won't Be Able To Afford a Home in These Cities
She also warned buyers who want to purchase land to build a tiny home on to check with their local jurisdiction to make sure doing so is legal. Additionally, she said anyone who purchases a tiny home in hopes of turning it into a short-term rental should also make sure this is permitted in their local area.
So there you have it — as long as you do the research and truly want to invest in a tiny home, now is a great time to make your move.
More From GOBankingRates
Last updated: April 14, 2021