Why Renting Is Not a Bad Financial Option in 2021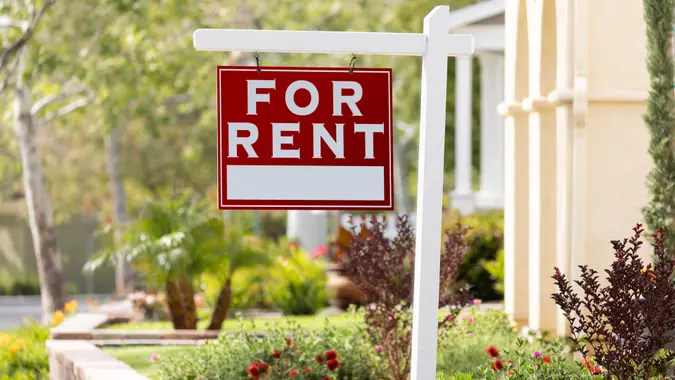 Feverpitched / Getty Images/iStockphoto
The red-hot housing market has been sizzling since pre-vaccine times, and anyone considering buying a home knows perfectly well that low supply and bottomless demand have driven prices to once-in-a-generation highs.
More: The Housing Market Forecast for the Rest of 2021, According To Realtors
Read: 10 US Cities Spending Big Money on New Housing Construction
It's not just buyers. Renters are experiencing much the same thing. There's stiff competition night now for a woefully inadequate number of rental units — and where there are apartments to be found, they come with scary price tags.
Even so, several experts interviewed by GOBankingRates believe that because the housing market remains so tumultuous, prices remain so inflated and buying is such a long-term proposition, it makes sense for most people to continue renting for the remainder of the year.
From Alabama to Wyoming: The Cost of Living Across America
Even in the Best of Times, It Often Makes More Sense To Rent
Forget the pandemic, the lumber shortage, the low interest rates and the flurry of speculators flooding the housing market. Even in normal times, renting is a wiser choice than buying in many cases. 
"From a financial perspective, it makes more sense to rent versus to buy if you don't plan on living in the property for more than five years," said Bill Samuel, a full-time Chicago-area residential real estate developer and founder of Blue Ladder Development. "It also makes a lot more sense to rent instead of buying if you are still working on building up your emergency savings fund."
That last part is critical. Many renters make the mistake of saving only enough for a down payment and then coasting into their new house on financial fumes. They're forgetting that the maintenance costs that are inherent to owning a home were built into their rent payments — but not their mortgage.
"Home repairs are inevitable and some can be very expensive," Samuel said. "So if you don't have a built-up emergency fund, then you can put yourself in a difficult situation."
Eviction Moratorium: How It Could Affect Millions and Where To Seek Additional Aid
And These Are Hardly the Best of Times
From a tiny invasive beetle in Canada's hardwood forests that helped create a lumber shortage, to record-low interest rates that stoked a buying bonanza, all kinds of unforeseeable events have created a market defined by low inventory and sky-high prices.
"A great many people are jumping on the homebuying bandwagon," said Eric Nerhood of Premier Property Buyers. "The bidding wars have been incredible, with homes going for well over the purchase price and with buyers foregoing inspections and appraisals to get the home quicker, only to spend far too much money."
That's a recipe for all kinds of trouble — and you don't have to travel too far back in time to see why.
"If 2008 taught us anything, it's that these kinds of markets are dangerous for buyers, especially those looking for a quick turnaround," said financial analyst Chris Motola of Merchant Maverick. "Sooner or later, the market corrects itself and you're paying much more for the property than it's normally worth, which can burden your finances and your mobility for years to come."
You don't want to be the last person to buy into a housing bubble because you assumed that prices still had nowhere to go but up.
"My advice is, if people are renting, continue to rent," Nerhood said. "These prices will decrease when the market straightens itself out. It always does."
More Advice: Is It Better To Buy or Rent in 2021? Experts Weigh In
Hot Housing Markets Burn Some Buyers — Which Could Be Good for You
The bidding wars, above-list sales and desperation-buying that define today's housing market make one thing clear: A whole lot of people are buying a whole lot more house than they can possibly afford. When the financial realities of those choices set in, many of those eager buyers will suddenly find themselves reluctantly looking to sell for much less than they paid — or the bank will do it for them.
If benefitting from the misfortune of others doesn't sit well with you, congratulations. It appears that you're a good person. But real estate is an industry where good decisions are rarely made on emotion — and as the proverb goes, one man's loss is another man's gain.
"While we do expect the housing market to continue to appreciate over the next year, there may be some one-off opportunities to pick up some foreclosures next year after they make it through the system," Samuel said. "Now that the government eviction/foreclosure moratorium is over, there will be slightly more opportunities to buy homes that you can build sweat equity into."
Helpful: These Are the 50 Best Cities for Renters
Don't Be Fooled: Renting Is No Picnic Right Now, Either
The housing and rental markets are joined at the hip — someone, after all, owns the space that every renter occupies. The ugly truth is that renting is hardly a pain-free alternative to buying right now. According to Business Insider, the hot housing market sent rental prices soaring by 9.2% over the first six months of 2021, compared to 2%-3% in a normal year. It was the biggest price surge in 30 years.
"Outside of some major hub cities that got hit hard by the pandemic, it's not a great time to rent," Motola said. "That said, it's probably an even worse time to buy. 2020-2021 saw a frenetic bidding war in almost every market in the country, with housing prices increasing over 17% on average. The bottom line: Many prospective buyers will probably be better off waiting for more favorable conditions."
More From GOBankingRates
Last updated: Aug. 16, 2021