5 US Tech Stocks That Will Survive the Metal Export Ban From China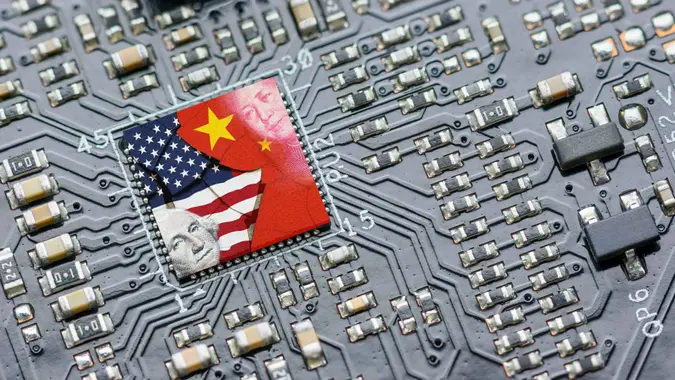 William_Potter / Getty Images/iStockphoto
In response to the U.S. stopping exports into China of certain semiconductor chips used to produce artificial intelligence technology, China recently banned the export of gallium and germanium.
The U.S. relies forms of gallium for a myriad of applications, including electric vehicles and phone chargers, as well as missile defense systems. While these metals are not traded in large quantities, according to The Wall Street Journal, experts told the publication: "This measure will have an immediate ripple effect on the semiconductor industry, especially with regards to high-performance chips."
Meanwhile, germanium is used to improve the speed of silicon as a conductor. The U.S. uses it in the production of fiber optic systems and solar cells.
Both metals are on a list of 50 minerals the U.S. Geological Survey deemed "critical" to the U.S. economy — or its national security — and which have a delicate supply chain, according to WSJ. The U.S. does not produce its own gallium or germanium.
The ban will effect U.S. businesses within many industries, including electronics manufacturers, solar companies, and electric car manufacturers.
However, companies with solid fundamentals and diversified product lines will fare better than others. These stocks may dip, but it's important to remember that these type of trade sanctions have been going on for decades, with the most recent sanctions enacted by former President Donald Trump.
It may be worth considering these stocks now, since they've proven to stand the test of time.
Tesla
So many factors affect Tesla stock prices, from U.S. legislation and incentives for the purchase of EVs to Tesla CEO Elon Musk's behavior on Twitter. Tesla stock is up more than 126% this year as the company focuses on expansion if its charging stations, allowing Ford and General Motors EV owners to charge at Tesla Superchargers.
Rivian
Likewise, Tesla competitor Rivian ramped up deliveries in the second quarter and the stock is climbing. Earlier this week, the EV manufacturer jumped 6.5% in premarket trading, according to CNBC. The company exceeded market expectations with delivery of 12,640 vehicles in the second quarter, a 59% increase from the first quarter.
Micron Technology
The U.S. blocked the export of Micron's memory chips to China, and the company's recent earnings report caused stocks to plummet. However, experts have said that as the GDP rises, Micron and other semiconductor manufacturers see their stocks rise — semiconductor chips that are closely tied to a U.S. economy, at least.
If this is true, now's the time to pile up on Micron stock, or even use dollar-cost averaging to increase your position over time. A bull market could be ahead.
Apple
Apple stock is on a decline right now after making history as the first $3 trillion publicly traded company a few days ago. Regardless of trade sanctions and the general economy, many experts recommend that Apple is a good stock to buy and, in the words of Warren Buffett, "hold forever."
Related: 9 Safe Investments With the Highest Returns
KFVG
In a tumultuous economy where politics and trade sanctions affect some of the largest stocks, a diversified portfolio is key. And ETFs focused on the semiconductor sector provide broad-ranging exposure and lower risk than individual stock investments.
The U.S. trade sanctions are forcing China to become more self-sufficient in semiconductor production, and U.S. investors could win by putting money in a China-focused ETF like Krane Shares' KFVG. The ETF tracks the performance of China's largest 5G and semiconductor companies. KFVG is traded on the U.S. stock exchange.
More From GOBankingRates