Which of These AI FAANG Stocks Should You Buy? Alphabet, Amazon or Microsoft?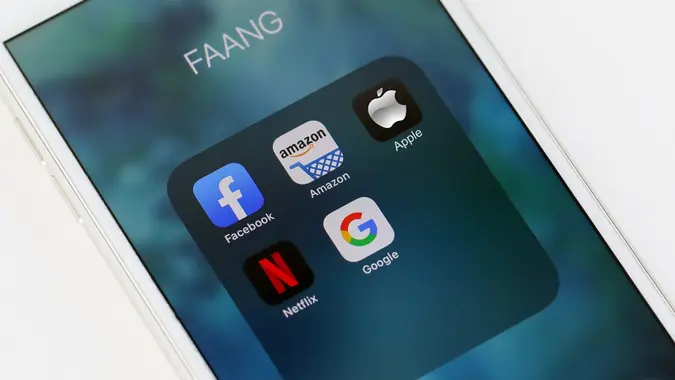 MagioreStock / iStock.com
You can hardly turn on the television or look at a newspaper these days without reading about artificial intelligence. From smartphones to self-driving cars to virtual reality and the metaverse, AI is already changing the world in which we live, and there seems to be much more to come. Clearly, there is big money to be made with AI, but the question is, what is the right choice for individual investors?
Much of the AI discussion has centered around the so-called "FAANG" stocks, otherwise known as Facebook (now Meta), Apple, Amazon, Netflix and Google (now Alphabet). Each of these companies is exposed to AI in various ways, so which one should you buy? Here's your chance to learn more so you can make an informed decision.
Alphabet
If you're a value investor, Alphabet may be the best option of the FAANG big players for your AI money. Compare Alphabet's P/E ratio of 28 to Apple at 30x earnings and Amazon, off the charts at 289x earnings. Considering the tech-focused nature of the entire company, this alone makes Alphabet a value relative to the other two players.
As the largest search engine in the world — by far — Alphabet's main product line is completely AI-focused. As it improves its AI capability, the end result is likely to be happier customers, which drives Alphabet's bottom line. One of the things AI and machine learning are best at is gathering and analyzing data to improve user experiences, and that's particularly helpful for three of its main offerings, namely search, advertising and YouTube.
AI is also enhancing the company's Google Cloud division, providing easy-to-manage machine learning capabilities to its customers and helping protect them from cyber threats.
Alphabet's Upcoming AI Work
Alphabet's most direct plunge into AI in recent months has been the unveiling of its experimental conversational AI service named Bard. The concept behind the technology is to draw from Google's immense search knowledge and large language models to provide "fresh, high-quality responses" to questions, in the words of the company itself.
Essentially, Bard is an Alphabet-created alternative to ChatGPT, which has snagged much of the world's headlines in recent months. Unfortunately for Alphabet, Bard didn't make a great impression when it was first unveiled to the world, offering a wrong answer during a very public demo. The gaffe was so unexpected that investors dragged the stock down by a whopping 8% the very next day.
Nonetheless, it's a near-certainty that developers at the company are working overtime to ensure this never happens again, and Bard may very well end up being the world-changing conversational AI that makes headlines for all the right reasons.
Amazon
Amazon was one of the pioneering companies in the field of artificial intelligence, and it is expanding its reach aggressively. Just think about how Amazon has evolved over the years, from a simple online book seller to the world's biggest e-commerce company, and the second-largest retailer in the whole world.
How many times have you put something in your cart on Amazon.com only to be tempted into buying more, thanks to Amazon's recommendations? Artificial intelligence, including a behind-the-scenes analysis of your spending and browsing patterns, played a big role in making those suggestions. AI also plays a role in the company's chatbots and customer service platforms.
But the company is also a big player in the cloud computing world, powered by its Amazon Web Services division.
Amazon's Upcoming AI Work
Going forward, Amazon is already looking for new ways for AI to transform the company and its customer's experiences. Higher-efficiency order fulfillment and warehouse management has always been the focus at Amazon, but its new Bedrock AI platform is likely to transform the cloud computing side of things at the company.
This so-called "generative AI" platform will help its customers build efficiency-oriented applications ranging from customized search engines to chatbots and image and text generators. The key with Amazon's version of this AI, however, is that it pulls together AI models from numerous prominent third parties, rather than creating an entire new language of its own.
This should give it a leg up over some of its competitors, which offer large language models that both cost a lot more and require more training for customers to learn.
Which AI Company has Amazon, Microsoft and Alphabet Partnered With?

All three of these companies work with C3.ai, an AI application development platform.
Microsoft
For decades, Microsoft was known primarily for its ubiquitous Windows software. Even though Windows remains the most dominant operating system in the world, Microsoft has since made a name for itself with its cloud computing and AI divisions as well. Microsoft's AI platform, dubbed Azure, is the basis for countless applications designed for productivity and creativity.
According to the company itself, its AI platform allows companies to "achieve more at scale, more easily, with the proper enterprise-level privacy, security and responsible AI protections that Azure offers." The company plans to build Azure into a "supercomputer for the world," on the back of the fastest GPUs in the world and its partnership with platforms like OpenAI.
Microsoft's Upcoming AI Work
Like most of its competitors, Microsoft is also developing a generative AI that can compete with programs like ChatGPT. In fact, Microsoft was able to one-up competitor Alphabet after that company's initial failure with its generative AI Bard by publishing a disclaimer about its own service, Bing, stating "Bing is powered by AI, so surprises and mistakes are possible. Make sure to check the facts, and share feedback so we can learn and improve!"
One unique aspect to Microsoft's AI development is its "AI for Good" initiative, which provides funding and technology to help individuals and nonprofits working in the fields of "accessibility, digital literacy and equity, sustainability and climate change, human rights and resilience, health disparities, food insecurity, cybersecurity and others." This initiative offers just a taste of the power of AI to make lasting, positive changes in the world as a whole.
What's the Best Stock for Artificial Intelligence?
Apple, Microsoft and Alphabet are all good buys. No one company has cornered the market on artificial intelligence. In fact, to some degree, Apple, Microsoft and Alphabet are all working on similar advances in the field, and this competition will likely drive bigger and better things out of all of them.
As an investor, it's important to remember that even leading AI companies like these three are immense businesses with a wide variety of products and services, not just AI. In other words, the AI these companies are developing will likely enhance the businesses they already operate.
In that case, you should pick the one that you already favor based on valuation, growth rate, management and other traditional stock valuation methods.
Our in-house research team and on-site financial experts work together to create content that's accurate, impartial, and up to date. We fact-check every single statistic, quote and fact using trusted primary resources to make sure the information we provide is correct. You can learn more about GOBankingRates' processes and standards in our editorial policy.