American Eagle Outfitters (AEO) Vs. Abercrombie & Fitch (ANF): Are the Teen Retailers Dead?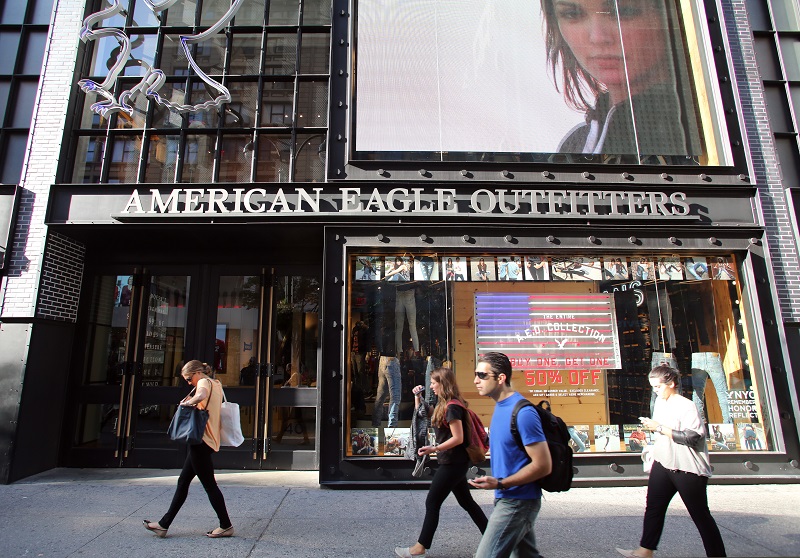 American Eagle Outfitters (AEO) and Abercrombie & Fitch (ANF) were once fashion royalty among teenagers, but competition from modestly-priced retailers like H&M and Forever 21 have caused sales to plummet in recent years. But a comeback might be imminent as the two retailers are working hard to get back on top.
On Wednesday, American Eagle Outfitters revealed a 12 percent revenue increase during its second quarter. Abercrombie & Fitch, however, is off to a slower start.
Second quarter earnings for Abercrombie & Fitch won't be revealed until August 26, but the company has hired a powerful group of seasoned designers and executives from big name brands, like Karl Lagerfeld, Tommy Hilfiger and Ralph Lauren, to bring in shoppers. And while the players are assembled, results can't be expected overnight.
"While this is another sign that ANF is moving in the right direction, it also underscores how long the road may be towards bringing back the brand and improving financial results," Topeka Capital Markets analyst Dorothy Lakner wrote.
Read: America's 10 Best and Worst Retailers for Summer Savings
Is American Eagle Outfitters Poised for Revival Amid Abercrombie & Fitch Slump?
American Eagle reported a $33.3 million profit or 17 cents per share for its second quarter, a significant jump from the $5.8 million or three cents per share realized during the same period in 2014. Earnings per share were expected to be between 11 cents and 14 cents. Analysts had projected a revenue of $770 million, but the retailer reached $797.4 million, surpassing expectations.
In total, sales increased by 11 percent — excluding newly opened and closed locations — compared with a seven percent drop in 2014. The company said it expects to realize adjusted earnings of 28 cents to 31 cents per share and comparable mid-single-digit sales growth during the third quarter.
"Both American Eagle and Aerie delivered strong sales and earnings growth across channels," said Interim CEO Jay Schottenstein. "We have two of the best-positioned brands in the marketplace today, and we are well poised to capitalize on our strengths. We have vast opportunity for ongoing improvements and will strive to deliver continued growth and returns to our shareholders."
Meanwhile, Abercrombie & Fitch closed 52 stores in 2014 and plans to shut down another 60 U.S. stores this year. Analysts from L&F Capital Management believe ANF closures will bring a higher volume of traffic into American Eagle stores. This is the first back-to-school season following the closures and L&F Capital analysts predict American Eagle will significantly benefit from it.
American Eagle Outfitters Stock Vs. Abercrombie & Fitch Stock
On Wednesday, Abercrombie & Fitch stock opened at $17.88, a decrease from Tuesday's $17.97 closing. The stock has fluctuated greatly throughout the past year, with a 52 week low of $17.31 and a 52 week high of $45.50.
American Eagle Outfitters stock opened at $17.55 on Wednesday, a drop from Tuesday's closing price of $18.27. The stock has a 52 week low of $11.77 and a 52 week high of $18.49.
Photo credit: Northfoto / Shutterstock.com