9 Best 5G Stocks To Invest In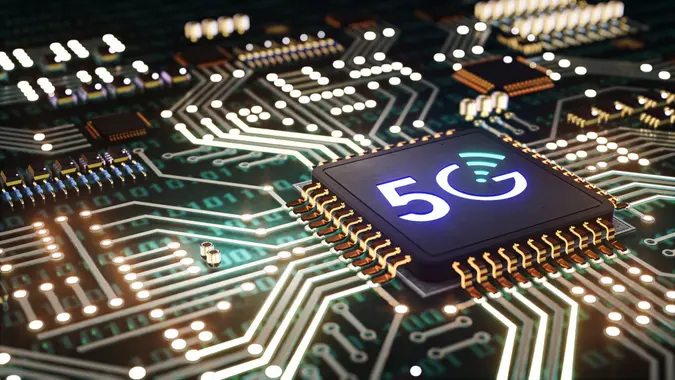 KENGKAT / Getty Images/iStockphoto
5G has been the talk of the town recently due to the massive rollout of this technology around the world. Previously, it was only used by infrastructure companies, but now it has become a major part of small tech and the latest smartphones.
While benefiting from 5G means enjoying lower latency and faster speeds, investors can further leverage the technology by investing in 5G stocks. Several companies, such as core equipment manufacturers and semiconductor manufacturers, have 5G stocks up for grabs.
Below, we list some of the best 5G stocks to invest in if you want to diversify your portfolio.
9 Best 5G Stocks
Investors looking for the best 5G stocks need to know that they are unlikely to see immediate returns. The technology is still in a transitional phase, and its mainstream adoption will take some time. However, 5G will undoubtedly be widely adopted in the future.
So, if you have got the patience to wait for the world to catch up, here are some of the best 5G stocks for you to invest in:
1. Gilat Satellite Networks Ltd
Being a networking technology company, Gilat specializes in providing satellite-based services and solutions. The Israel-based company has been operating since 1987 and has considerable influence in the market.
The company used Telesat's Phase 1 LEO satellite to introduce its high-speed modem with 5G technology back in 2019. Currently, Gilat has a $597.27 million market cap. In 2021, the company's revenue was $56.9 million, a 49% increase from the previous year.
2. Nokia
Everyone has heard of Nokia — the veteran telecommunications company was prevalent way before smartphones surfaced. Recently, the company played an important role in developing 5G wireless networking standards.
Thus, it is a massive name in the 5G hardware sector.
3. Qualcomm
Qualcomm has an extensive product portfolio, including chips enabling 5G technology, Internet of Things devices, cars, modems and smartphone chips. Ever since the beginning of this century, Qualcomm has made significant profits from partaking in tech involved in 3G and 4G networks.
Interestingly, Qualcomm has substantial cash on the balance sheet, which means investors have a chance to make good revenue off 5G stocks.
Another reason to invest in Qualcomm stocks is that the company's sales soared by 63% as compared to last year. Moreover, profits doubled, and Qualcomm's third-quarter results proved to be very impressive.
In fact, the chipmaker's profits exceeded analysts' expectations and offered hope for the final quarter of 2021.
4. Broadcom Inc
Based in California, Broadcom Inc is an infrastructure and semiconductor software manufacturing company. Part of the reason Broadcom's stocks are considered so lucrative is the company's deal with Apple.
In 2020, the company sold wireless components worth more than $15 billion to Apple. Experts suspect that Apple will use these components in its latest 5G-enabled phone.
Apple is not the only company buying wireless components from Broadcom. The semiconductor software manufacturing company will also supply 5G chips for the Nokia ReefShark products.
Even the pandemic did not have a negative effect on the company's performance since Broadcom shows an impressive year-over-year increase in revenue.
5. Arista Networks
Arista Networks is an internet infrastructure company and data center that most investors, unfortunately, are unfamiliar with. 5G networks tend to carry vast amounts of data, enabling them to facilitate communication and high-definition video streaming.
Therefore, data centers are expected to play a massive role in the future. Arista Networks provides cybersecurity and software-defined management tools. The boom in 5G adoption will benefit Arista Networks and, in turn, the company's investors.
6. Micron Technology
Micron manufactures and designs storage products globally. The company offers everything from 3D XPoint memory and NOR to DRAM and NAND. With the increasing interest in 5G, Micron's business has also soared since smartphones with 5G compatibility have higher memories.
With a 36.4% higher year-over-year revenue in its 2021 earnings report, Micron's stock is considered one of the best 5G stocks on the market. In fact, these were the most impressive sequential earning figures in the company's history, providing hope to investors that their investments are in safe hands.
7. Apple
Apple has been one of the first companies to take up 5G technology, and all its latest phones are expected to have 5G. In its quarterly report, the company mentioned that its iPhone sales totaled $48 billion in just three months.
The sale of iPhones jumped up to 65% in 2021. Apple has also seen a massive boom in some countries, such as India, where the compatibility of iPhone 12 phones with 5G has been welcomed warmly.
8. Advanced Micro Devices
Advanced Micro is on this list of the best 5G stocks because the company recently acquired Xilinx. Being the industry leader in making FPGA or field-programmable gate array chips, Xilinx has produced chips that can be reconfigured or reprogrammed even after customers have bought them.
As compared to Advanced Micro Devices, the profit margins of Xilinx are much higher than in AMD, which makes this acquisition an invitation for investors to put their money in AMD.
9. Intel Corporation
With a market cap of $213.94 billion, Intel Corporation is one of the biggest tech companies in the world and has a secure position in the 5G adoption market. Intel is not only a part of the 5G revolution but has also done substantial research on the future outlook of 5G in the tech industry.
According to the company's data, 5G networks will allow media platforms and tech providers to raise more than $3 trillion in revenue in the next ten years. That speaks volumes about the economic potential of investing in Intel's stocks.
Moreover, Intel announced new chips in 2020 that target 5G networks. These chips are designed to secure lower latencies and higher bandwidths. Apart from this, Intel also launched the third-generation Xeon scalable processors in April 2020. These processes are expected to enhance the transformation of the virtualized network market. Judging from the company's involvement in the 5G space, it is easy to say that its stocks are worth buying.
Final Take
Now that you know about the best 5G stocks, it is time to amp up your portfolio with these lucrative opportunities. The rise of 5G is inevitable — you may have to be patient, but it will pay off.
Our in-house research team and on-site financial experts work together to create content that's accurate, impartial, and up to date. We fact-check every single statistic, quote and fact using trusted primary resources to make sure the information we provide is correct. You can learn more about GOBankingRates' processes and standards in our editorial policy.