10 Best Companies To Invest In for 2023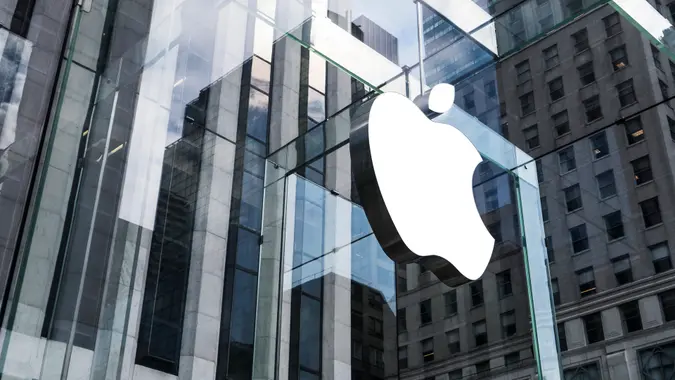 ozgurdonmaz / Getty Images
Most investors suffered nothing but pain in 2022, as the NASDAQ and S&P 500 indexes fell into bear markets and some individual stocks dropped by 50% or more. But if you have a long-term mindset, this could spell opportunity, as the best companies with the brightest prospects will no doubt bounce back, perhaps as early as this year.
While there's no guarantee that the names on this list will lead the charge, each one has something about it to recommend. Consult with your financial advisor about which ones might be a good match for your risk tolerance and investment objectives. With that in mind, here are 10 potentially great companies to invest in this year.
Tesla (TSLA)
Stock price as of Jan. 3, 2023: $105.96
Tesla is a stock that's constantly in the news, thanks in large part to outspoken CEO Elon Musk. After rocketing up 700% in 2020, Tesla saw its worst year ever in 2022, dropping about 65%.
But new electric vehicle rebates in 2023, growing interest in solar technology and Musk talking about resigning as CEO of Twitter could help propel the stock in the new year.
Costco (COST)
Stock price as of Jan. 3: $449.42
Costco isn't a regular retailer. The company derives much of its revenue from its membership program, in which customers pay $60 to $120 just to shop at the store — and they renew at a more than 90% level.
In good times, the retailer benefits from consumers shopping confidently, and in tougher times, people seek out the store for its low prices. Although never immune to a pullback, with shares down 20% year to date (YTD) it may be a good long-term entry point.
PayPal Holdings (PYPL)
Stock price as of Jan. 3: $74.18
PayPal is one of the leading payment processors in the world, but shares are down around 60% YTD. At this level, many investment houses, from Morgan Stanley to MoffettNathanson, are long-term believers. Although revenue has been trending down, the company beat earnings in its last report.
Meta Platforms (META)
Stock price as of Jan. 3: $123.77
The company formerly known as Facebook has run into nothing but trouble in 2022, due in part to the dual collapse of the metaverse and the cryptocurrency markets. Shares have fallen around 64% YTD, but CEO Mark Zuckerberg is confident of a turnaround as the company trades at a meager 11x forward earnings estimates at these levels.
Amazon (AMZN)
Stock price as of Jan. 3: $84.32
Amazon has long been a Wall Street darling, and it skyrocketed during the pandemic as the bulk of commerce moved online. But like many online-based retailers, 2022 has brought carnage to the stock, now off about 50% on the year.
Nevertheless, analysts have a consensus "strong buy" on the stock and an average 12-month price target of $140.03, roughly 66% above current levels.
Take Our Poll: What Are Your Financial Priorities in 2023?
Apple (AAPL)
Stock price as of Jan. 3: $124.58
If you believe there's a market comeback in the works in 2023, you'll likely want to own Apple. By far the biggest company in the United States — and sometimes the #1 company in the world by market cap — Apple is likely going to lead the market if it turns around.
As Apple has usually proven to be a good buy when it's down, these levels — down 27% for the year — could prove to be an attractive entry point.
Microsoft (MSFT)
Stock price as of Jan. 3: $237.98
Microsoft is the undisputed leader in global software, including the cloud, and it's a member of the 30-stock Dow Jones Industrial Average. Yet, its stock is down 28% YTD.
Its market-leading position, coupled with the consensus "strong buy" rating that analysts have on the stock, could kick it much higher in 2023 though.
Johnson & Johnson (JNJ)
Stock price as of Jan. 3: $177.35
Johnson & Johnson is often recommended as a blue-chip play for conservative investors, as it has a consistent cash flow that has proven resilient during tough economic times. The stock is actually up about 4% YTD, showing its defensive qualities during bear markets.
Shares of JNJ won't likely skyrocket during a bull market, but they could prove a great buy in 2023 if there's still a hangover from 2022's bear market in the works.
Alphabet (GOOGL)
Stock price as of Jan. 3: $88.82
Alphabet, the parent company of Google, is down about 40% YTD. But in addition to its former namesake, Alphabet owns an array of products that have more than a staggering one billion users each, including YouTube, Android, Gmail, Android, Maps, Photos and more.
The company also has more than $100 billion on its balance sheet, giving it flexibility during economic downturns.
VF Corp (VF)
Stock price as of Jan. 3: $27.66
VF Corporation is a bit under the radar, but it's the parent company of many well-known outdoor and lifestyle brands, from Vans and Timberland to Dickies and The North Face. Beloved by customers since 1899, the stock fell on hard times in 2022, dropping 62%.
The well-regarded company is an option for those looking for a bounce back from something other than big-name tech stocks.
More From GOBankingRates