6 Best Healthcare Stocks To Invest In for 2023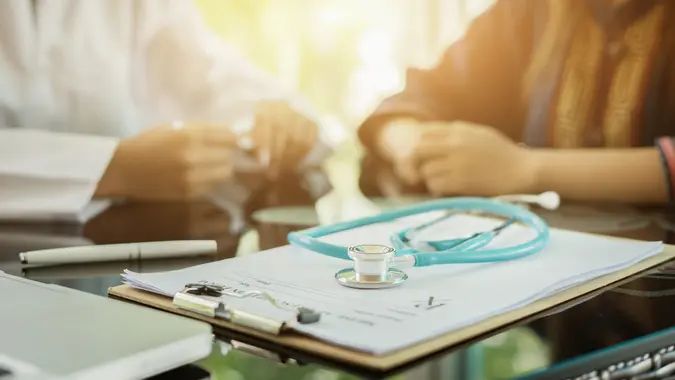 Asawin_Klabma / Getty Images/iStockphoto
If you are looking for a new sector for your investments, you may be considering healthcare stocks. Healthcare companies have the potential to generate significant long-term growth. Moreover, as the global population continues to age, the opportunities in the sector are likely to continue expanding.
See: 3 Things You Must Do When Your Savings Reach $50,000
With these facts in mind, it's not surprising that so many people are showing interest in healthcare stocks. However, not all stocks in the healthcare sector are going to succeed, and singling out the stocks most likely to return on investment can be a challenge.
What Are the Best Healthcare Stocks To Invest In?
The six best healthcare stocks are as follows:
Pfizer Inc. (PFE)
Teladoc Health Inc. (TDOC)
Eli Lilly and Co. (LLY)
CVS Health Corp. (CVS)
Abbott Laboratories (ABT)
HCA Healthcare Inc. (HCA)
1. Pfizer Inc. (PFE)
Price: $38.68
Market Cap: $220.83 billion
P/E Ratio: 7.63
Dividend Yield: 4.22%
Pfizer is a household name thanks to the COVID-19 vaccine the company developed with BioNTech. You may be wondering if stock in Pfizer is still valuable now that the pandemic has subsided. It is, in fact, still very valuable.
The company is a diversified biotechnology play with an impressive pipeline. It currently has 38 ongoing Phase 1 clinical trials, 28 Phase 2 trials and 23 Phase 3 trials. On top of that, the company is expecting to hear from the FDA about the potential marketing of 12 new products after recent approvals for multiple others.
2. Teladoc Health Inc. (TDOC)
Price: $23.91
Market Cap: $3.913 billion
P/E Ratio: N/A
Dividend Yield: 0%
If you're looking to healthcare for an income opportunity, you may want to avoid Teladoc Health. Teladoc has not been shown to pay dividends as of yet. However, if you're looking for a growth play, this is one to watch closely. 
The company offers access to licensed doctors 24/7 over the phone. Like Pfizer, this company made a name for itself during the COVID-19 pandemic, and it is projected to continue growing.
Experts expect net losses to shrink dramatically year over year, bringing the company closer to profit. Moreover, the stock recently experienced a sell-off, leading to what some argue is a discount on the share price.
3. Eli Lilly and Co. (LLY)
Price: $459.83
Market Cap: $436.509 billion
P/E Ratio: 73.22
Dividend Yield: 0.98%
Founded in 1876, Eli Lilly and Co. was founded with the goal of creating real medicines that would compete with elixirs that did little for patients. In the years that followed, it developed into one of the largest pharmaceutical companies in the world.
Now, the company is taking its growth to the next level. Lilly recently announced the $2.4 billion acquisition of Dice Therapeutics, a massive bet on the autoimmune sector. As the company continues to make these large, calculated bets, you can expect to see continued growth ahead.   
4. CVS Health Corp. (CVS)
Price: $69.35
Market Cap: $88.939 billion
P/E Ratio: 23.05
Dividend Yield: 3.52%
If you live in the United States, you likely know the CVS brand well. It's the largest pharmacy in the country, with over 9,000 locations. 
Although CVS is the largest pharmacy in the United States, it has struggled in the stock market over the past year, falling over 24%. Nonetheless, this may be an opportunity to bank on a rebound for one of the strongest companies in the United States. 
5. Abbott Laboratories (ABT)
Price: $107.59
Market Cap: $187.094 billion
P/E Ratio: 32.70
Dividend Yield: 1.92%
Founded in the late 1800s, Abbott Laboratories is a leading biotechnology company. The company uses technology to improve healthcare outcomes, whether that means getting rid of the finger prick for diabetics or easing chronic pain and monitoring vital signals.
This focus has served the company well. Today, Abbott Laboratories is one of the largest healthcare companies in the country, and it continues to grow. There's something to be said about longevity in any marketplace, and as Abbott continues to tackle medical ailments with technology, it will continue to be a strong investment opportunity to watch. 
6. HCA Healthcare Inc. (HCA)
Price: $291.91
Market Cap: $80.301 billion
P/E Ratio: 14.70
Dividend Yield: 0.84%
HCA Healthcare operates healthcare facilities, including hospitals, across the United States and the United Kingdom. The company currently operates 182 hospitals and over 2,300 other healthcare sites.
Emergencies happen regardless of the state of the economy or market, and healthcare prices will only continue to rise. HCA is a great way to hedge against inflation while betting on profitability from an aging population.  
Final Take
The healthcare industry has the potential to generate long-term growth. It's not surprising to find that so many people are looking to this sector for investment opportunities. If you're one of those people, and you're not sure where to start, consider looking into the stocks listed above. 
When you do, keep in mind that investing comes with risk and it's important to do your own research. If you don't completely understand an investment, consider reaching out to a financial advisor or another certified financial professional who can provide assistance while considering your unique financial situation.  
FAQ
Here are the answers to some of the most common questions about healthcare stocks.
Is healthcare a good sector to invest in?

Healthcare has the potential to see significant long-term growth, especially considering the aging population in the United States and around the world. The sector is a strong option for most investment portfolios.

Are hospital stocks a good investment?

The rising cost of hospital services makes hospital stocks a compelling way to hedge against inflation. Moreover, emergencies will always exist, meaning these stocks are resilient regardless of the economic or market climate. Hospital stocks therefore tend to be good investments.
Data is accurate as of June 27, 2023, and is subject to change.
Our in-house research team and on-site financial experts work together to create content that's accurate, impartial, and up to date. We fact-check every single statistic, quote and fact using trusted primary resources to make sure the information we provide is correct. You can learn more about GOBankingRates' processes and standards in our editorial policy.