Biden Appoints Acting NASA Administrator, Space Stocks Skyrocket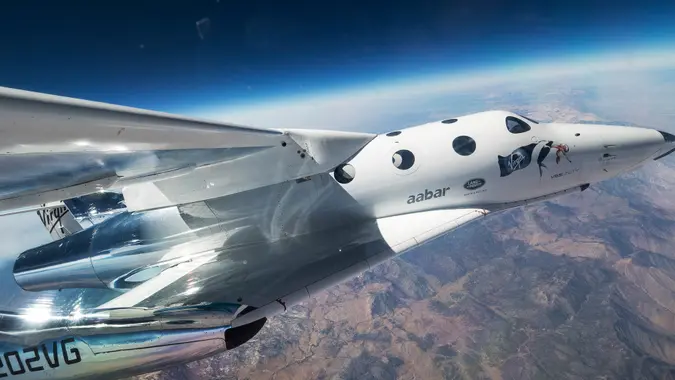 ©2016 Virgin Galactic
President Joe Biden has had a busy first few days in office, signing 17 executive actions just hours after his inauguration. But there's one area he hasn't explored very deeply yet: outer space.
See: How Biden's First Moves as President Could Impact Your Wallet
Find: How Biden's First 100 Days Could Impact the Economy
After NASA chief administrator Jim Bridenstine resigned Wednesday, Biden promptly appointed Steve Jurczyk as acting administrator. Jurczyk has served as associate administrator since 2018 and has worked with the agency since 1988.
But in terms of NASA budgets, support of private space industry and manned space travel, Biden's plans remain to be seen. Early in his campaign, Biden noted his commitment to combating climate change and the role the National Aeronautics and Space Administration would play in understanding "how climate change is impacting our home planet." This could mean increased NASA funding — specifically, for its Earth science programs.
Although Biden has expressed interest in returning American astronauts to the moon and sending people to Mars, he hasn't even hinted at any timelines. A statement from Jurczyk and senior White House appointee Bhavya Lal stated, "We are excited about the opportunities that await us — the Perseverance Mars landing; the next Launch America mission; our focus on the study of our home planet; and returning American astronauts to the surface of the Moon, and then on to Mars."
See: Joe Biden's Plans for the Shocking Costs of Climate Change
Find: 6 Ways Private Companies Are Stepping in for the Government
The Artemis project, an initiative introduced by former president Donald Trump, sought to land people on the moon by 2024 — a timeline that experts deemed ambitious even before Biden took over the White House. "It was a long shot to begin with," said SpaceX president Gwynne Shotwell in an article on SpaceNews. As Biden turns his focus toward combating climate change on Earth, and relying on NASA technology to do so, that timeline is likely to be pushed back further.
And if NASA shifts focus to environmental studies, it could also push manned space travel even further into the hands of private industry. In 2020, NASA launched two astronauts, Doug Hurley and Bob Behnken, to the International Space Station in a SpaceX Falcon 9 rocket and Crew Dragon capsule.
With rapid advances in space flight and satellite technology, investors at Stock News predict that several publicly held space companies could take off in 2021, spotlighting Honeywell (NYSE: HON); Iridium Communications (NASDAQ: IRDM), a voice and data communications provider; and Trimble Inc. (NASDAQ: TRMB), known predominantly for GPS technology.
See: How Much Money Private and Public Companies Have Poured into Space
Find: Here's How Much It Would Really Cost to Build a Moon Colony
Additionally, Ark Investment Management recently announced plans to launch a space exchange-traded fund investing in U.S. and global companies working toward innovation and space exploration, according to the Stock News report.
Richard Branson's Virgin Galactic stock skyrocketed Thursday, closing up 3.9% after the company announced a test flight of its atmospheric VMS Eve "mothership," which is designed to carry the SpaceShipTwo Unity suborbital spaceplane.
See: Can You Believe How Much Astronauts Used to Make?
Find: Elon Musk's Biggest Bets That Paid Off
Certainly, the aerospace industry had a strong year in terms of investment capital in 2020, lending more credence to analysts' predictions that space stocks could continue to take flight.
NASA awarded more than $370 million to 14 companies, while the Artemis program allocated contracts totaling nearly $1 billion to Dynetics, Elon Musk's SpaceX and Jeff Bezos' rocket company, Blue Origin.
Investors have called 2020 "the year of electric vehicle stocks." Could 2021 be the year we shift our gaze upwards to the stars?
More From GOBankingRates: