BUZZ ETF: Everything You Need To Know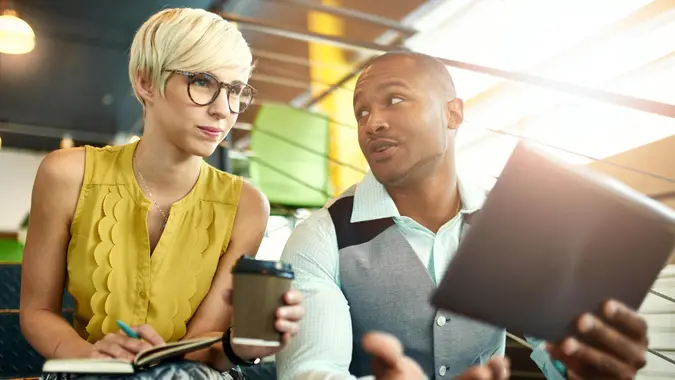 julief514 / Getty Images/iStockphoto
In the world of investing, public opinion is of paramount value. Previously, a company's performance determined how favorable its stocks were — but the tables have turned. Now, the online favorability of a company often predicts its stock's gains, as seen in the case of GameStop and Reddit.
To some experts, exclusively relying on social sentiment to plan your investments sounds a bit controversial. However, recent years have seen an influx of artificial intelligence data tools that leverage cultural intelligence to present a company's standing in the market.
Many tools currently offer "social listening" capabilities, where they analyze countless social media posts to tell a brand about its reputation.
What Is BUZZ ETF?
But what if an exchange-traded fund started using public opinion for portfolio building? That is precisely what BUZZ ETF, or VanEck Vectors Social Sentiment ETF, is doing.
This article discusses BUZZ ETF in detail and explains the mechanism behind it.
The Science Behind BUZZ ETF
Exchange-traded funds have become a trillion-dollar industry, with investors looking for low-cost and simple ways to leverage long-term gains. Since ETFs have low fees and fewer restrictions, they are popular among investors.
The BUZZ ETF came into view in March 2021 and is based on the VanEck NextGen AI US Sentiment Leaders Index (BUZZTR).
BUZZTR employs "collective conviction," which means that the index uses artificial intelligence to get an insight into the public sentiment about a business. It does so by reviewing blog posts, online news and social media posts.
What Stocks Are in BUZZ ETF?
BUZZTR has a streamlined selection process involving three steps:
It identifies the company's stocks that are getting the most attention on social platforms and the internet in general. As a rule of thumb, the stock with the highest number of posts about it on the internet — whether positive or negative — is selected.
Then, the index attempts to check if the posts are negative or positive. Not all posts have to be one or the other. Instead, BUZZ looks for the predominant sentiment. Also, instead of looking at the public response in the past day or two, BUZZ monitors the sentiment across a period of at least a month.
Lastly, BUZZ chooses 75 stocks that have the leading social positive sentiment. The holdings are rebalanced monthly.
How Does Social Media Affect Investments?
On the whole, BUZZ's mechanism for judging a company's favorability is sound. If a company has more positive sentiments about it, its stock prices will likely go up. As seen in multiple instances, social media also has a massive effect on these prices.
However, there are several ways in which this particular philosophy can be misleading or problematic.
Social Media and Price Manipulation
For one, social media holds the power to manipulate pricing. With sufficient support, a group of users can get together to favor a particular stock that may not have the financial means to support its valuation.
Simply put, it is a case of herd mentality leading to massive investments that further create price bubbles.
Good To Know

TikTok seems to have become the new hub for stock price manipulation, as many such events revolving around investing have been reported on the website.
Although BUZZ ETF claims that the fund does not list meme stocks, AMC was included in its rebalancing in July 2020. Similarly, the fund's holdings are also invested in the news-famous GameStop.
Influence of Billionaires and Crypto Enthusiasts
While BUZZ may say that its algorithm is based on the crowd's wisdom, any expert will tell you about the lack of wisdom in herd mentality.
Part of this concern comes from the fact that Dave Partnoy, the billionaire owner of Barstool Sports, backs BUZZ ETF.
The ETF raised assets worth $503.1 million since its launch, making it the sixth-fastest growing fund as compared to other U.S. funds. Portnoy's influence likely has a role to play in this since many experts have said that raising so much money in such a short time rarely happens for ETFs.
Although he says that the ETF will not try to manipulate the market, a distinction has to be made between not trying and actually not doing it. Portnoy has 2.4 million Twitter followers, with whom he discusses stocks.
It is easy to see how an influential figure like him can sway the analysis, whether unintentionally or intentionally.
Is the BUZZ Algorithm Effective?
It is hard to say. However, the market does know that BUZZ has specific requirements for stocks to be included in the ETF. Here are some of them:
The stock's market capitalization should be $5 billion at minimum.
The stock must have a minimum of $1 million daily average trading for three months.
Lack of Transparency
It is not clear how BUZZ determines how many times a stock has been mentioned online or whether the mentions are negative or positive.
Due to this, there are many questions about the algorithm's effectiveness and its validity against other indices. Another thing to notice here is that the ETF has a comprehensive selection of stocks from different industries and sectors.
However, over half of the ETF's holdings come from information technology industries as well as consumer discretionary.
Security Concerns Pose Limitations
More importantly, security and privacy are becoming top concerns for social media users. Therefore, all platforms have started protecting the users' content in a better way from third-party tools, such as BUZZ, which is a sentiment tracker.
Due to this, less and less data is available publicly for studying. So, social sentiment tracking algorithms cannot successfully identify predominant trends as they only have access to social media mentions that have been made publicly available by the users.
The Future of BUZZ ETF
Keeping everything about the ETF in mind, will BUZZ be a thing in the future? And does the algorithm have what it takes to be successful for a long time? Maybe.
Right now, there is definitely sufficient evidence to prove social media has a massive impact on the stock price. Meanwhile, BUZZ ETF is also improving its algorithm, making it more equipped to scrape its stock's social sentiment.
It is likely that with the advancements in the algorithm, the fund's public perception may improve, raising more capital in investments. Or the unfortunate could happen, and the fund may face its downfall due to the herd investing mentality.
Our in-house research team and on-site financial experts work together to create content that's accurate, impartial, and up to date. We fact-check every single statistic, quote and fact using trusted primary resources to make sure the information we provide is correct. You can learn more about GOBankingRates' processes and standards in our editorial policy.