Cleveland-Cliffs Stock (CLF): Is it a Good Buy?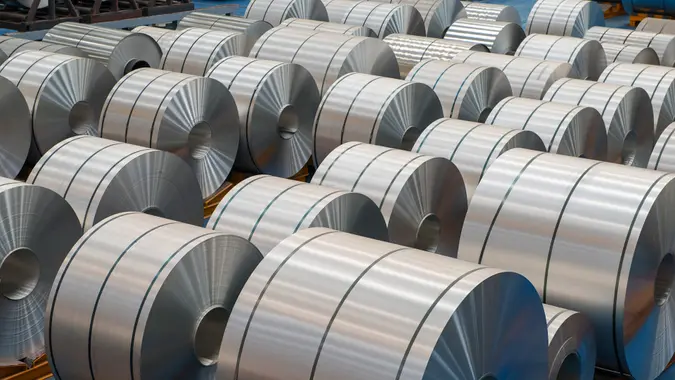 okeyphotos / Getty Images/iStockphoto
Consider whether or not the iron ore and steelmaking company is worth the investment.
What Is Cleveland-Cliffs?
Founded in 1847, Cleveland-Cliffs is a mining company based in the United States. Experts recognize it as the oldest iron ore mining company and the largest producer of iron ore pellets. The company showed consistency over decades of existence until 2020, which is when it shifted focus from iron ore to steel.
Sights Set on The Future
Cleveland-Cliffs realized that it needed to transform in order to succeed, so it acquired two large U.S.-based steel companies to diversify its offerings. The move offers a unique market position as a self-sufficient producer of the raw materials necessary for its steelmaking operations.
It is now also the largest producer of flat-rolled steel in addition to iron ore pellets. With no indication of slowing down, Cleveland-Cliffs strives toward environmentally friendly operations. Its initiatives include:
Prioritizing responsibility and safety
Reducing waste
Improving water conservation
Reducing carbon emissions
In fact, Cleveland-Cliffs' leadership committed to cutting carbon emissions by 25% by the year 2030.
Innovation for an Industry
Cleveland-Cliffs has a research and innovation center based in Middletown, Ohio that's dedicated to planning for the future. The RIC team develops new products and researches ways to increase efficiency without compromising on safety. Products on the slate include advanced carbon designed to be stronger and steel with a lighter design for improved vehicle performance.
Expanding Its Offerings
Cleveland-Cliffs made a big shift when it invested in two steel companies. The acquisitions took its employee base from around 2,500 to 25,000 in a single year.
Cleveland-Cliffs' Acquisition of AK Steel
During the 2019 acquisition, AK Steel shareholders received 0.40 common stock shares from Cleveland-Cliffs for each share of AK Steel. This left Cleveland-Cliffs shareholders with around 68% ownership in the combined company and legacy AK Steel shareholders with around 32% ownership. The deal combined the largest sheet carbon producer with the largest stainless and electrical steel producer for a much stronger single company.
Good To Know

Both of these companies had headquarters in Ohio at the time of the acquisition, making it a geographically convenient business move.
Cleveland-Cliffs' Acquisition of ArcelorMittal
ArcelorMittal received $505 million in cash from its sale to Cleveland-Cliffs in September 2020. It also received 78 million shares of Cleveland-Cliffs stock in a combination of common and non-voting preferred stock that equated to around 58 million shares of Cleveland-Cliffs common stock. There was also an alternative cash value to the stock shares based on their value at the time of a trade.
ArcelorMittal is a worldwide steel and mining company with operations in 60 countries and steelmaking facilities in 17 countries. 2020 statistics for ArcelorMittal's include:
$53.3 billion in revenue
71.5 million metric tons of crude steel
58 million metric tons of iron
Cleveland-Cliffs leadership saw potential in ArcelorMittal's bold innovation goals, which included:
Processes that require less energy
Strategies to reduce their carbon footprint and lower production costs
Steel products that are reusable and specifically designed for electric vehicles
Did You Know?

ArcelorMittal had its headquarters in Luxembourg at the time of acquisition, making this an international business deal for Cleveland-Cliffs.
Is It a Good Buy?
Iron ore pellets are the product used to produce steel, so the acquisition of both companies made sense. As steel prices increased, Cleveland-Cliffs found a way to reduce costs by becoming its own production supplier. Lower costs may mean an increased profit margin for the company, though only time will tell.
Iron Ore Value Decreasing
Iron ore value has been consistently decreasing over the last several months. How is that affecting Cleveland-Cliffs' share prices?
Cleveland-Cliffs (NYSE: CLF) closed at a value of $21.17 per share on Dec. 7, 2021. This price represents a 9.29% increase in six months and a 12-month increase of 68.15%.
To put it simply, Cleveland-Cliffs shares value are trending along with decreasing iron ore prices, which experienced a 17% dip in October.
In July, iron ore cost $230 per ton, while it's at $117 per ton now. This drastic drop is mainly due to three situations unfolding in China:
China is importing less iron ore in an effort to reduce carbon emissions.
Evergrande, the country's second largest property company, doesn't have enough demand to pay off its debt. A fear of defaulting created a ripple effect throughout the entire housing market.
China and Australia are currently in the midst of a trade dispute, with Australia usually being the largest iron ore supplier for China.
What Happens Next for Cleveland-Cliffs
A decade of historical trends indicates that Cleveland-Cliffs is likely to recover from the current state of iron ore values. Before this unexpected dip, Cleveland-Cliffs saw a 70% value increase over six months prior. The steel industry is trending upward, indicating that the industry as a whole should see a rebound shortly – good news for Cleveland-Cliffs.
A Third Acquisition
Cleveland-Cliffs isn't done growing. In October 2021, the company announced plans to acquire Ferrous Processing and Trading Company for an estimated value of $775 million. This includes acquiring entities that fall under the FPT umbrella.
From August 2020 to August 2021, FPT saw earnings of approximately $100 million before interest, taxes, depreciation and amortization. The company has 22 facilities that process scraps for a total of around three million tons of scrap every year.
Cleveland-Cliffs expects to finalize this deal before the end of 2021. The acquisition represents another step toward Cleveland-Cliffs becoming a self-sustaining operation. As it stands, Cleveland-Cliffs both produces and utilizes scraps in its iron ore and steel processes. Owning FPT can only help bolster the value of the scrap metals and further reduce production costs.
Takeaway

When it comes to Cleveland-Cliffs, Nasdaq advises that current investors should commit to the long haul. New investors may want to take a look at the company now while share prices are low. With sights set on innovation, sustainable growth, and a commitment to the environment, Cleveland-Cliffs is a company to watch.
Cleveland-Cliffs Stock FAQ
Here are the answers to some of the most frequently asked questions about Cleveland-Cliffs stock.
Is Cleveland-Cliffs based in the U.S.?

Yes. Despite two international acquisitions, the company's headquarters remains in Cleveland, Ohio.

Is Cleveland-Cliffs losing value?

In the short-term, yes. But overarching industry data and trends indicate that the company will rebound and increase in value in the coming months and years.

Is Cleveland-Cliffs a good buy?

Yes. Share prices are low right now and should go back up over time. Investors should treat this opportunity as a long-term investment.

Is Cleveland-Cliffs a Fortune 500 company?

No. Although it previously ranked higher on the list, Cleveland-Cliffs was at No. 501 as of March 2021.

How many people does Cleveland-Cliffs employ?

Cleveland-Cliffs employs more than 25,000 people around the world.
Our in-house research team and on-site financial experts work together to create content that's accurate, impartial, and up to date. We fact-check every single statistic, quote and fact using trusted primary resources to make sure the information we provide is correct. You can learn more about GOBankingRates' processes and standards in our editorial policy.