Jeff Bezos Quietly Bet on These 15 Companies — Why You Should, Too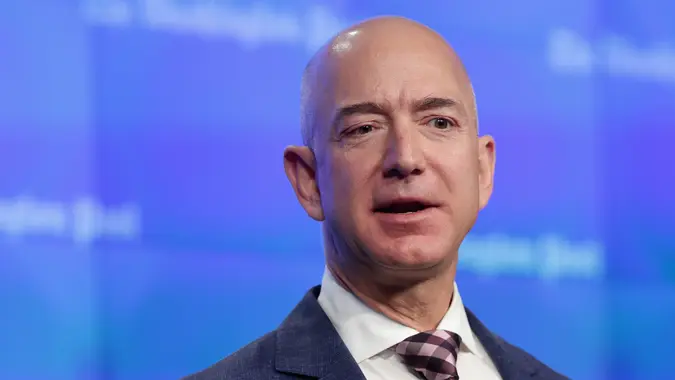 Chip Somodevilla / Getty Images
Have you ever wondered what you would do if you were one of the richest people alive? Some of us couldn't even dream of what to do with just $1 billion. However, we can take a look at what one of the actual richest people alive does with his money.
As of Oct. 13, Amazon founder Jeff Bezos has a net worth of $191.4 billion, according to Forbes. Bezos has made a wide variety of investments through Amazon; Bezos Expeditions, his venture capital firm; Nash Holdings LLC, a private company he owns; the Bezos Family Foundation; and his own personal fortune.
His investments are out to save the world, too.
Bezos Expeditions has invested in biotech companies seeking to cure cancer, agriculture tech companies aiming to solve world hunger, finance tech companies empowering underserved communities and educational tech companies helping people prepare for an evolving job market.
As Bezos stepped down as CEO of Amazon in July 2021 to be executive chairman, he'll likely be dedicating more of his time to his other investments and charities.
Keep reading to see what other surprising companies the famous billionaire is investing in.
EverFi
In April 2017, Bezos invested $190 million from his personal cash flow during a Series D funding round for EverFi. The educational technology company focuses on financial education, social and emotional learning, and STEM and career readiness, among other offerings. According to the EverFi website, the company is "fulfilling the need for scalable education in an ever-changing world."
Basecamp
Project-management software company Basecamp started as a Web design firm, but when the founders were unable to find software that could help their teams manage their projects, they built their own. The result was Basecamp, the first Ruby on Rails app and an early entry into the software-as-service space. Bezos bought a minority, no-control stake in Basecamp in 2006.
MakerBot
The billionaire was part of a group that invested $10 million dollars into the 3D printing company MakerBot back in 2011. MakerBot was one of the first companies to introduce 3D printing to the public in a way that was accessible to any consumer. MakerBot has since been acquired by Stratasys, a company that has pioneered 3D printing technology for 30 years.
NextDoor
During Series B funding in 2013, Bezos Expeditions followed super-investor David Sze with an investment in the private social media app Nextdoor. This free app is used to connect with people who live in your community about neighborhood safety, job postings, lost pets and local politics.
NextDoor was acquired by Khosla Ventures Acquisition Co. II, a special-purpose acquisition company, in July. This means NextDoor — valued at $4.3 billion — will be traded publicly once the deal closes. The combined company will be listed under the ticker symbol "KIND."
Plenty
In July of 2017, Bezos Expeditions made an investment in the future of food. Plenty is an agriculture technology company that develops plant sciences for crops to flourish in a pesticide and GMO-free environment. The ag-tech company received a $200 million investment from Bezos Expeditions during their Series B funding. Currently, Plenty has raised a total of $500 million in funding. You might have seen their vertical farms that grow veggies indoors, using only 1% of the water used in traditional agriculture and producing crop yields up to 350 times greater than traditional methods.
Airbnb
The extremely popular accommodation marketplace provides access to 5.6 million unique places to stay in more than 100,000 cities and 220 countries, and it received a Bezos investment of $112 million, according to a Visual Capitalist report. Airbnb has raised $5.8 billion in funding and now has about 5,465 employees. Airbnb priced its IPO at $68 per share in December 2020, giving it a $47 billion valuation. As of Oct. 12, 2021, the publicly traded corporation had a current market capitalization of over $108 billion.
Grail
Bezos appears to be trying to make the world a better place by supporting companies like Grail, a healthcare company focusing on detecting cancer early before treatments become too invasive. In 2016, Bezos Expeditions invested $100 million in Grail. Grail raised over $2 billion in funding and announced an IPO in Sept. 2020, but just one week later Illumina announced that it was going to buy the company for $8 billion.
Juno Therapeutics
In April 2014, Bezos Expeditions invested $56 million in Juno Therapeutics, followed by $134 million in Aug. 2014. The company develops immunotherapies for the treatment of cancer. In January 2018, pharmaceutical company Celgene acquired Juno Therapeutics for $9 billion.
Mark43
Bezos Expeditions invested $27 million in Series B financing for Mark43 in April 2016. Bezos was also part of the $38 million Mark43 secured in its Series C round of funding. Mark43, founded in 2012, aims to improve public safety software. Amazon Web Services — Amazon's secure cloud computing space — provides Mark43 support for its large criminal justice information security workloads.
Fundbox
This fin-tech company is helping people grow their small businesses by making access to credit simple, secure, fast and transparent. In September 2015, Fundbox was given $50 million by Bezos Expeditions and Spark Capital Growth in a Series C funding round. As of June 2021, the company had raised $453.5 million and was looking to IPO with a valuation of $1.5 billion.
Remitly
Remitly is a mobile digital payment app that lets users transfer money across Remitly's proprietary global network, which spans Africa, Asia, Central Europe and South America. Bezos was an early investor through Bezos Expeditions. Remitly filed IPO documents last month, saying it hopes to raise as much as $294 million. The company plans to use "RELY" as its stock symbol on the Nasdaq Global Select Market.
Uber
Back in 2011, Bezos invested $37 million in Uber's Series B funding round. The popular ride-hailing app went public in 2019 at $45 per share, valuing the company at $82.4 billion. At a current share price of $46.72 as of Oct. 12, 2021, Uber now sports a market cap of over $88 billion.
Domo
In 2013, Bezos invested $60 million in Domo, a company that connects CEOs to their front-line employees with access to real-time data and insights, and allows them to manage the business from their smartphones. Domo priced its IPO at $21 per share in 2018, raising $193 million. As of Oct. 12, 2021, the stock trades at $84.88 per share, giving the company a market cap of $2.64 billion.
Stack Overflow
Stack Overflow operates a public community platform where developers can ask and answer questions about coding. Additional products include several other tools that help companies overcome tech challenges. With over 100 million visitors each month, Stack Overflow is one of the world's most popular websites. Bezos was an early investor through Bezos Expeditions, which went on to fund at least one additional round of financing.
Mindstrong Health
Bezos Expeditions, along with Decheng Capital and other investors, kicked in $15 million to Mindstrong Health's Series B funding stage in 2018. The company's mission is to transform "mental health through innovations in virtual care, data measurement, and data science."
In May 2020, Mindstrong Health raised $100 million in its Series C funding round. Unsurprisingly, the company is generating quite a bit of buzz. MIT Technology Review claimed that Mindstrong Health is "the smartphone app that can tell you're depressed before you know it yourself."
Daria Uhlig and John Csiszar contributed to the reporting for this article.
Data is accurate as of Oct. 12, 2021, unless otherwise noted, and subject to change.
Our in-house research team and on-site financial experts work together to create content that's accurate, impartial, and up to date. We fact-check every single statistic, quote and fact using trusted primary resources to make sure the information we provide is correct. You can learn more about GOBankingRates' processes and standards in our editorial policy.