Which Companies Are Primed To Excel in the Metaverse?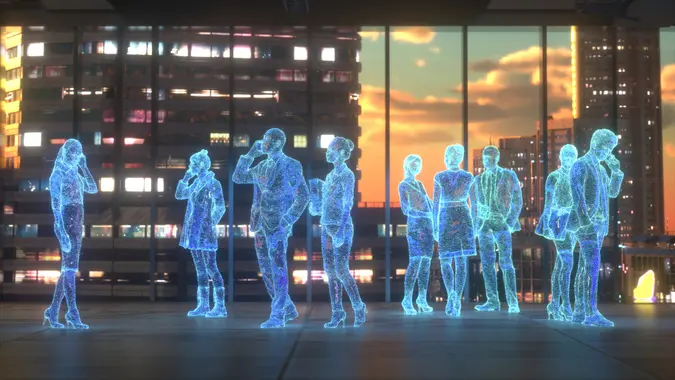 XH4D / Getty Images/iStockphoto
The metaverse can be hard to explain to anyone who hasn't yet experienced it, but by all indications it's going to be the next dominant technology to arrive. Essentially, the metaverse is a virtual reality world that combines everything from social media and gaming to blockchain applications.
The metaverse is also set to rapidly explode into a parallel reality in which users spend real dollars to conduct financial transactions ranging from land purchases to banking and investments. Due to the billions of dollars of projected revenue that's expected to be created in the metaverse, companies are lining up to get their own piece of the action.
Here are some of the big companies that already have a foot in the metaverse, and are looking to dominate the space going forward.
Microsoft
If you still think of Microsoft as an old-school tech company that relies on browser revenue, think again. In recent years, Microsoft has made a major push into cloud services, and it's also an early entrant in the metaverse game.
Related: NFT Auction House Drops $1.25 Million on Metaverse Property
On Jan. 18, 2022, Microsoft announced its intention to acquire gaming company Activision Blizzard for over $68 billion. This gives Microsoft instant access to an online gaming community of over 400 million users, with many of those gamers already spending money in the metaverse.
Nvidia
Nvidia is a company that is already firing on all cylinders, and it may just be the beginning. As a maker of the powerful chips that are needed to power everything from cryptocurrency mining to advanced gaming technologies, Nvidia stands as a basic building block of the metaverse.
Check Out: Metaverse Careers: You Could Find Your Ideal Job in the Virtual World
As future metaverse applications arrive, Nvidia's chips will be needed to keep user experiences as smooth and "realistic" as possible. Developers also use Nvidia's "omniverse" to create artificial intelligence applications in a physically accurate, simulated framework.
Meta Platforms
Formerly known as Facebook, Mark Zuckerberg's company feels so strongly that the metaverse is the future that it changed its entire company name to Meta. The company is pouring billions of dollars into developing a presence in the metaverse, as its CEO has stated, "I believe the metaverse is the next chapter of the internet."
The company already offers users access to virtual reality via its Oculus headset, but that is likely only the beginning of a new wave of technologies that Meta will develop for the metaverse.
Guess: How Much Is Mark Zuckerberg Worth?
Roblox
Roblox could arguably be the company that's already the most directly involved with the metaverse. The company offers its own virtual reality experience via its online games, with users able to interact with friends and strangers from around the globe.
Roblox already has about 50 million daily users to go along with nearly 10 million developers who create these virtual reality worlds for gamers. As other companies jump into the metaverse, Roblox will no doubt expand its offerings and be an integral part of future revenue generation.
More: McDonald's is Entering the Metaverse: Order Real Burgers via Virtual World
Autodesk
Autodesk had its foot in the door of the metaverse before it even had a name. The company makes software used by engineers and architects to build virtual models of buildings. While used in the physical world for decades, Autodesk's software products can now be used specifically to design and "build" virtual and augmented reality structures in the metaverse.
Business is already booming for the company on terra firma, with revenue jumping 18% in its most recent quarter. Once Autodesk fully expands into the metaverse, those revenue jumps are likely to become more frequent.
Investing: Metaverse Stocks — 5 Best To Buy
Unity Software
Unity Software occupies the 3D video development side of the metaverse, allowing creators to design the actual movement of players and characters within the metaverse. Its Nov. 2021 acquisition of parts of Weta Digital — the visual effects studio that helped create the magnificent cinematic world of "The Lord of the Rings" films — may allow all players in the future to design and create their own characters in the metaverse.
As individual creation of worlds and characters is likely to be a huge part of the metaverse going forward, Unity Software is well positioned to benefit.
News: Buyout Giant KKR Backs Metaverse Firm Animoca Brands, Joins $500M Funding
Qualcomm
Some investors favor Qualcomm as one of the big winners in the metaverse wars. Qualcomm's Snapdragon chip already powers one of the primary access points to the metaverse, Meta Platforms' Oculus Quest headset.
Qualcomm's CEO Cristiano Amon is one of the chip's strongest promoters, claiming that the company's Snapdragon chips will be the primary source of power for the next generation of the "internet of things," which includes the metaverse.
More From GOBankingRates