Costco Stock: Is Now the Time To Buy?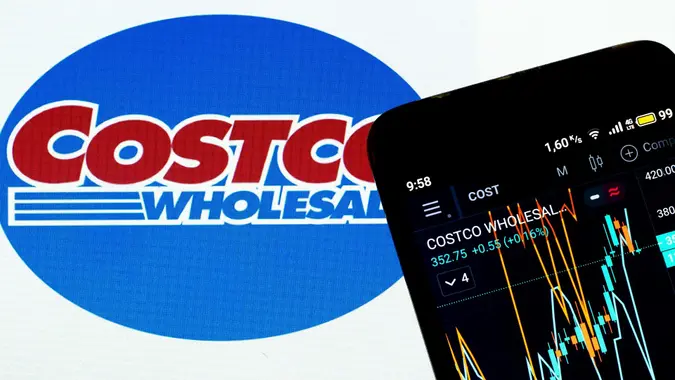 Igor Golovniov / SOPA Images / Shutterstock.com
Costco is nothing short of a retailing phenomenon. Not only do its customers routinely buy more items than they intend, but they also pay for the privilege. Along with other characteristics of its members, those are core performance metrics that most retailers dream of attaining and that make Costco a good long-term buy. But what's currently going on with the company, and is it a buy now? Here's a look at some of the most important information you'll need to make that decision.
Read: GOBankingRates' Best Neobanks 2023
More: 3 Things You Must Do When Your Savings Reach $50,000
Also: Unplug These Appliances That Hike Up Your Electricity Bill
Recent Performance
Costco's stock is off to a bang in 2023, up over 10% year-to-date already as of Jan. 27. Considering that's just about the long-term average annual return of the stock market as a whole, investors are loving it. And while such a big gain over a short period of time may result in some short-term profit-taking, longer-term investors will likely take a broader perspective. As with most stocks in the S&P 500, Costco suffered mightily in the bear market of 2022, with shares falling 19.59%. With that perspective, shares still have a long way to go to recoup last year's gains. 
Another thing to note is that Costco's stock has been a long-term outperformer, making 2022 perhaps something of a market-driven aberration. In 2020 and 2021, for example, the retailer's stock posted gains of 26.55% and 50.67%, respectively.
Renewal Rates
One of the driving forces behind Costco's success is the rabid following of its customer base. Members pay annual fees of between $60 and $120 just to shop at the store, and they renew at astonishing rates – 92.5% in the U.S. and Canada in the company's most recent quarter, for example. As Costco generates a significant amount of its revenue from membership renewal, this is a key drive for the company's long-term profitability.
Special Dividend
In addition to all of the other factors, excitement is brewing around Costco stock for another reason – the potential issuance of another special dividend. Costco issued its first special dividend in 2012 – in the amount of $7 per share – has done this four times in total. Its most recent special dividend in Dec. 2020, was for a whopping $10 per share. This type of cash return is extremely popular with investors, and there are rumors that another one may be right around the corner. During the company's recent first-quarter earnings call, company CFO Richard Galanti referenced how Costco had paid special dividends in the past and noted that it has plenty of cash available currently. However, he also noted that no decisions have been officially made.
Store Openings
Costco has always been prudent about how it spends its cash. Rather than investing heavily in an overnight or same-day delivery service like some of its competitors, for example, the company simply contracts with Instacart to offer that fast delivery service for customers who want to pay for it. As much of the appeal of Costco is its in-store experience, the company doesn't want to get too into the weeds when it comes to tweaking that formula. 
To that end, the company noted that it is likely to slowly amp up its store openings in coming years, from about 24 in the current year to something closer to 30 over the next decade. This should continue to expand the company's profitability.
Analyst Projections
Analysts are typically bullish on Costco, and that remains true in early 2023 as well. The consensus rating of 26 analysts following the stock is "strong buy," with an average 12-month price target of $553.71. That's right about 10% above current levels. 
The Bottom Line
Even after a rough 2022, Costco still has a lot of plusses in its corner. From its ever-renewing customer base to its long-term performance to a potential special dividend, it's easy to see why analysts still back the stock. And although stocks don't always reclaim former highs, it's worth noting that Costco sits more than 100 points below its 52-week high of $612.27. Investors would be rewarded with a gain of over 21% if they pick up shares here and Costco goes on to make a new high.
More From GOBankingRates