Democratic Wins in Georgia Expected to Slam the S&P 500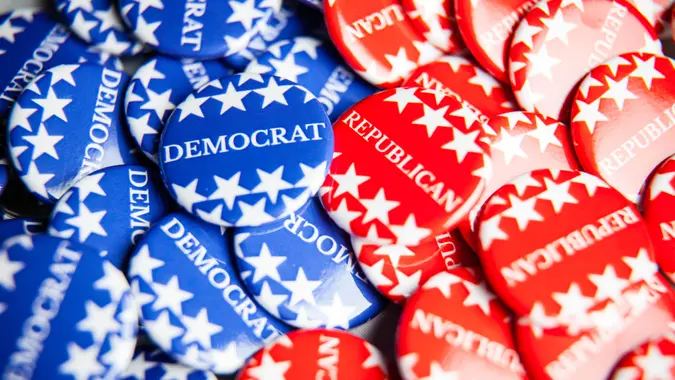 adamkaz / Getty Images/iStockphoto
As the U.S. awaits the results of today's runoff elections in Georgia, the stock market could be in for a shake-up, some analysts say.
Oppenheimer strategist John Stoltzfus wrote in a note Monday, "Should the Democrats win both seats, we expect the S&P 500 to become vulnerable to a downdraft in the neighborhood of 6% to 10%."

See: How Investors Need to Prepare Now for a Biden Administration
Find: Biden, Vaccines and Interest Rates — What's Next for Your Money in 2021?
The Dow Jones Industrial Average and the S&P 500 both opened high Monday but plummeted amidst political fears of an unbalanced government and potential corporate tax hikes for 2021. The Dow closed Monday down 1.25%, more than 382 points. The S&P 500 lost more than 55 points, a 1.48% drop.
"In our experience the markets prefer that Washington's Capitol Hill have enough checks and balances in place to keep political power out of just one party's hands," Stoltzfus explained in his note.
"Increased uncertainty over taxes and spending could likely weigh on the equity market at least until the intentions of the Biden administration are given greater definition as to what a new tax regime might look like and how much any expansion of the government and its services would cost," he continued, as reported by Business Insider.
The market has priced in at least one Republican win, which would maintain the balance of power between both major parties in Washington. The Republicans currently hold the Senate by a slim margin. Two Democrat wins would create an evenly divided Senate, leaving Vice President-elect Kamala Harris, a Democrat, to cast the winning vote in the event of any ties.

See: Will Your $600 Stimulus Check Come on a Debit Card?
Find: How Congress Used the New Defense Bill to Shut Down Banks, Trump and Russian Oligarchs

A Democratic Senate and Democratic White House could lead to tax reform legislation that would reduce corporate tax cuts and could hurt Wall Street dividends and investments in R&D, causing a substantial drop in the futures markets.   
On the other hand, a Democrat-controlled Senate, House of Representatives and White House could be good for stocks in certain sectors, such as alternative energy and infrastructure, says a Reuters report. 
More From GOBankingRates: