COVID Antibody Treatments Show Potential as Vaccine Roll-Out Stumbles; Regeneron Stock Soars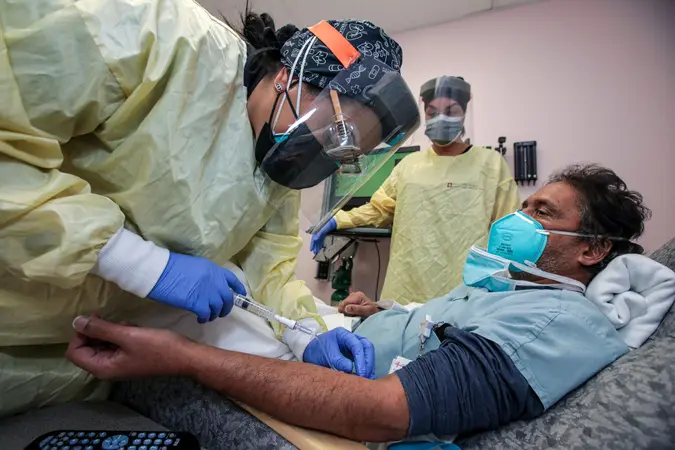 Irfan Khan/Los Angeles Times/Shutterstock / Irfan Khan/Los Angeles Times/Shutterstock
As coronavirus vaccinations continue their slow rollouts, Regeneron (NASDAQ: REGN) and Eli Lilly (NYSE: LLY) are banking on their monoclonal antibody treatments to be used as a preventative measure for those at high risk of Covid-19. These groups would include people whose family members have tested positive for coronavirus and older adults in nursing homes. Regeneron stock opened up nearly 6 points Thursday morning, at $521.32 and Eli Lilly stock was up a marginal half-point to $208.
Economy Explained: What Is the GDP – and What Does It Have to Do With You?
Investing 101: Inspired by the GameStop Frenzy? The Retail Investor's Quick Guide to Short Selling
Unlike the two-stage vaccines currently on the market from Pfizer and Moderna, these antibody cocktails would theoretically act as a passive vaccine – that means they deliver virus-fighting antibodies directly to recipients, rather than stimulating the body to create its own antibodies.
Treatments from Regeneron (containing casirivimab and imdevimab) and Eli Lilly (containing only bamlanivimab) have both been approved by the Food and Drug Administration (FDA) for emergency use in treatment of patients with moderate to severe Covid-19 within the first few days of infection to prevent more severe illness.
Names of antibodies used for treatment of Covid-19:

@LillyPad

= bamlanivimab |

@Regeneron

= casirivimab and imdevimab.

The 'mab' ending of these drugs stands for monoclonal antibodies, so you may recognize this ending for other pharmaceuticals.

— Rob Swanda (@ScientistSwanda)

January 24, 2021
In late-stage clinical trials, Eli Lilly gave bamlanivimab to nursing home residents. The groups were split 50/50 between the treatment and a placebo. After eight weeks, residents and staff who received the treatment had 80% less risk of testing positive for Covid-19. During the trials, 16 residents died – including some deaths from Covid-19. Eleven people who received the placebo died, and "only" five who received the treatment.
Explore: When Can You Get The COVID Vaccine? Here's What We Know So Far
Find: The National COVID Vaccine Roll-Out Is a Multi-Billion Dollar 'Trainwreck'
Regeneron tested its cocktail on 400 people in homes with others who had contracted Covid-19. Of the 200 people who received the placebo, 40% in the placebo group who got infected were sick for three to four weeks. None who received the therapy carried high viral loads, showing the cocktails' use in reducing symptoms and viral loads – meaning the virus could be less contagious in those carrying it who receive the treatment.
Additionally, the new antibody treatments may offer some stronger protection against a few of the new strains of Covid-19, according to a report from Reuters (which also indicated that the antibodies didn't hold up against all the new variants any better than the vaccines), which could be crucial in the months and years ahead. Like the vaccines, the government has allocated funds so people who want to receive the treatments can do so for free, although there may be administrative costs involved.
Learn More: Should You Take Stock Tips from Internet Gamblers? This Group's Latest Pick Soared 50% (Almost) Overnight
Dive In: Biden Administration Orders 200 Million Additional Vaccines

However, in addition to FDA approval, the treatments may face additional stumbling blocks. A nurse must administer the treatments via IV for an hour and keep the patient for monitoring for another 60 minutes. For a public somewhat resistant to a double-stage vaccine – with up to 50% of frontline healthcare workers turning down vaccines in some regions of California, according to CalMatters – this form of administration may be even less desirable. Meanwhile, many employers are requiring Covid vaccinations if employees want to keep their jobs.
More From GOBankingRates