Dow Futures Drop as Trump Calls Stimulus Bill an 'Unsuitable Disgrace'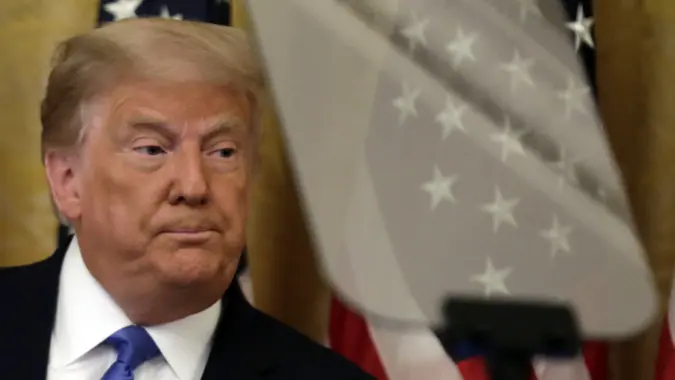 Shutterstock / Shutterstock
As U.S. residents and Wall Street alike waited for President Donald J. Trump to sign the $900 billion stimulus bill for pandemic relief, Trump suggested Tuesday night on Twitter that he may not sign it.
The White House had suggested Trump would sign the bill Tuesday. Instead, the president called the bill "an unsuitable disgrace," calling for $2,000 in coronavirus aid to individual Americans.
In a video posted on Twitter, he also asked Congress "to get rid of the wasteful and unnecessary items from this legislation, and to send me a suitable bill."
Calling the $600 per person stimulus checks "ridiculously low," he added, "Not enough money is given to small businesses, and in particular, restaurants."
Speaker of the House Nancy Pelosi tweeted back in response to the video. "At last, the President has agreed to $2,000. Democrats are ready to bring this to the Floor this week by unanimous consent. Let's do it!"
Upon the news, futures dropped, with the Dow closing down more than 200 points at 30,015.51. The S&P 500 closed down 0.21%, while Nasdaq, bolstered by Apple (NASDAQ: AAPL) and news of its electric vehicle on the horizon, closed up by 0.51% after hitting a record high midday.
See: Biden, Vaccines and Interest Rates — What's Next for Your Money in 2021?Explore: 10 Surprises Congress Snuck Into the Stimulus Package
The stock market had been a roller coaster ride this week even before Trump's 11th hour reversal on the stimulus bill. What can we expect when the markets open Wednesday? A lot will depend on the stimulus bill, but here are a few other areas to watch right now.
1. Cruise stocks sink again.
If you're betting on economic recovery and a return to travel, and you're in it for the long game, consider some of the cruise stocks that sunk this week. Royal Caribbean Cruises Ltd. (NYSE: RCL) closed at 69.69, down nearly 3%. Carnival (NYSE: CCL) dropped nearly 6% to $19.81 at close. Norwegian Cruise Line Holdings (NYSE: NCLH) dropped almost 7%, down to $23.08.
2. Oil futures drop.
After seven weeks of gains, oil prices dropped today amidst fears of another coronavirus lockdown. Crude oil futures dipped 2% to $47.97 per barrel. Western Texas Intermediate fell nearly 4%, down 2.24 points.
See: In Spite of Recent Drops, Could Oil Be Headed for a Bullish Market?Explore: Water Joins Gold and Oil as Wall Street's Next Precious Commodity
3. Investors eye Johnson & Johnson.
Vaccine roll-out news may have taken a backseat to stimulus bill developments, but Pfizer, Moderna and Johnson & Johnson are still worth watching. Experts at The Motley Fool suggest Pfizer's vaccine growth story could be over. Johnson & Johnson, however, is set to announce results from a late-stage study of its single-dose COVID-19 vaccine in January. With the stock down slightly at close Tuesday, it could be one to watch.
More From GOBankingRates: