Everyday Brands To Invest In Now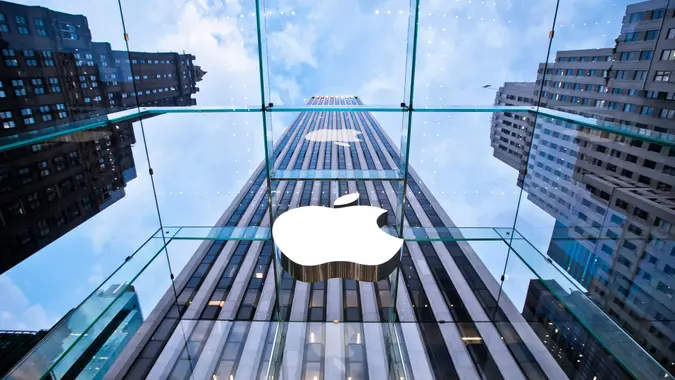 Andrey Bayda / Shutterstock.com
A commonly tossed-about phrase on Wall Street is that you should "invest in what you know." Although that's a simplistic approach to investing, it does have an underlying current of truth. After all, the reason that companies become well-known is that many, many people use their products, thereby generating sales and profits. So, if you're a regular user of a product or service, why not participate in the growth of that business yourself?
The companies on this list might be timely buys for two additional reasons as well. First, some analysts are predicting that this holiday season will generate the highest sales on record. Second, most — but not all — of the companies on this list are considered "defensive," as they sell things that people need or use regardless of the economic backdrop. If you fear the stock market might be getting ahead of itself here, some of these names might hold up better than the general market. Talk with your financial advisor to see whether any of the names on this list match your investment profile in terms of objectives and risk.
Learn: 4 Investing Lessons the Pandemic Has Taught Us
Also: 26 Smartest Ways To Invest Your Money During the Pandemic
Apple (AAPL)
Stock price as of Dec. 13, 2021: $175.74
Apple has been an unstoppable force in the stock market for years, and there doesn't seem to be any stopping it. As the stock with the largest market capitalization in the world, Apple comprises over 6% of the S&P 500 stock index all by itself, meaning if Apple stock is up or down, the market as a whole is likely to be the same. This immense size gives Apple a lot of power in terms of the deals it can cut with suppliers, and its immense cash hoard of about $62 billion, on top of about $100 billion in annual cash generation, allows the company to be strategic in terms of its investments — and defensive during tough economic times. Add in the fact that Apple sells some of the most popular products in the world and it amounts to a winning package.
Costco (COST)
Stock price as of Dec. 13, 2021: $557.22
Costco stock has taken off in 2021, up about 43% YTD as of Dec. 13, but it might have a lot more in store for 2022. The immensely popular retailer draws a fanatical following of shoppers who rave about the company's low prices, exciting product lines and "treasure hunt" shopping experience. In its most recent quarter, reported in December 2021, Costco reported 113.1 million members who renewed at a rate of 91.6% in the United States and Canada. This type of loyalty also translated into year-over-year revenue growth of 16.5%, to a whopping $50.363 billion. Costco is currently firing on all cylinders and its momentum is likely to continue into 2022.
Advice: The 37 Mistakes We Make When Shopping at Costco, Amazon, Target and Walmart
Starbucks (SBUX)
Stock price as of Dec. 13, 2021: $115.56
Starbucks ranked No. 37 on the Forbes 2020 list of most valuable brands, but it's worth even more than that to its diehard loyalists. Many customers make Starbucks a part of their daily ritual; and, over the holidays, coffee-fueled shoppers and vacationers tend to drive up sales as well. The company has saturated the globe with its coffee outlets, so it's not the explosive grower that it was decades ago, but analysts are still looking for 16% earnings growth in 2022.
Walmart (WMT)
Stock price as of Dec. 13, 2021: $143.57
Walmart is one of the default "defensive" stocks in the market, as it's the largest retailer in the world. Consumers always need to buy things, from food to home furnishings to baby supplies, so Walmart will always generate revenue. Of course, the economy goes in cycles, so some times are leaner than others. But Walmart often performs even better in a relative sense during a slowing economy, as its size allows it to keep prices low and attract the cost-conscious consumer. The stock is about flat for the year, but it might pick up through the holiday season.
Watch Out: 25 Secret Money Traps at Target, Walmart and Other Big-Box Stores
Diageo (DEO)
Stock price as of Dec. 13, 2021: $209.01
Diageo may not be a household name to many Americans, but its products likely are. The purveyor of spirits boasts such globally popular brands as Johnnie Walker, Smirnoff, Captain Morgan and Tanqueray. Although the stock suffered in early 2020 when consumer demand cratered due to the pandemic, it has turned around and surged to new highs, up over 30% YTD in 2021. Holiday sales are likely to be high, and investors earn a nice dividend of nearly 2% while they own the stock.
Coca-Cola (KO)
Stock price as of Dec. 13, 2021: $57.76
Coca-Cola isn't the most exciting stock, but its dependability makes it a great long-term hold for many investors. The company is a cash machine, with a low growth rate but a huge market share. This immense cash flow translates into a 2.91% dividend yield for investors, well above the S&P 500's 1.28%. Its brand is also one of the most well-known and valuable in the world, ranking No. 6 on Forbes' 2020 list of the world's most valuable brands. The stock has long been one of billionaire Warren Buffett's biggest holdings, if you're a fan of the "Oracle of Omaha."
Also See: Every Stock That Warren Buffett Owns, Ranked
Macy's (M)
Stock price as of Dec. 13, 2021: $24.80
Macy's found itself in the stock market doghouse during the heart of the pandemic, which was dubbed by some to be the "retail apocalypse." However, after trading down to the single digits and looking to many as if it was on the precipice of bankruptcy, the company reinvented itself and became a Wall Street darling in 2021, up a staggering 130%. The influx of stimulus money, a resilient consumer and an increased online presence have all contributed to Macy's rebirth, and a strong holiday shopping season should do nothing but help the company.
PayPal Holdings (PYPL)
Stock price as of Dec. 13, 2021: $186.38
Although competitors such as Square now populate the landscape, PayPal remains one of the premier payment processors in the world — and it owns one of its major competitors, Venmo. Cash transactions continue to decline in the U.S., and PayPal continues to benefit. The stock is a high flyer, up 465% over the past five years even after a significant selloff in 2021. If payment transactions pick up over the holiday season, buying the stock in its current $185 range, down about 20% for the year, could be a good move for long-term holders.
More Advice: 25 Money Experts Share the Best Way to Invest $1,000
Roku (ROKU)
Stock price as of Dec. 13, 2021: $221.92
Roku has been a public company only since 2017, but it has rapidly grown into an ubiquitous provider of streaming services. In addition to its Roku streaming sticks, the company has integrated itself directly into many TV brands, to the point where certain models are actually dubbed "Roku TVs." Streaming got a tremendous boost from the lockdown orders of the pandemic; but, even before that, streaming was on a path to be one of the primary ways that Americans consume their content. Roku's notoriously volatile stock is up 736% over the past five years but has dropped a staggering 34% thus far in 2021, perhaps opening up an attractive buying opportunity.
Amazon (AMZN)
Stock price as of Dec. 13, 2021: $3,391.35
Amazon is synonymous with online retailing dominance, and it seems as if the company is expanding into new markets every day. There's no doubt the company has completely reshaped the online retailing experience, with competitors now trying to match Amazon's incredible delivery efficiency and depth of product line. However, as of Dec. 13, the stock is up only about 6% YTD, meaning if you're a believer in the holiday shopping season, or the company as a whole, this might be a good entry point for this retailing behemoth.
More From GOBankingRates