10 Growth Stocks To Invest In Now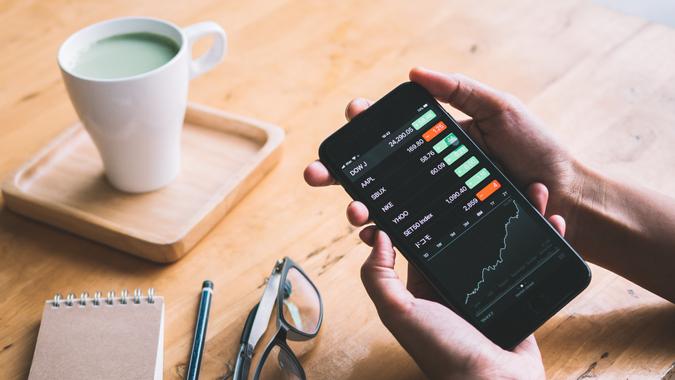 Chayantorn Tongmorn / Shutterstock.com
Do you want to diversify your portfolio? If you want to make the most of your investments, it's best to invest in growth stocks. These are stocks of reputed companies and have a high potential for growth.
Keep reading to find the best growth stocks for 2022.
What Is a Growth Stock?
A growth stock is a share in a company that sees a higher increase in its earnings and revenue than other standard businesses in the same industry and businesses in the market as a whole.
However, when investors opt for growth investing, they need to look for more than just stocks on the rise.
Companies with growth stocks typically become a "growth company" because they've created an innovative product or have entered a new market. Growth stocks are also more expensive than value stocks since they come with a promise of higher returns and growth potential.
Best Growth Stocks for 2022
Here are some of the top growth stocks for 2022.
1. Meta Platforms Inc. (FB)
Meta Platforms Inc., previously known as Facebook, has been in the limelight, mainly due to the reasons behind the change in the name. The company announced that it would make investments to become a market leader. Due to this, investors are split into two sides.
One side believes that Meta's expansion will bring in more revenue. Meanwhile, the other side believes Meta Platforms might allocate insufficient resources to many projects it intends to start, resulting in uncertain outcomes.
Nevertheless, the Meta Platforms stock is currently trading at $16.56 with a market cap of $880.59 billion and a one-year estimated target price increase up to $401.49.
Although many speculative tech stocks crumbled during the pandemic, Meta, Apple, Netflix, Alphabet and Apple remained afloat and generated positive returns. Meta has also entered the augmented reality market with Ray-Ban Stories smart glasses. With such products, Meta has the edge over competitors in the AR market.
2. Unity Software Inc. (U)
For Meta products to be successful, they'll need to be in a rich and intuitive ecosystem. Unity Software is the flagbearer in that space. A gaming engine, Unity allows developers to create games that work with virtual reality, computers, phones and consoles. Since the field is increasingly profitable and undeniably large, there's a huge scope for Unity to grow in the coming years.
The Unity Software stock is currently priced at $113.56 with a market cap of $33.187 billion and a year-end expected price of $173.58.
With more and more companies diving into the gaming space, it's no secret that Unity could get a significant share in the industry. Unity's graphics are also used in design, e-commerce, architecture and animation, which means the company has scope for growth even without Meta collaboration.
3. Shopify Inc.(SHOP)
Trading at $1,023.95 with a market cap of $128.734 billion, Shopify stock is currently dipping. This makes it a good buy for investors who're planning for the future.
The price of Shopify stock has been falling since November 2021, with an almost 28% decline. Although the price is on the lower side, analysts are confident about Shopify performing well as a company. The company's revenue increased by 86% in 2020 as pandemic raised the demand for online shipping. Analysts predict that Shopify's revenue will increase by 33% in 2022.
At the time of its initial public offering, Shopify was only serving 162,261 businesses worldwide. But now, it serves over 1.7 million businesses internationally.
Good To Know

When looking for the best growth stocks, read reports from reputable resources like Gartner and eMarketer. These research firms address investment opportunities for business with larger markets, giving you a chance to find the next big stock before it becomes too expensive to buy.
4. BigCommerce Holdings Inc. (BIGC)
BigCommerce is a software company that provides e-commerce tools for midsized and small-scale online vendors. The company offers catalog management, reporting, accounting, order handling, checkout, hosting and store design services to merchants.
Currently trading at $29.32 with a market cap of $2.1 billion and an expected year-end price of $63.58, it could be the next big stock due to the increasing trend of online shopping and the rise in e-commerce expansion. Although the stock is valued at a lower price at the moment, it has a potential for growth due to the company's promising annual returns and revenue generation.
5. Netflix (NFLX)
Trading at $508.25, Netflix is among the best growth stocks, with a market cap of $225.13 billion and an expected year-end price of $663.37.
Nasdaq experts predict that the streaming service will add 25 million subscribers during 2022, staying in line with the company's goal to add 25 to 30 million members to its list every year. With the growth trajectory, the stock's price could go up to $700 by the end of the year, according to some analysts.
Netflix will be releasing its fourth-quarter results for 2021 in January 2022, and the company expects its revenue to be the strongest, indicating that investors should expect a positive financial performance.
6. Duolingo Inc. (DUOL)
Duolingo claims to be the world's best way to learn a language. With the pandemic giving people enough time to take on new hobbies and learn languages, Duolingo has been doing quite well.
Previously, investors were worried about Duolingo's performance due to difficulty monetizing the services the company provides. However, Duolingo has now developed more dependable revenue streams by offering placement tests for career and academic use. Currently, Duolingo stock trades at $89.93 and has a market cap of $3.37 billion. According to Wall Street analysts, there's a high chance the stock's price will go up to a minimum of $125 and a maximum of $195.
How To Find the Next Big Stock
A stock's success is not always dependent on how big or influential a company is. It also has a lot to do with the current trends. Companies that capitalize on these trends generate more wealth and ultimately have highly-priced stocks.
For instance, the COVID-19 pandemic accelerated the growth of many trends, such as digital payments and online shopping. Here are some companies that profited off these trends:
E-commerce
With lockdown restrictions in place, people predominantly shopped online. As expected, that raised the stock prices for companies like Shopify and Amazon. Meanwhile, international retailers like Alibaba also benefited.
Digital Advertising
As more companies started operating online, the need for digital advertising grew. Thus, companies like Alphabet and Facebook profited from this trend.
Streaming Services
Since the whole world was under quarantine, the need for at-home entertainment grew. Therefore, streaming services like Netflix, Amazon Prime and HBO Max saw a rise in revenue generation.
Remote Work
The pandemic also shifted in-office work to remote or hybrid models. That increased the need for video calling and collaboration services like Zoom and Skype. Similarly, online schooling benefitted Google Classroom and Zoom immensely as they saw a massive increase in the number of users.
Keeping an Eye on Trends
The key to finding the best growth stocks is to keep up with the trends. Plus, look for companies acting actively to make sure they're aligned with these trends. The sooner you get in, the higher returns you can expect.
Apart from current trends, consider competitive advantage. Some of the best growth stocks come from companies with an edge over the competition.
Facebook is a good example of this. With Instagram and Whatsapp under its wing, Facebook leverages the network effect to maintain its market position. Since the company's apps have billions of users, it's highly unlikely for any other social media app to displace them in the near future.
Similarly, a bigger company has an advantage over smaller organizations. Amazon is the perfect example of this. The company's global fulfillment network makes it difficult for rivals to compete.
Data is accurate as of Jan. 20, 2022, and subject to change.
Our in-house research team and on-site financial experts work together to create content that's accurate, impartial, and up to date. We fact-check every single statistic, quote and fact using trusted primary resources to make sure the information we provide is correct. You can learn more about GOBankingRates' processes and standards in our editorial policy.