How Apple's New Product Launch Will Affect Its Stock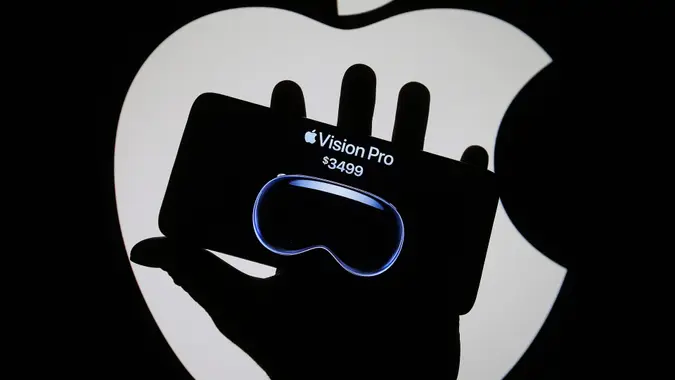 Pavlo Gonchar / SOPA Images / Shutterstock.com
Apple unveiled Apple Vision Pro, "a revolutionary spatial computer that seamlessly blends digital content with the physical world, while allowing users to stay present and connected to others," on June 5.
While the new mixed-reality headset was launched to rave reviews, it also comes with a higher-than-expected price tag — $3,499 — which pushed the stock lower after the announcement.
As Bloomberg reported, shares closed lower on June 5, reversing gains that sent shares to an all-time high earlier in the day, "after investors balked at the steep price of its newly launched Vision Pro mixed-reality headset."
On Monday, MarketWatch reported Apple shares at $179.58, down 0.8%.
Apple Vision Pro Impressive, But Costly
"The hype leading into the event felt well overdone, setting up for a prime sell-the-news event in trading," KeyBanc Capital Markets analysts wrote in a note, according to Barron's.
And Angelo Zino, senior equity analyst at CFRA Research, wrote in an emailed research note that although its best-in-class hardware/immersive capabilities were impressive, Apple failed to identify why it's a must-own device for consumers — at least for now. CFRA said it maintained its Buy opinion on Apple.
"Still, the company's entry into the space and greater engagement from developers will help support adoption and new use cases over time," Zino noted.
Meanwhile, Deepwater Asset Management managing partner Gene Munster tweeted: "I understand why shares of $AAPL have pulled back 2% since the announcement. Vision Pro is something that investors will need to try before they believe. There are so many questions I have, that may take months to answer as content and applications build."
Apple Stock Up YTD
Yet, Apple shares are up a whopping 43% year-to-date and reached $184.36 in early morning trading on June 5, per Forbes.
Like other tech giants — Microsoft, Amazon and Nvidia — Apple has benefited from the resurgence of tech stocks in recent weeks.
Despite the slight pullback in share prices, some experts argue that the company not only should continue to grow, but that it can also weather any storm.
"That means it works in both risk-on and risk-off environments, and that makes me very excited to own it," Devon Drew, CEO of DFD Partners, told Bloomberg.
Other analysts noted that this is only the first step in Apple's AI's pursuit.
"We continue to strongly believe this is the first step in a broader strategy for Apple to build out a generative AI driven app ecosystem for its golden customer base that will have thousands of use cases across fitness, health, sports/movies via Apple and partner (e.g. Disney) content, and a myriad of other areas just starting to take shape with developers," Wedbush Securities analyst Dan Ives wrote in an emailed June 7 investor note.
Wedbush maintained its Outperform rating and a $220 price target.
Ives also tweeted on June 7 that, "Apple's fair valuation could be in the $3.5 trillion range with a bull case $4 trillion valuation by FY25."
More From GOBankingRates