Here's How Far the Stock Market Could Fall Thanks to the Coronavirus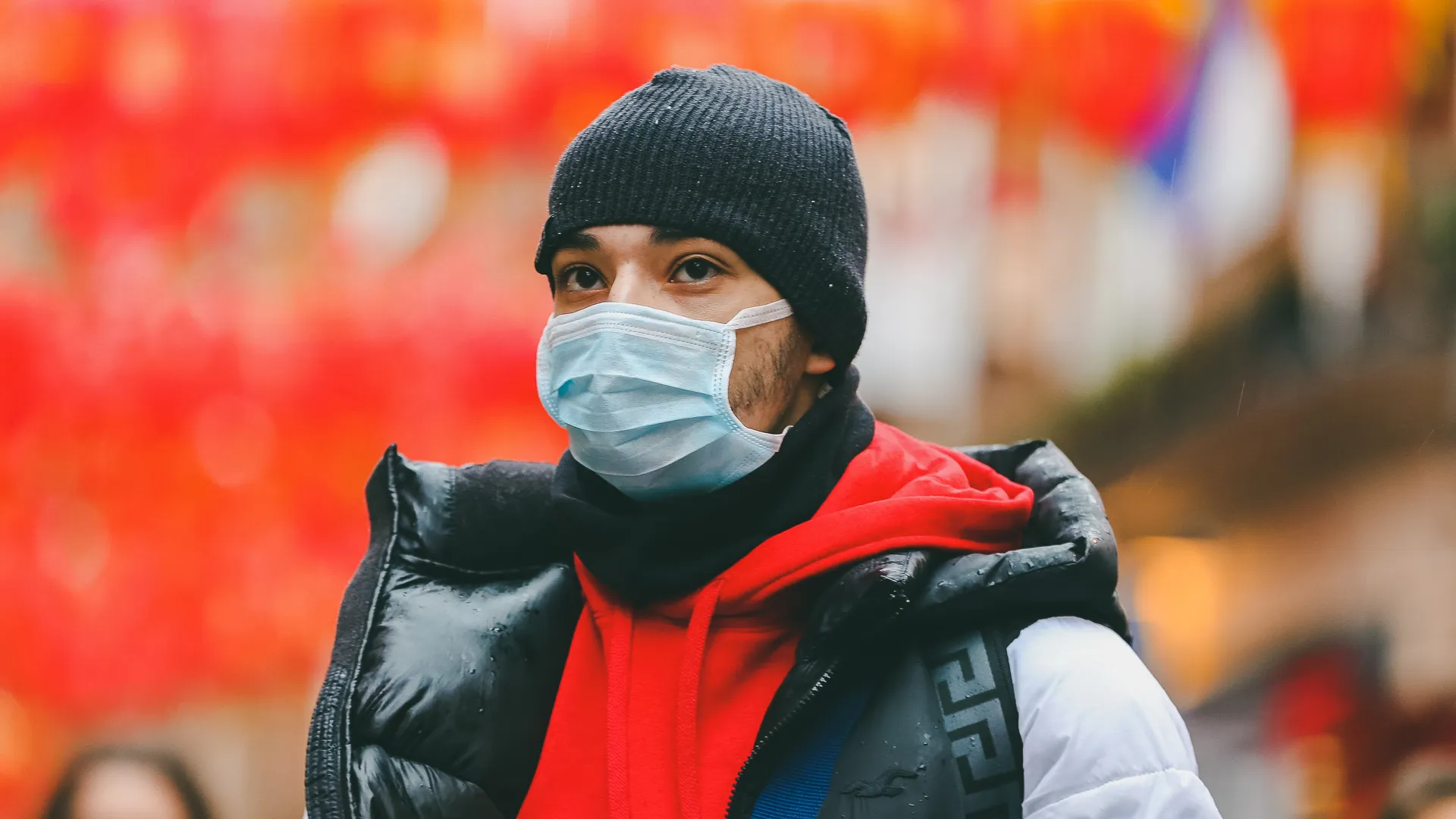 Stock prices around the world are powered by a wide variety of factors, from earnings to interest rates. Beneath it all, however, lie two very human forces: fear and greed. In early 2020, the U.S. stock market's long surge higher was at least temporarily interrupted due to news of a potential global pandemic, a new coronavirus. In one day alone — Jan. 27, 2020 — the market's entire gains year-to-date were wiped out on fears that the virus would spread like some of its predecessors, SARS and MERS. So, what are the real market risks regarding the new coronavirus, and how might it affect markets and industries going forward? Take a look at some of the real images of these events and how the coronavirus impacts the market.
Last updated: Feb. 5, 2020
Pictured: A man in Chinatown in central London is seen wearing a face mask following the outbreak of coronavirus in China on Jan. 26, 2020.
How Far Domestic Markets Have Fallen
Domestic stock market prices change from second to second. In times of fear or uncertainty about a potentially major global event, such as the spread of the new coronavirus, these movements can be dramatic. On Jan. 27, 2020, the Dow Jones Industrial Average posted its greatest one-day loss since October 2019, falling more than 450 points. This 1.6% drop wiped out the average's year-to-date gains. The Dow has since started to go back up, closing around 200 points higher two days after Jan. 27.
Pictured: New York Stock Exchange tumbled at the open on Wall Street following coronavirus concerns on Jan. 27, 2020.
How Far International Markets Have Fallen
As is often the case, when the U.S. stock market falls, global stock markets often drop even more precipitously. On that January 2020 day when the Dow Jones Industrial Average fell by 1.6%, numerous indexes around the world fell by more than 2%, from the Japanese Nikkei 225 to the German Dax to France's CAC 40. The Stoxx 600 index, which tracks a range of markets across Europe, fell by 2.3%, while the iShares MSCI Emerging Markets ETF fell by a whopping 3.5%, according to reporting by CNBC.
Pictured: People wearing masks walk past a display of Tokyo's Nikkei Stock Average on Jan. 27, 2020.
What Exactly Is the Coronavirus Anyway?
A coronavirus, according to the Centers for Disease Control, is a respiratory illness that was first identified in Wuhan, Hubei Province, China. This most recent outbreak is technically known as the 2019 novel coronavirus, or 2019-nCoV, as it is a new virus that has never been detected before. Scientists and researchers across the globe are still looking for the source of the virus, but they suspect it originated from an animal source. Both SARS and MERS were coronaviruses that had animal origins, so research is leading in that direction for 2019-nCoV as well.
Pictured: Researcher delivering the 2019-nCoV detection reagents at a company in Wuqing District, Tianjin Municipality, China, on Jan. 27, 2020.
What Happened During SARS?
SARS, or severe acute respiratory syndrome, was another coronavirus outbreak that struck the world in 2002-03. According to reports funded by the National Institute of Health, the global economic impact of the SARS outbreak was close to $40 billion or more. Between November 2002 and March 2003, during the peak of the SARS outbreak, the Dow Jones Industrial Average fell by over 17%, with the S&P 500 index tracking it closely. Of course, there's an asterisk with this figure: The markets were still in relative free-fall after the dot-com bubble blew up at the turn of the millennium, so this may have exacerbated the sell-off.
Pictured: GEAR Health Officials walk outside Hong Kong's Amoy Gardens where at least 283 cases of SARS were recorded in April 2003.
What Happened During MERS?
The Middle East respiratory syndrome, or MERS, sparked some of the same fears as to its predecessor, the SARS virus. During the peak of the MERS scare, however, the stock market damage was minimal. From Nov. 1, 2012, to Dec. 1, 2012, the S&P 500 only dropped by 0.8%. Perhaps the experience of SARS made investors less panicky, as markets recovered within months after that scare.
Pictured: A Muslim pilgrim wears a face mask to prevent infection from the Middle East respiratory syndrome in the holy city of Mecca, Saudi Arabia, in 2014.
Why Markets Are Falling: Uncertainty
One of the oldest stock market axioms is that the stock market hates uncertainty. While certainly a glib statement, the truth is that it's hard for investors to commit their capital when the path ahead seems uncertain — or at least, more uncertain than usual. The potential of a global pandemic, in which a previously unknown virus that has no vaccine spreads rapidly throughout the world, is enough to spark panic in many investors. Combined with the actual — and yet, undefinable — economic effects that a pandemic can have on corporate earnings, this is a fertile mix for a stock market sell-off.
Find Out: What $1,000 Invested In Stocks 10 Years Ago Would Be Worth Today
Pictured: A person wearing a face mask to prevent coronavirus outbreak walks past the New York Stock Exchange.
Why Markets Are Falling: Economic Slowdown in China
There's no doubt that with 2019-nCoV originating in China and with most of the known cases thus far occurring in China, the Chinese economy will take a hit from this outbreak. S&P Global estimates that this outbreak could trim the growth rate of the Chinese economy by 1.2%, which is quite significant. As China is one of the world's biggest economic engines, a Chinese slowdown could have ripple effects throughout the global economy.
Pictured: People shop for the Chinese Lunar New Year in Beijing.
Why Markets Are Falling: Slowdown in International Travel
On Jan. 27, 2020, the CDC broadened its travel warning to all of China, raising its risk factor to level 3. This moves the risk level from "watch" to "alert" to "warning," meaning the CDC recommends avoidance of all nonessential travel to China. This type of major travel disruption not only has real economic effects but also contributes to the fear and uncertainty surrounding the virus outbreak. That's a potent combination that can hurt stock prices.
Pictured: Passengers wear masks in front of departure information at Beijing Capital International Airport on Jan. 26, 2020.
Why Markets Are Falling: Increased Risk Velocity
Risk velocity is the speed at which negative events — whether potential or actual — can affect market prices. As quoted by Marketwatch, Seema Shah, chief strategist at Principal Global Investors, notes that risk velocity "…is elevated in today's markets compared to 10 years ago…." According to Shah, the shortened, social media-driven news cycle, an expensive stock market and the interconnectedness of global supply chains can make the markets more vulnerable to a major, unexpected event, also known as a "black swan."
Pictured: South Korean Composite Stock Price Index (KOSPI) on Jan. 28, 2020.
Why Markets Are Falling: Pent-Up 'Demand' for a Sell-Off
Another reason why the stock market may be particularly susceptible to the coronavirus outbreak is that it has been "waiting" for a big sell-off for months, even years. The U.S stock market has been on an unprecedented run; the 2010s marked the first decade in history where the market didn't experience a recession. As such, market pundits have been calling for a recession or other shock to the market for quite some time. The hint of a global pandemic may give some investors the type of cover they need emotionally to take some profits and get out of the way, which could help keep a lid on prices, at least temporarily.
Pictured: New York Stock Exchange retracts amid an unresolved trade dispute with China.
Possible Industries Affected by Coronavirus: Companies Doing Business in China
Some companies derive a much greater portion of their revenue from China than others. These companies stand to suffer more during the current crisis than others since the coronavirus originated in Wuhan, China. Estee Lauder and Nike, for example, each generate more than 17% of their revenue from the Chinese mainland. Not unexpectedly, those companies sold off 4% and 1.7%, respectively, during the Jan. 27, 2020, sell-off.
Possible Industries Affected by Coronavirus: Gold Companies
In times of panic, investors traditionally flee to "safe haven" assets, such as U.S. Treasury securities. Gold is one of these "safe haven" investments, as it represents a hard asset. Unlike financial instruments like stocks, which only exist on paper, gold is a tangible store of value that you can hold in your hand. Whether or not this is a mere psychological benefit is up for debate, but the fact remains that the more panic there is in the world, the more valuable gold tends to become. If the coronavirus outbreak gets worse, you can expect gold to trade up in value.
Possible Industries Affected by Coronavirus: Airlines and Travel Companies
Airlines and travel companies are among the most obvious casualties of any type of sustained virus outbreaks and attendant travel restrictions. Simply put, the fewer people who travel, the less these companies earn. In addition to the direct economic impact of fewer travelers going to the affected areas, other travelers might also cancel their trips to currently unaffected areas out of an abundance of caution. Stocks of companies like Marriott, Hilton and Hyatt Hotels have each plunged more than 6% already in response to the crisis. American Airlines and United Airlines each fell by 5% on Monday, Jan. 27, 2020, alone.
See: How the World's Richest People Can Lose Billions in a Single Day
Possible Industries Affected by Coronavirus: Luxury Goods Retailers
Retailers, in general, will suffer from any type of prolonged economic slowdown created by the coronavirus, but luxury retailers may suffer more. In part, this is due to the fact that Chinese are frequent buyers of luxury goods. The combination of a travel ban hitting parts of the country with a general economic slowdown in China could translate into lower profits for luxury retailers. The timing of the outbreak is also unfortunate for these companies, as it began during the Chinese New Year season when spending is often high.
Pictured: Gucci Store in Hong Kong.
Possible Industries Affected by Coronavirus: Those With Chinese Supply Chains
One of the biggest fears gripping the stock market is that any economic slowdown triggered by the coronavirus could spread to a wide variety of companies. On top of the obvious victims of this type of slowdown, from retailers to travel companies, any company with a supply chain tied to China could be affected. While many companies have recently been trying to move their supply chains away from China, the fact is that it's a difficult process. Even companies that have moved some of their production elsewhere still have important business ties to China, from Apple to Boeing.
Possible Industries Affected by Coronavirus: Pharmaceuticals and Household Goods
On the plus side, some stocks actually rose during the coronavirus-induced sell-off on Jan. 27, 2020. In particular, pharmaceutical and household goods companies, such as Clorox and Procter & Gamble, held up well, actually gaining on the day. Companies in these industries are generally seen as more stable and defensive, as consumers tend to continue buying products like toothpaste and personal hygiene items even during uncertain times. More speculative companies said to be working on vaccines for the coronavirus spiked by as much as 40%, although those gains may be short-lived.
Pictured: A man works in Kanion Pharmaceutical Chinese traditional medicine production line in Lianyungang, Jiangsu Province, China.
How Far Can Markets Fall?
How far can markets fall? That's a question no one can answer with any certainty. If past coronavirus outbreaks are a guide, markets could potentially fall 15% or more, as was the case with the SARS virus. Coupled with the lack of any significant market pullback for some time, markets could be primed for a correction. Headlines may lead to sharp spikes or sell-offs until there's more certainty regarding the risks of the outbreak.
Pictured: Chinese businessman wearing a flu mask on the floor of the Hong Kong Stock Exchange in 2003.
Is There a More Optimistic Scenario?
Although the Jan. 27, 2020, sell-off may have felt dramatic, the truth is it was only a 1.6% drop in the Dow Jones Industrial Average. It's entirely possible that the 2019-nCoV becomes no more than a blip on the long-term market chart. The fact remains that even though big, headline-grabbing news events can spook markets, there are dozens of factors that come into play in determining market trends.
The markets hardly budged during the 2012 MERS outbreak, and during the SARS outbreak, markets were still suffering from the dot-com bubble overhang. Currently, market conditions are different, with low unemployment, good economic conditions and low interest rates supporting a multiyear bull market. Although there may be sharp or dramatic sell-offs ahead, if they occur, they may well prove to be good entry points for long-term investors.
More From GOBankingRates
Pictured: A worker sprays antiseptic solution as a precaution against the spread of Middle East respiratory syndrome in South Korea in 2015.
About the Author