Here's How Much You Would Have Made If You Invested Your Stimulus Checks in Tesla, Apple & Other Top Stocks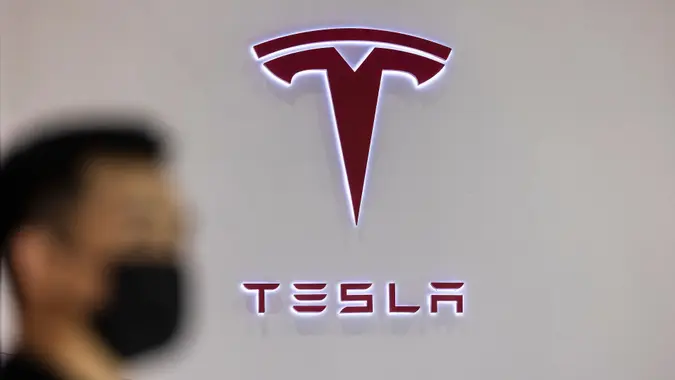 Alex Plavevski / EPA-EFE / Shutterstock.com
Many people had to spend all three stimulus checks on necessities like bills and car repairs. Others squandered them on wants instead of needs.
But those who were already on sound financial footing had the luxury of investing their Economic Impact Payments in the stock market. Depending on the stocks they chose, they could have multiplied those payments many times over by now — or be stuck wishing they had put their money in a savings account instead.
If you had to guess the five biggest names in stock investing off the top of your head, no one could blame you for guessing Apple, Tesla, Amazon, Netflix and Disney.
The following is a look at what investments in those five big-brand companies would have been worth today if you had bet your stimulus money on their future growth.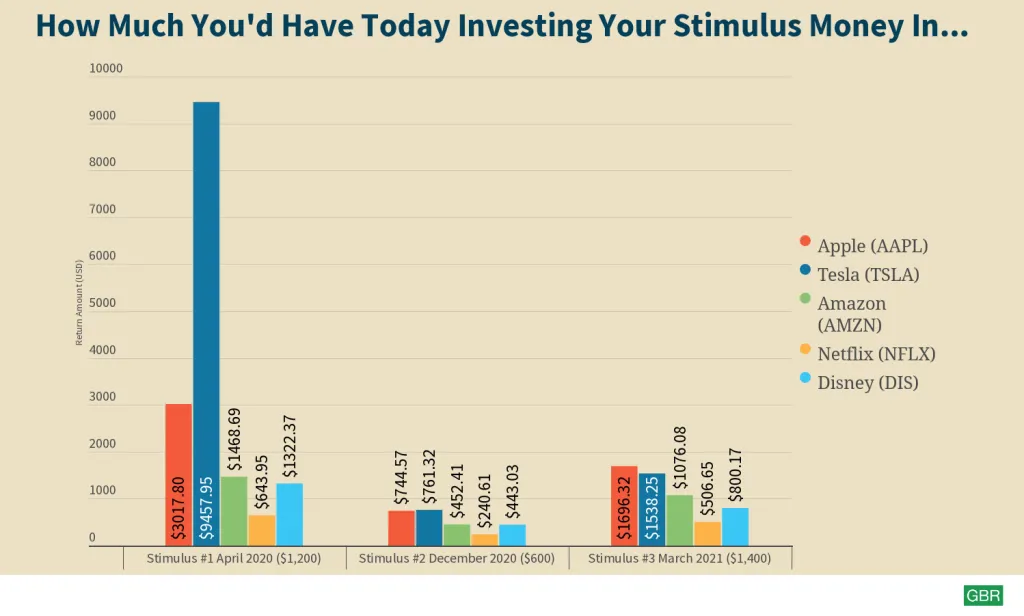 Three Payments, Three Chances To Invest
Here's a refresher on when the trio of stimulus payments arrived and how much they were for:
Round 1: April 2020 ($1,200)
Round 2: December 2020 ($600)
Round 3: March 2021 ($1,400)
Apple (AAPL)
Like most tech stocks, Apple has had a rough 2022 — but investors enjoyed fairly steady gains from the time of the March 2020 crash through the end of 2021.
Apple was trading around $57 at its pandemic bottom, but it closed out 2020 more than double that, at around $133. By the end of 2021, it was closer to $178, and today it's down to $134 — almost exactly where it was when the second stimulus checks began arriving.
Had you invested your first-round check, your $1,200 would have become $3,017.80 — as Apple's price more than doubled, so would have your gains. Because of the near-parity in then-and-now Apple stock pricing, your second-round check of $600 would have grown to only $744.57 by now. Apple was trading around $120 when the third checks arrived, so your $1,400 investment would now be worth $1,696.32.
Tesla (TSLA)
At the start of 2020, Tesla stock was trading at less than $90 per share. One year later, in early January 2021, it was trading around $880 for one-year gains in the ballpark of 900%. The astonishing rise made Tesla the stock story of the year and made Elon Musk the richest person on Earth. 
If you put your first payment into Tesla, you would have cleaned up with a return of $9,457.95 — but you had to catch those 2020 gains to be a winner. Unfortunately for investors, Tesla stock fell at the start of 2021 and didn't reclaim its new year highs until October.
Although Tesla closed out 2021 above $1,000 after peaking above $1,222, it's now down to around $662, which is only slightly higher than when both the second and third rounds of checks begin hitting bank accounts. Had you waited to invest until you got your second check, your $600 would now be $761.32. Had you put your third check into Tesla, your $1,400 would be $1,538.25 today.
Amazon (AMZN)
Amazon was one of the greatest stories in tech stock history, but the luster has worn off. The Bezos brand would have been a fair bet for the first round of stimulus in March 2020, but checks No. 2 and 3 would have been better invested elsewhere.
On June 6, Amazon put a 20-1 stock split into effect, which means that its stock costs one-twentieth of what it did just a few days ago — all stock prices discussed here are listed in post-split dollar amounts.
At the March 2020 bottom just before the first checks went out, Amazon was trading at the post-split equivalent of around $89, compared to about $104 today. Your $1,200 first-round investment would now be worth $1,468.69. By the time the second checks went out in December, the price had jumped to around $163 — much higher than today — so your second-round investment of $600 would now be worth just $452.41 — a loss of around $148. Amazon was around $155 in March 2021, which means your third-round investment of $1,400 would be worth just $1,076.08 today.
Netflix (NFLX)
Netflix — the "N" in the once-mighty FAANG stocks — is one of the saddest stories of 2022. Currently trading at around $173 — down from October 2021 highs of $690 — Netflix hasn't been this cheap since September 2017.
Your first-round investment of $1,200 would be worth just $643.95 today. Your Round 2 investment of $600 would have fallen to $240.61 and your final investment of $1,400 would have lost nearly two-thirds of its value and fallen to $506.65.
Disney (DIS)
At the pandemic low in March 2020, Disney was trading at around $86, which is lower than today's price of around $97. Had you invested your first-round $1,200 check, you'd have $1,322.37 today — but there were a whole lot of gains and losses between then and now.
By the time the second checks were rolling in at the end of 2020, the stock hit $181. Had you bought in then, your $600 would be reduced to $443.03 today. In March 2021, just as the third checks arrived, Disney stock peaked at $197 before falling. A $1,400 investment then would be worth just $800.17 today.
More From GOBankingRates