How I Made $500 a Month in Dividend Stocks: 5 Easy Steps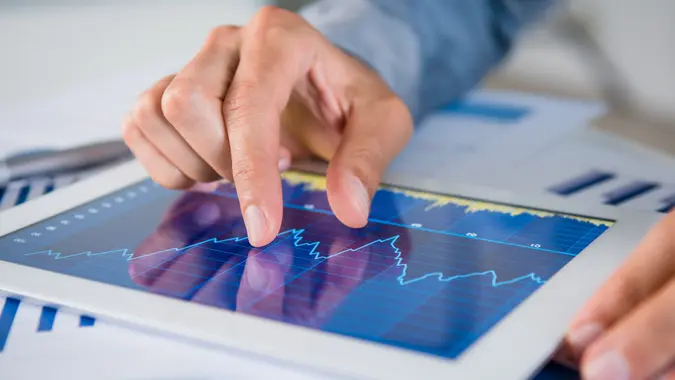 Ridofranz / iStock.com
Monthly passive income, especially accumulated over consecutive years, goes a long way to building your nest egg. You've poured over the S&P 500 index tracking trends, you've practically pulled your hair out when getting a handle on how to invest in the stock market, and now it's time to sit back and let the cash flow in. 
When analyzing what high-dividend paying stocks to buy, it is important to not only calculate the monthly dividend income but also the potential long-term total returns and payout ratio. 
How To Make $500 a Month in Dividends
If you are looking to bring your dividend investment journey to a place where you earn $500 a month, sometimes it helps to see what other dividend investors have done. They might offer advice on what dividend stocks to buy or even what dividend reinvestments to make. 
The author of the popular financial site, Dividends Diversify, who simply goes by Tom, has several pieces of advice. He recommends following these five steps to make $500 a month:
Choose a desired dividend yield target
Determine the amount of investment required
Select dividend stocks to fill out your portfolio
Invest in your dividend income portfolio regularly
Reinvest all dividends received
What Is a Dividend?

Generally based on profits, dividends are payments a company makes to its shareholders. Though companies are not required to pay dividends, most try to do so particularly when it's been a good fiscal year.

Companies have no timetable to make dividend payments or even raise their dividends. There is a class of stocks, however, referred to as "dividend aristocrats" that generally distribute dividends on a regular quarterly basis. 
1. Choose a Desired Dividend Yield Target 
Setting goals is usually the first step to achieving them. For this first step, there are certain looks you should look for when choosing a dividend yield target. "When I choose dividend stocks, I prefer them with yields between 3% and 5%. Why? Because the dividend yield tells me some important information," Tom said. "Stocks with dividend yields of less than 3% simply do not pay enough, in my opinion. On the other hand, stocks with dividend yields greater than 5% may indicate a higher degree of investment risk."
2. Determine the Amount of Investment Required 
Figuring out the amount you can actually invest is an important factor. You don't want to break the bank while trying to grow your money.
Knowing how dividend yields work is a good place to start. "Each holding in a dividend income stock portfolio will have a dividend yield. Furthermore, each dividend stock will then combine to generate a dividend yield for the entire dividend income portfolio. Let's say your dividend portfolio yields 4% in total. That's right in the middle of my 3-5% range. Your portfolio yield may be different," Tom said.
Calculating how much you need to invest to make $500 a month in dividend stocks can be done by starting with your portfolio yield. "Calculate yours by taking the annual amount of dividends paid from all your dividend stocks. And divide that by the market value of your dividend income portfolio," Tom said. "Knowing your dividend income portfolio's yield will tell you how much you need to invest to make $500 in dividends every month."
3. Select Dividend Stocks To Fill Out Your Portfolio 
What stocks you choose to fill out and diversify your portfolio with will impact what kind of dividend income you'll be able to rake in monthly. When selecting your dividend stocks to achieve your goal of making $500 a month, you should consider a few factors. "The past is not always a great indication of the future," Tom said. "But in the case of dividend-paying companies, history can tell us a lot. You should fill out your dividend income portfolio with consistent dividend-paying companies."
He recommends starting with two lists of companies, "First, are the companies known as Dividend Kings. They are businesses that have paid and increased their dividends for at least 50 years in a row. Second, are the Dividend Aristocrats. They represent companies trading in the S&P 500 stock index that have paid and increased their dividends for at least 25 consecutive years."
Knowing what stock to consider is one thing but how many stocks should you invest in? "1 stock that pays monthly dividends does not provide enough diversification, in my opinion. A second option would be 3 dividend stocks. Finally, a third option based on academic research, suggests 20-25 stocks are optimal for diversification," Tom said.
4. Invest In Your Dividend Income Portfolio Regularly 
Good investing takes both consistency and maintenance. Regularly adding to your portfolio can reap great rewards. "Choosing dividend stocks and investing in them is fairly easy. With a little knowledge, investment analysis and effort most anyone can do it. Your biggest personal finance challenge may be making more money. Also, spending less than you make. That simple equation creates excess cash for your monthly dividend investment plan," Tom said. "In other words, you have to create excess cash to invest in the dividend stocks of your choosing."
Creating enough cash flow for you to continue investing might not be easy. Picking up a side hustle or cutting back on major expenses might help.
5. Reinvest All Dividends Received 
The circle of investing is ever-turning. The money you make can only grow if you continue to reinvest and expand your options.
In his fifth step towards making $500 a month in dividend stocks, Tom explained how you can reinvest your funds. "Tell your brokerage firm to automatically reinvest the dividends paid by a company back into that company's shares. The advantage of automated dividend reinvesting is that once you set it up, you can forget it. And your cash from making dividends is put back to work in your dividend stocks right away."
There is also another option you can consider. "The second option is to let your dividends accumulate in cash. And then when you are making your monthly dividend stock purchases, add your dividends collected to the amount you are saving each month. Then, put that money into the dividend stocks of your choice," Tom said.
Final Take To GO 
There is no one path to take when achieving your investment and financial goals. That being said, taking the advice of someone who has actually achieved your specific goal, say of making $500 a month in dividend stocks, can't hurt. It's important to do your own research and make the investments that are best for your unique situation. 
Our in-house research team and on-site financial experts work together to create content that's accurate, impartial, and up to date. We fact-check every single statistic, quote and fact using trusted primary resources to make sure the information we provide is correct. You can learn more about GOBankingRates' processes and standards in our editorial policy.