McDonald's (MCD) Vs. Burger King (QSR): Which Fast Food Restaurant Should You Invest in?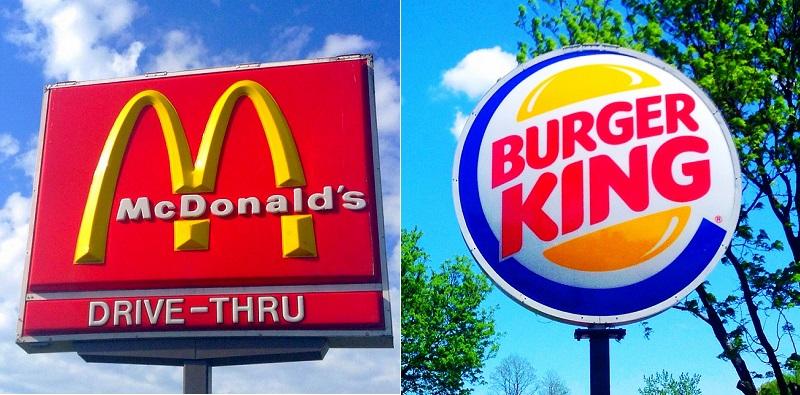 With stocks still reeling from the drops on "Black Monday," shares of fast food restaurants Burger King (QSR) and McDonald's (MCD) are both down. But that likely won't keep these corporations down for long, especially if they work together on a global initiative to raise awareness for peace.
Burger King Asks McDonald's to Join Forces to Create 'McWhopper'
Burger King suggested a peace initiative with McDonald's. The fast food restaurant took out full-page ads in the New York Times and Chicago Tribune on Wednesday, introducing a proposal to join forces with McDonald's and work together for one day. "We know we've had our petty differences," reads the ad, "but how about we call a ceasefire on these so-called 'burger wars'?"
Burger King's statement said that a non-profit organization, Peace One Day, is working to make Sept. 21 a global Peace Day. So, the fast food joint wants to get involved with a one-off offering that combines the two burger joints' most famous burgers: the "McWhopper."
"All the tastiest bits of your Big Mac and our Whopper, united in one delicious, peace-loving burger," Burger King's ad said. The McWhopper would be sold at a pop-up restaurant on Sept. 21 only in Atlanta. All proceeds would go to Peace One Day.
McDonald's CEO Steve Easterbrook responded in a Facebook post. "We love the intention but think our two brands could do something bigger to make a difference," he wrote. "We commit to raise awareness worldwide, perhaps you'll join us in a meaningful global effort?"
McDonald's (MCD) and Burger King Stock (QSR) Prices Still Down — Should You Buy?
It's unclear what the final result of this collaboration will be, but these two fast food restaurants could both use some good news right now. Like many companies, McDonald's and Burger King are still dealing with the drops in stock prices on "Black Monday."
McDonald's (MCD) Stock Today
McDonald's stock is down about 8 percent from around $99.75 on Thursday. It fell over Friday and Monday to a low of $91.58. It has rallied a bit since then, but a recovery is still in the works, with share prices just slightly higher Wednesday morning at just over $92.
McDonald's stock saw a dip in July after it released disappointing earnings reports for the second quarter but had since recovered. The effects of Black Monday, however, mean that McDonald's stock saw a backslide that undid the progress the prices made in the past month.
Despite this turbulence, McDonald's is still a top pick for many investors and hedge fund managers. Larry Robbins of Glenview Capital said in February that his fund had bought into the stock. "Fundamentally, McDonald's has a number of characteristics that we look for in good businesses," he said, according to The Street. Another hedge fund, Omega Advisors, jumped on board with McDonald's in the second quarter.
Related: How Much is McDonald's Worth?
McDonald's In-Store Kiosks
McDonald's has also been introducing some new innovations that might be able to push the needle in its favor, like its self-service kiosks. These machines enable customers to build their own burgers, a fun new technology that might draw in more business.
Read: McDonald's Big Macs to Wendy's Frostys: Price Rise of 12 Iconic Menu Items
Burger King (QSR) Stock Still Rallying
Burger King stock symbol is for the fast food restaurant's parent company, Restaurant Brands International (QSR), which also owns Tim Hortons. Restaurant Brands International is the result of the merger between Burger King and Tim Hortons made last year, which was funded by a $3 billion investment from Warren Buffett's Berkshire Hathaway.
This stock saw a similar drop from just under $41 Thursday down to $35 on Monday, a percentage dip of nearly 15 percent — bigger than the dip in McDonald's prices. But Burger King's stock has rallied better and has been hovering between $37 and $38, getting closer to its pre-Black Monday prices.
Restaurant Brands International's lookout has also been better than McDonald's. Burger King's sales were up 6.7 percent in the second quarter, and Tim Hortons' also saw an increase of 5.5 percent, reports The Street.
A campaign for the two fast food restaurants to come together would provide them with some positive news coverage and help bolster stock prices. If you're a loyalist of these brands and believe in their business models, now might be a time to get a deal on these fast food stocks to get low prices and growth as they continue to recover.
Photo credit: Mike Mozart/Flickr