NerdWallet Stock (NRDS): Is It A Good Buy?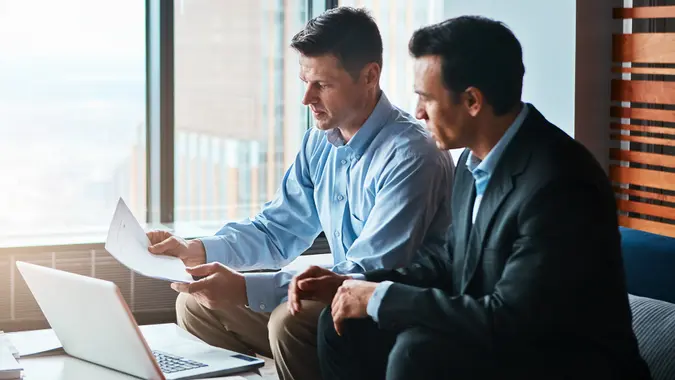 gradyreese / Getty Images
NerdWallet is a platform that brings together financial tools to help people make smarter decisions. Many paid tools and resources support the NerdWallet brand. The company's revenues have been growing nicely over the last couple of years as it has increased in size and continues to do so.
NerdWallet stock went public on Nov. 4, 2021, and now trades on Nasdaq with the ticket NRDS. Here's more on whether NerdWallet stock is worth investing in.
What Is NerdWallet?
NerdWallet is a web and mobile platform that provides users with tools and calculators to compare financial products like credit cards, loans, and insurance across various providers in the market.
NerdWallet also partners with various third-party providers who offer financial products on its website as well as through its mobile app.
NerdWallet makes money by charging users for accessing its paid tools and via banner ads placed strategically throughout the website. While NerdWallet offers a free version of most of its services, it has several subscription-based tools that allow users to access more features or conduct deeper analyses on specific topics.
A significant portion of NerdWallet's revenues is through referral fees and commissions from the services it promotes and sells on its platform. To date, most of its revenue is recurring in nature. However, this may change over time as the company ramps up its advertising efforts to attract customers. This means that NerdWallet should remain a growing business even if one or two of its key products are no longer making money.
Should You Invest in NerdWallet Stock?
NerdWallet was founded by Jacob Gibson and Tim Chen during the financial crisis of 2009.
The company has close to 32 million class B shares that are tied to Tim Chen. These shares are entitled to 10 votes per share as opposed to one vote per share for the 33 million Class A shares. It's easy to see that most of the voting power sits with Tim Chen, who is also the CEO of the company. Although this type of structure isn't unusual, it can be detrimental for investors and the organization since unchecked power is never a good idea. However, it also means that there's one clear voice that will move the company in the right direction.
Looking at the company's financials, it's easy to see why NerdWallet stock may be a good investment. The company has been growing its top line at a compounded annual rate for the last two years and is on track to do so again this year.
Much of this growth is being driven by the company's suite of paid tools and resources.
Is NerdWallet Worth It?
The initial price offering of NerdWallet was priced at $18 a share. The company's total stock was priced at $1.2 billion — a figure that excited the investors. On top of that, experts speculated the company to value nearly $5 billion.
On its first day, the IPO went up by 90% at a point. NerdWallet sold 11% of its shares at the IPO. Since then, it has come back, but the price today sits below its IPO price.
Good To Know

NerdWallet stock, although high risk, is a high-reward stock. The company spent $151 million on marketing and sales in the first half of 2021, which is more than the $144 million it spent in the whole of 2022. It seems like NerdWallet is bent on leveraging marketing to remain profitable.
Should You Buy or Hold?
NerdWallet seems like an attractive investment that should grow steadily over the next few years. As for the valuation of the stock, the efficiency of marketing and sales will determine how the stock is priced in the future.
However, the initial results from 2021 are quite encouraging as the company has 49% higher revenue generation than in 2022. If the same trend continues, NerdWallet may make up to $550 million in revenue in 2022.
Another reason why NerdWallet seems like a good investment is that many of its competitors, such as WalletHub and Bankrate, are not publicly trading at the moment. Considering this, it's wise to hold the stock as it is fairly valued now.
Our in-house research team and on-site financial experts work together to create content that's accurate, impartial, and up to date. We fact-check every single statistic, quote and fact using trusted primary resources to make sure the information we provide is correct. You can learn more about GOBankingRates' processes and standards in our editorial policy.