Nextdoor IPO: What You Need To Know and How To Buy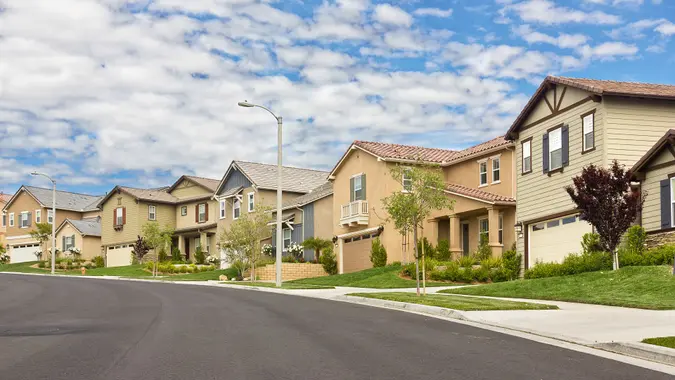 ©Shutterstock.com
Knowing what goes on in your neighborhood is valuable. In fact, it's so valuable that the social media app Nextdoor, which has made a business out of connecting us to our neighbors, may be headed for an initial public offering in 2021. Here's what you should know before deciding whether or not Nextdoor stock is an investment that could make sense for you.
What Is Nextdoor?
Nextdoor has been connecting neighbors to each other since 2011, when it launched in the U.S.
Today, the app is used in almost one in three households, according to its website. Nextdoor serves 276,000 neighborhoods in 11 countries. It is also home to more than 52 million local business recommendations from people who live nearby. The company is based in San Francisco, Calif.
Tools for Neighbors
Users who download and sign up for Nextdoor are prompted to enter their street address, which allows the app to try to manage user quality from the start. The idea is for only people who live in a neighborhood to be able to connect about it, reducing or eliminating intrusions from anyone else.
Nextdoor offers a way for neighbors to:
Find help
Offer assistance
Use a 'thank you' button to express appreciation for fellow neighbors
Form groups centered around particular subjects, such as zoning or crime
Place items up for sale
Purchase or scout for items
How Neighbors Use It
You can log into Nextdoor to see news alerts, safety warnings, classifieds and more. According to the app, similar conversations arise again and again — from service requests and recommendations–30% of all on-app discussion–to real estate at 20% and crime/safety at 10%.
Other common themes on Nextdoor are residents posting video footage from their Ring doorbell, sometimes to showcase good deeds or uplifting scenes observed in the neighborhood and other times to highlight people ringing doorbells or stealing mail and packages.
Nextdoor's Growing Role in Neighborhood Life
During the global COVID-19 pandemic, Nextdoor recognized that people had an urgent need for both information and a stronger sense of community. The social app published a series of insights, the most recent of which emerged recently, to track how neighbors were faring in the pandemic.
Their most recent findings include that four in every 10 neighbors reduced spending on non-essentials during the pandemic and that 42% of neighbors have taken up a new hobby.
How Much Is It Worth?
Nextdoor has taken in several rounds of venture capital funding — approximately $470 million in total. Its last round, in September 2019, landed Nextdoor at a valuation of approximately $2.2 billion.
How Does Nextdoor Make Money?
Nextdoor earns revenue in three ways:
1. Sponsored Ads
The app has introduced sponsored content from businesses that Nextdoor believes can benefit its users. These are large regional or national companies with products or services that are seen as useful on a wide scale.
2. Neighborhood Sponsorships
People offering localized services, such as home contractors and real estate agents, can advertise to the zip codes they serve via a neighborhood sponsorship on Nextdoor. At present, this is only in the U.S.
3. Local Offers
Businesses in the neighborhood can purchase a local deal to promote special offers to local residents. This service is also only available in the U.S.
Good To Know

Some brokerage accounts, such as robo-advisor Acorns Invest, operate in the same way as typical brokerage accounts but do not allow for the trading of individual stocks. A 401(k) will likely restrict individual stock purchases as well, so know which avenues are available to you for stock purchases.
When Is the Nextdoor IPO?
Currently, a date is not set for the Nextdoor IPO. The company is rumored to be targeting an initial public offering worth $4 billion to $5 billion at some point this year.
Considerations Before Investing in Nextdoor IPO
1. Its Fiscal Reporting Is Still to Come.
Nextdoor is a privately held company. Since it has yet to file its initial public offering, it hasn't had to turn in the kind of financial reporting that would paint a detailed picture of the company's value. It will be important to evaluate that information thoroughly as it surfaces.
2. It's Well-Backed, but There Are Plenty of Cooks in the Kitchen.
Nextdoor has several investors, including but not limited to Axel Springer, Bond, Benchmark, Comcast Ventures, Greylock Partners, Kleiner Perkins, Riverwood Capital and Shasta Ventures. This could be a positive sign, since the app has support from multiple investors, but it also means that there are a lot of proverbial heads at the table, all with skin in the game, as the company prepares for its next chapter.
3. It Has Some Big–and New–Competition.
Investors should also understand the increasingly competitive climate around heavily localized news. Recently, Facebook added a feature called Neighborhoods, which launched in Canada and will soon roll out in the U.S.
Many of its features compete with those available on Nextdoor. Since these features are coming from Facebook, which is already so popular, Nextdoor could get overshadowed.
Where To Buy Nextdoor Stock, if It Becomes Available
If you're interested in investing in Nextdoor, you should be able to buy it with any brokerage firm that offers individual stock trading. Make sure that you've established a brokerage account and learned about any account requirements that will apply, like minimum balances.
A Vulnerable Moment: Much Proven but Much at Stake
The success of Nextdoor so far is notable in the face of struggles that media organizations have faced in covering highly localized news. To keep providing the best possible service it can for users, Nextdoor needs to account for the needs and preferences of countless different neighborhoods while trying to increase its reach.
These challenges shine a light on both the success that Nextdoor has had and the hardship inherent in its goal.
The company is approaching its most vulnerable point yet, with an initial public offering potentially in the works and a large competitor, Facebook, pursuing deep reach at the neighborhood level. Nextdoor is about to find out, as it ponders over opening the front door, whether or not investors will enter.
Our in-house research team and on-site financial experts work together to create content that's accurate, impartial, and up to date. We fact-check every single statistic, quote and fact using trusted primary resources to make sure the information we provide is correct. You can learn more about GOBankingRates' processes and standards in our editorial policy.