5 Best Penny Stocks on Robinhood To Invest In for 2023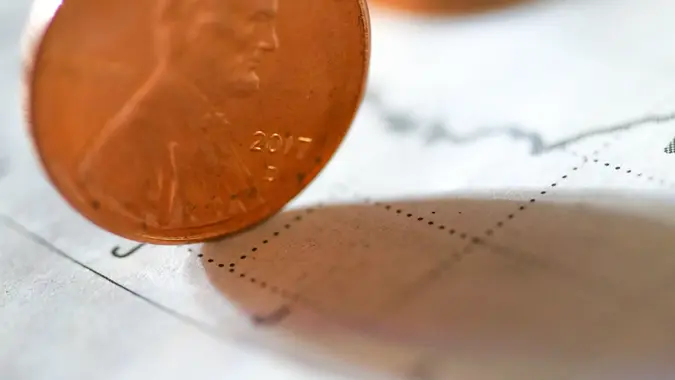 Kameleon007 / Getty Images/iStockphoto
Trading penny stocks is a high-risk, high-reward proposition that involves buying an equity stake in small companies whose shares trade for less than $5. Not all brokerages offer access to the so-called pink sheets, but investors can trade penny stocks on Robinhood, although the selection is limited. 
If you're considering diving into a corner of the investing world defined by low liquidity, murky financial reporting and erratic pricing, do your research first and risk only money that you can truly afford to lose. 
When you're ready, you don't need more than a few bucks and a free account on one of the world's most popular trading platforms. Keep reading to learn about the best penny stocks on Robinhood. 
Are There Any Penny Stocks on Robinhood?
Investors can buy penny stocks on Robinhood, but the selection is limited only to those that are listed on U.S. exchanges alongside giants like Coca-Cola and Amazon, and some off-exchange stocks that trade over the counter as American Depository Receipts.
You'll get a better understanding of exchange-listed stocks, OTC and ADRs further down the page, but for now, it's important to understand that Robinhood investors can buy some — but only a small fraction — of the more than 10,000 tiny companies that trade as penny stocks.
What Are the Top Penny Stocks To Buy Now? 
The following five penny stocks are generating some of the biggest buzz right now on Robinhood.
1. Acasti Pharma (ACST)
Acasti Pharma is a Canadian late-stage biopharmaceutical company that's currently trading for $0.70. It's a popular penny stock because it's showing immense promise with treatments for three so-called orphan diseases that have so far been underserved:
Subarachnoid Hemorrhage (SAH)
Ataxia Telangiectasia (A-T)
Postherpetic Neuralgia (PHN)
The FDA has granted Orphan Drug Designation to Acasti's three lead clinical assets, which gives the company seven years of marketing exclusivity post-launch in the U.S. Also, the treatments are protected by more than 40 granted and pending patents.
2. Ault Alliance Inc. (AULT)
Ault Alliance is a holding company that provides power system solutions for industries as diverse as defense/aerospace, automotive, telecommunications, healthcare, biotech and textile, among others. It also invests in other companies and commercial and residential real estate, operates hotels and data centers and engages in bitcoin minining, according to its profile on Yahoo Finance.
The company currently trading for $0.142 and is not yet profitable. However, analysts rate it a buy, and the 12-month price target is $3.75.
3. Nokia (NOK)
Far from a fly-by-night startup, Nokia is a Finnish multinational corporation with a $27.1 billion market cap — although its stature has fallen, it was once a household name.
On Jan. 26, Nokia reported earnings that narrowly beat analyst forecasts thanks to strong demand for the mobile networks and network infrastructure it provides. Despite volatility in the markets over the past year, Nokia's stock has remained relatively stable, trading at a low of $4.08 and a high of $5.86 over the last 52 weeks.
It's currently trading for about $4.90.
4. Check-Cap (CHEK)
Check-cap is a clinical-stage medical diagnostics company. It's changing the nature of cancer screening with C-Scan, a preparation-free capsule-based test that can detect precancerous polyps to allow early intervention for colorectal cancer.
According to Yahoo Finance, analysts have rated CHEK a buy and expect the stock to climb to $15 per share in the next 12 months. It's currently trading at $3.20.
5. Blue Apron (APRN)
Blue Apron was a darling of Wall Street when it went public in 2017, but it has spent the last few years tumbling to penny stock status. Five years ago, it was trading at $30. Today it's at $1.13.
The stock dipped slightly after the third-quarter 2022 earnings report revealed flat profits year over year. However, the company's average order value increased 13.7%, and the average revenue per customer rose 8.6% to a record-high of $340. The stock price since has recovered, and shares are slowly trending upward.
What Is the Cheapest Stock To Buy on Robinhood?
At the start of February, the following companies are among the cheapest stocks trading on Robinhood:
Exela Technologies Inc (XELA): $0.06
COMSovereign Holding Corp. (COMS): $0.07
ContraFect Corporation (CFRX): $0.07
Keep in mind, though, that because of the volatility that is inherent to penny stocks, shares can experience radical price changes at any given moment — which is part of the reason that trading them is so risky.
Why Are Only Some Penny Stocks Listed on Exchanges?
Stock exchanges like the New York Stock Exchange and Nasdaq have strict listing requirements, which are the minimum criteria and standards that a company must meet to be listed for public trading on an exchange. 
They include, but aren't limited to:
Minimum stockholder's equity
Minimum share price
Minimum market share
Minimum number of shareholders
Minimum cash flow and liquidity
Minimum assets and revenues
Exchanges set listing requirements to assure investors that the companies they list and the shares they sell are stable and reputable.
It's a high bar. 
The NYSE, for example, requires companies to have 1.1 million outstanding shares with a minimum collective value of $40 million — $100 million if they trade worldwide. For the Nasdaq, it's 1.25 million publicly-traded shares worth at least $45 million.
And it's not cheap. Companies have to pay to play — $50,000-$75,000 plus a $5,000 application fee to be listed on the Nasdaq and $295,000 plus a $5,000 application fee for the NYSE. Those are just the initial costs. Listed companies must pay ongoing fees to remain in good standing.
Do Any Penny Stocks Trade on Exchanges?
Both the Nasdaq and the NYSE list only companies whose shares trade for at least $4, although both exchanges give companies an opportunity to bring the price into compliance before delisting it. Penny stocks can go up to $5, which means that some penny stocks are listed on major exchanges. These exchange-listed penny stocks — which represent both the priciest penny stocks and cheapest exchange-listed stocks — are among those that Robinhood allows you to trade on its platform.
The other category is made up of over-the-counter stocks that are classified as American Depository Receipts, or ADRs.
OTC: A Market for Stocks That Aren't Ready for the Big Leagues
Many small companies can't satisfy the listing standards of the big exchanges or can't afford the associated fees, so they trade on what's called over-the-counter markets. Not all OTC companies are tiny upstarts with limited track records, cheap share prices and low trading volume. For example, according to Robinhood, Facebook shares traded on OTC markets until 2007.
But most OTC stocks aren't Facebook, and since they don't operate within the strict listing requirements of the exchanges, trading OTC penny stocks is risky business. Most trade for $5 or less, and according to Robinhood, low-dollar-value stocks are much more volatile because their low trade volumes make them vulnerable to erratic price changes.
Many OTC stocks are terrible investments that will never become anything, and it's hard to separate the good from the bad because OTC financial reporting can be cloudy or inaccurate. In fact, it's not uncommon for OTC stocks to release no financial reports at all.
Robinhood offers access to a small fraction of OTC stocks, which means most penny stocks are off-limits.
One type of OTC trading that Robinhood allows is American Depository Receipts. 
Trading ADR Penny Stocks on Robinhood
Getting listed on a U.S. exchange is even more complex and expensive for foreign companies. Many of them choose instead to trade as American Deposit Receipts, which are securities that represent ownership in a foreign company. They give U.S. investors access to companies that would otherwise be unavailable for trading while giving overseas firms access to the U.S. market without the burden of getting listed on an exchange. 
Robinhood allows users to trade more than 650 ADRs.
Can You Get Rich Trading Penny Stocks?
The lure of penny stocks is that some companies, like Monster Beverage, start as penny stocks but go on to become giant corporations that make their earliest investors very rich. If you pick the right penny stock, you could buy it in quantity when it costs a few bucks or even a few cents, and then ride it to Wall Street greatness.
Monster Beverage was still trading at $0.85 at the start of 2005 — today those shares are worth over $102 each.
In Closing
Very few penny stocks will go on to become Monster Beverage. Compared to the corporate giants on the S&P 500, even small-cap growth stocks are volatile and risky — but penny stocks are a whole other ball game. Before you're tantalized by minuscule prices and the potential for extraordinary gains, make sure you're able to lose every dollar you invest.
With penny stocks, that's a very real possibility.
Daria Uhlig contributed to the reporting for this article.
Information is accurate as of Feb. 3, 2023.
Our in-house research team and on-site financial experts work together to create content that's accurate, impartial, and up to date. We fact-check every single statistic, quote and fact using trusted primary resources to make sure the information we provide is correct. You can learn more about GOBankingRates' processes and standards in our editorial policy.