Recession Could Be 'Good News' For Your Investments, One Analyst Says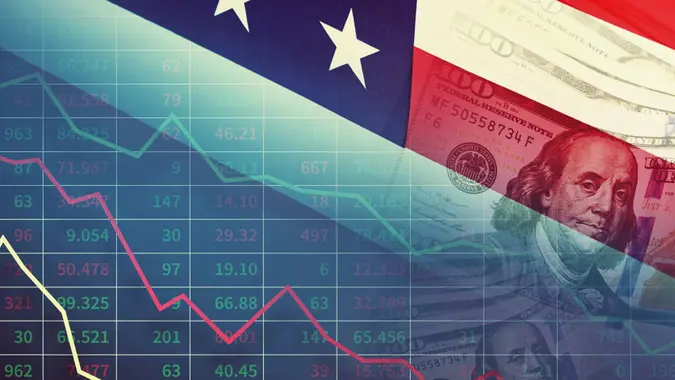 Lazy_Bear / Getty Images/iStockphoto
With inflation rates cooling slightly and unemployment rates near record lows, a recession hasn't been formally declared yet. That doesn't mean the majority of Americans aren't bracing for the impact that an economic decline will have on their personal finances, careers and mental health.
For nearly a year now, most financial masterminds have presumed it unlikely that the U.S. will stave off a recession. But for one analyst, a significant economic downturn might be just what the country needs to change the current dreary stock market situation.
"This is going to sound crazy, but if we don't go into slower economic growth in the United States and maybe even a shallow recession, that might be actually considered a negative because interest rates might not be cut or might even continue to go up if that's the case," said Michael Yoshikami, CEO and founder of Destination Wealth Management. "That's the risk for the market."
Speaking to CNBC's Squawk Box Europe, Yoshikami explained why he thinks a recession could be "good news" for the markets and investments. If for nothing else, Yoshikami thinks a U.S. recession will prevent the economy from continuing its current course and to further market deterioration late this year.  
"To me, it all really is going to come down to 'is the economy gonna touch near a recession?' Believe it or not, if that happens, I think it will be good news," Yoshikami said. "If the economy avoids it and keeps on its frothy path, then I think we're going to have some problems in the market in the second half of the year."
Yoshikami has been talking recession for a while now. Last June, when the Federal Reserve was in the thick of its fight against inflation, he proclaimed a recession would be a "virtual certainty" in the third quarter of 2022. While that may not have panned out, his projection of a recession — even a shallow one — to be followed by Fed rates cuts, inflation relief and an economic reset still might come true.
Typically, stock markets hit bottom before a recession is announced and tend to make strong gains when the downturn ends. Although some lucky investors and companies can thrive amid recessionary market pressures, Yoshikami warns investors to look at long-term performance forecasts before buying.  
"Think about it, look at it yourself and ask yourself this question: is this a reasonable stock given what we think the earnings are going to be for the next five years? If it's not, you're putting an optimism premium on that asset that you better be awfully sure about because that's where, really, tears come," he said.
More From GOBankingRates