12 Safe Dividend Stocks To Buy Before 2023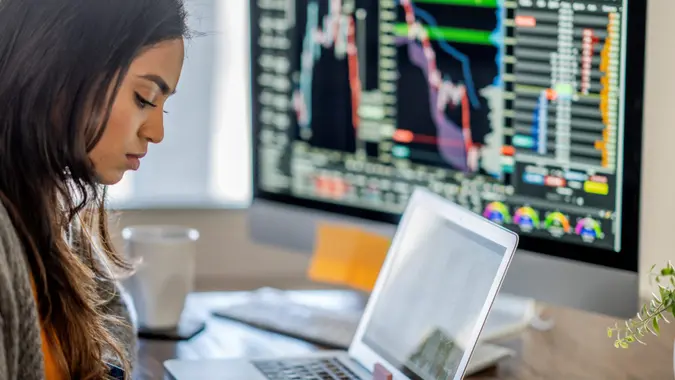 FatCamera / Getty Images/iStockphoto
If you were invested in the stock market in 2022, you probably had a rough time of it. In the wake of the highest inflation rates in 40 years, an aggressive Federal Reserve sharply raising interest rates, a global supply chain meltdown and the war in Ukraine, markets around the world have suffered. U.S. stocks fell into a bear market, with the major indices dropping over 20% and some individual stocks falling 50% or even more.
Investors looking to reduce their risk profile while still remaining in the market are looking toward safe dividend stocks to buy before 2023 arrives. Here are 12 of the top candidates. 
American Electric Power (AEP)
In times of economic distress, utility stocks often hold up well. Not only do they typically pay a hefty dividend, but their customers are likely to continue paying their monthly bills even when times are tough. American Electric Power is one of the biggest electric utilities in the United States, and it has paid a dividend for more than 100 consecutive years, raising that dividend every year since 2009. With a current yield of 3.53%, American Electric Power checks all of the boxes for conservative investors.
Clorox (CLX)
Clorox is a household goods company with a broad portfolio of well-known brands, from its namesake Clorox to Burt's Bees, Liquid-Plumr, Pine-Sol, S.O.S, Tilex, Kingsford and many others. The company has raised its dividend — currently at 3.26% — for 20 years in a row, and it has paid a dividend for more than 50 consecutive years, making it a dividend aristocrat. 
Altria (MO)
Altria may not be the most exciting stock in the world — and some investors will simply refuse to invest in it because of its main product — but the tobacco business is a cash flow machine. Altria's customers are regular, consistent buyers of its products, making it a relatively stable stock with a very predictable revenue stream. The stock has mostly traded sideways over the past few years, but with a current dividend yield of over 8%, even a flat stock price can provide investors with sizable returns. 
Johnson & Johnson (JNJ)
Johnson & Johnson is another dividend aristocrat, with a record of 60 straight years of dividend increases. The company's defensive characteristics were on full display in 2022, with the stock actually trading up a few percentage points during a vicious bear market. With consumer products including such well-known names as Aveeno, Listerine, Band-Aid, Tylenol, Neutrogena and countless others, Johnson & Johnson is the very epitome of a blue-chip stock.  
Coca-Cola (KO)
Coca-Cola may not be the growth engine it once was, but it's one of the most well-known brands in the world, having a presence in over 200 countries and territories. The company generates over $38 billion in revenue annually, and it pays a healthy 2.80% dividend yield. Coca-Cola has paid a dividend for 60 consecutive years, raising it for more than 25 consecutive years. In the midst of 2022's bear market, the stock has actually climbed over 6%, which bodes well as it heads into an uncertain 2023. 
McDonald's (MCD)
McDonald's is the largest food retailer in the world, with close to 40,000 stores in more than 100 countries. As people still need to eat even during recessions, McDonald's — coupled with its top-tier brand recognition — tends to weather rough times easier than many other companies. In 2022, for example, McDonald's stock has traded about flat, even in the teeth of a bear market. The company has raised its dividend — which currently sits at 2.29% — for 45 consecutive years.
AbbVie (ABBV)
AbbVie is a drug company probably best known for its immunosuppressant drug Humira and its recent acquisition of Allergan. The company is a true dividend aristocrat, having raised its payout for 51 consecutive years. Its current yield of 3.67% is well above the market average, and analysts are fond of the stock as well, giving it a consensus "buy" rating.
Duke Energy (DUK)
Duke Energy is another reliable utility stock that makes sense for conservative investors heading into 2023. Duke's solid dividend is one of its main attractions, as the company has consistently paid one out for 96 years. The electric utility company is in the Fortune 150 and has a current dividend yield of over 4%.
ExxonMobil (XOM)
ExxonMobil has been a Wall Street darling in 2022, up about 75% as of Dec. 20. But even after that massive gain, the oil stock still pays a handsome 3.46% dividend. Analysts still have a consensus "strong buy" rating on the stock, with an average 12-month price target of $119.07. That represents a gain of about 11% over current levels, or a total potential return of about 15% including the dividend. 
Verizon (VZ)
Verizon is one of the largest communications technology companies in the world, generating over $133 billion in revenue in 2021. A large portion of that cash is ultimately funneled to shareholders, who enjoy a sky-high 7.05% yield as of Dec. 20. Analysts expect the company to jump 23% in 2023.
The PNC Financial Services Group (PNC)
The PNC Financial Services Group is the second-largest regional bank in the United States. With interest rates higher, banks like PNC have the opportunity to earn more margin on their loan products. According to Morningstar, the bank has been expanding its customer base in both retail and commercial banking. The company sports a solid 4.00% dividend yield, and analysts have a consensus "buy" rating on the stock, with an average 12-month price target 12% above current levels.
3M (MMM)
3M is the ultimate conglomerate, with over 60,000 brands in its portfolio. Two of its most popular consumer brands are Post-it and Scotch. With its toe in nearly every type of industry, the company is diversified enough to withstand economic slowdowns in different areas. 3M has paid out a dividend for more than 100 years, increasing it annually for the past 64 years. The company remains a dividend champion, currently paying a fat 4.88% yield.
FAQ
How do you pick a safe dividend stock?

Not all stocks that pay high dividends are "safe." Look for companies that have a multidecade record of paying rising dividends to find the safest options.

What companies have the safest dividends?

The companies with the safest dividends are the ones with consistent cash flow and a low dividend payout ratio. Companies that only pay out a small percentage of their revenue are more likely to continue that dividend during tough times. 

What's the best stock to buy for dividends?

There is no one single best stock to buy for dividends. Some stocks may pay higher dividends but at the expense of capital appreciation, and vice versa. The right stock for you depends on your risk tolerance and investment objectives. 
Data is accurate as of Dec. 20, 2022, and is subject to change. Information on analyst ratings was sourced from Nasdaq.
Our in-house research team and on-site financial experts work together to create content that's accurate, impartial, and up to date. We fact-check every single statistic, quote and fact using trusted primary resources to make sure the information we provide is correct. You can learn more about GOBankingRates' processes and standards in our editorial policy.