I'm a Self-Made Millionaire: Here Are 5 Stocks I Won't Sell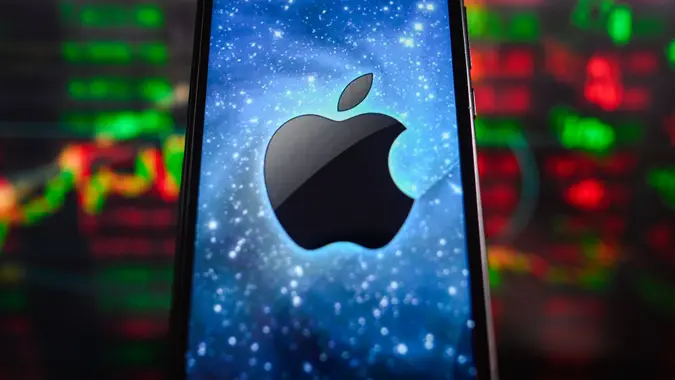 Omar Marques / SOPA Images / Shutterstock.com
Becoming a millionaire is a dream for many, and the path to getting there takes discipline and patience, especially when coupled with sticky inflation and soaring rates.
Several self-made millionaires have made their fortunes thanks to having built their own successful businesses — and thanks to being methodical, patient and having great ideas. Many of them say they apply the same train of thought and analysis in picking winning stocks — stocks they will never be selling.
GOBankingRates spoke to a few of them who explained why they won't let go of these.
Apple
Joe Camberato, CEO of National Business Capital, became a self-made millionaire in his 30s thanks to hard work as an entrepreneur founding a fintech lending platform, as well as numerous other companies and investments.
Camberato said one of the stocks he will never sell is Apple.
"Apple is an extraordinary company that has become deeply rooted in our lives. With a massive fan base and a consistent track record of innovation, Apple has established itself as one of the world's finest companies — a true profit-generating machine," he said. "In my view, the best is yet to come for Apple. Also, the fact that it pays dividends allows me to reinvest them and buy more shares, and that strengthens my position."
Shares of Apple are up 51.7% year-to-date, as of July 13.
Vanguard Index Funds, Including Small Cap, Growth and S&P 500
Regarding the Vanguard index funds, Camberato said they provide a convenient avenue for diversifying across the top companies in the S&P 500, as well as high-growth potential stocks in the growth and small cap index funds.
"These indexes have demonstrated remarkable long-term growth and consistently pay dividends. By looking at how they performed historically, stretching back to the 1920s, it's clear that the S&P has endured periods of pullbacks, but ultimately they continued to thrive, generating impressive returns over time. It would go against logic to sell these index funds," he said.
In addition, he noted that even during market crashes, his strategy would be to continue monthly investments in the indexes, and possibly even increase the amount during downturns.
"Selling these stocks would mean selling myself short and missing out on their long-term potential," he added. 
Tesla
Anna Koval is a self-made millionaire who is the co-founder and CMO at Tarotoo, an online tarot reading platform launched in 2017 with a partner and their savings.
She said that one of the most important lessons she learned is to invest in what you know and love.
"For me, that means investing in companies that are aligned with my values, passions, and vision for the future," Koval said.
Hence, she won't be selling Tesla, which "is not just a car company."
"It's a pioneer in clean energy, autonomous driving and battery technology. I admire how Tesla challenges the status quo and pushes the boundaries of what's possible. I own a Tesla Model 3 and I love it. It's the best car I've ever driven. I believe Tesla has a lot of growth potential and will continue to revolutionize the world for the better," she said.
Shares of Tesla are up a whopping 151.6% year-to-date, as of July 13.
Shopify
Shopify is another stock Koval said she wouldn't sell.
"Once again, Shopify is not just a platform for online stores. It's a partner for entrepreneurs, creators, and innovators," she said. "I admire how Shopify empowers millions of people to start and grow their own businesses online. I use Shopify to run Tarotoo's website and e-commerce operations. It's easy, reliable, and scalable. I believe Shopify has a lot of growth potential and will continue to support the future of commerce."
Shares of Shopify are up 84.8% year-to-date, as of July 13.
Amazon
Casey Jones, founder and head of finance at CJ&CO, a global digital marketing agency, said that as a self-made millionaire and a seasoned investor, he has learned that the key to building wealth is patience, diversification and investing in companies that have a proven track record and a clear vision for the future.
In turn, that's why he has decided to hold onto and never sell Amazon.
First, Jones said that Amazon is a diversified technology giant with a leading market share in multiple industries, including e-commerce, cloud computing, digital advertising and artificial intelligence.
"This diversification provides a level of stability and growth potential that is hard to find in other companies," Jones said.
In addition, Jones said Amazon has shown resilience and growth potential despite facing challenges in recent years.
"The company's stock has experienced significant declines in the past but has managed to recover and continue growing. This resilience is a testament to Amazon's strong business model and its ability to adapt to changing market conditions," he added.
Finally, he said that the long-term growth prospects for Amazon remain strong due to its innovative approach and ability to adapt to changing market conditions.
"The company's continuous investment in new technologies and sectors, such as artificial intelligence and healthcare, positions it well for future growth," Jones said.
As of today, his initial investment of 1,000 AUD ($685) in Amazon has grown significantly.
Jones noted, however, that it's important to note that investing in stocks always carries risks.
"Individual investors should carefully consider their financial goals and risk tolerance before making any investment decisions," he said.
Shares of Amazon are up 52.4% year-to-date, as of July 13.
More From GOBankingRates