Should You Take Warren Buffett's Advice on EV Stocks?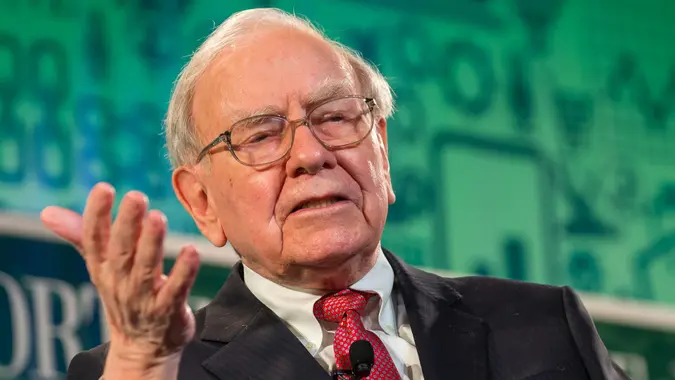 Fortune Most Powerful Women / Flickr.com
Warren Buffett, the legendary CEO of Berkshire Hathaway, is well-known for his investment acumen — so much so that it earned him the nickname "Oracle of Omaha." His long-term approach to the stock market has led to him becoming one of the richest people on earth.
It's no surprise then that Buffett's advice is highly sought-after. Most of us mere mortals will never get the chance to ask the Oracle our questions — unless, that is, you are a Berkshire Hathaway shareholder. Every year at the Berkshire annual meeting shareholders are invited to submit questions for a question-and-answer session held by Buffett along with vice chairman Charlie Munger.
This year, one of the questioners observed that mass adoption of electric vehicles seemed imminent, and asked whether Buffett saw any specific opportunities in the EV industry. Buffett's answer, in essence, was no: "It's just a business where you've got a lot of worldwide competitors that are not gonna go away… You will see a change in the vehicles, but you won't see anybody that owns the market because they changed the vehicle."
What Buffett is saying here is that there will be no clear winner in the electric vehicle market, and that it would therefore be wise to avoid investing in specific manufacturers. Should you follow that advice? It may sound crazy to even ask given Buffett's track record, but he would be the first to admit that he doesn't always get it right, especially in technology-driven industries — he lists missing out on Amazon and Google among his biggest mistakes. However, after speaking to experts it looks like there is good reason to side with Buffett on the electric vehicle industry. Here's why.
The EV Market Is Fiercely Competitive
In the early days of manufacturing electric vehicles, the industry was dominated by a handful of smaller companies and startups, and the major auto manufacturers were just dipping their toes in the water, if they even sold an EV. These days, it's a very different story.
"Established companies are investing heavily in EV technology and expanding their product portfolios, while startups are introducing innovative approaches to EV manufacturing. This level of competition ensures a diverse range of offerings and prevents a single company from monopolizing the market," said Ben Waterman, co-founder and COO of Strabo.
Consider the Impact of Regional and Global Dynamics
There are also a host of local conditions that make it very hard for any one manufacturer to hold on to a competitive advantage. For example, in some areas EVs are heavily subsidized by the government, whereas in other areas there may be little or no government incentives to encourage the manufacture and sale of EVs.
"The EV market is influenced by various regional and global factors, including government regulations, infrastructure development and consumer preferences. Different countries and regions have their own unique market conditions, creating a fragmented landscape," Waterman continued. "Companies must adapt to these diverse environments, and no single company can dominate all markets simultaneously."
What About Tesla?
If there aren't going to be any obvious long-term winners in the EV market, you may be wondering about Tesla. Certainly, investors who got into the stock by early 2020 have seen impressive returns (although it hasn't been a smooth ride). One might be tempted to conclude that the company is poised to be the clear winner in electric vehicles — but be careful.
"Any investment in Tesla… at the current valuation is purely speculative, in my opinion. Company fundamentals simply don't justify the atmospheric valuation of the stock," said Robert Johnson, PhD, CFA and professor of finance at Creighton University. "Many investors are currently betting that Tesla will be the big winner in the electric car sweepstakes. In fact, Tesla is really sucking all of the air out of the automobile industry from an investor's standpoint… General Motors and Ford sell at price-to-sales ratios of 0.32 and 0.34, respectively. Tesla sells at a P/S ratio of 10.4."
Buffett Is Very Likely Right
Based on the available evidence, it looks like Buffett is once again on the mark. Sam Boughedda, equities trader at AskTraders.com, summarized it this way: "[T]he EV market is still growing and developing. While many see Tesla as the leader, they do not own the market, [and] other EV companies and traditional car manufacturers are vying for the top spot and a share of the market… It is possible that, at one stage, one EV company will develop a substantial competitive advantage, but I see the gap being closed fairly quickly."
One Option: Invest In the Industry, Not Individual Companies
For those that feel very strongly about the EV industry but want to heed Buffett's warning, there is another option — use exchange-traded funds (ETFs) to invest in a cross-section of the industry as a whole. There are a myriad of options out there focusing both on EVs and associated industries like battery technology and lithium production. Make sure to always do your own research so you can make an informed decision.
More From GOBankingRates