Stock Market Hours New Year's Eve: Is the Stock Market Open on New Year's?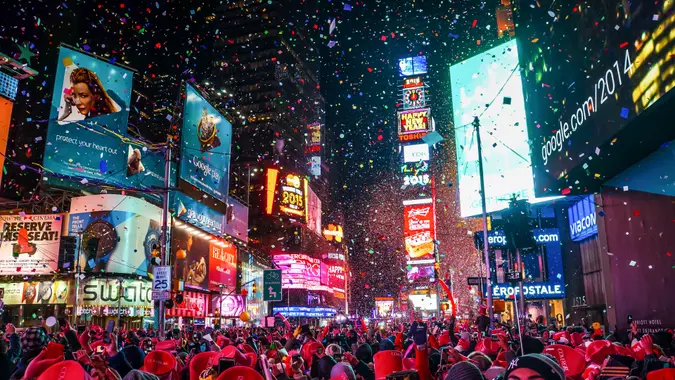 Simon Dux Media / Shutterstock.com
New Year's Eve falls on Friday, Dec. 31 — a day people typically like to take off early to start welcoming 2022. But if those employees work on Wall Street, they should plan on working regular hours.
Is the Stock Market Open on New Year's Eve?
Yes. The New York Stock Exchange is open for a full trading session on New Year's Eve, as is the Nasdaq exchange.
The hours of the New York Stock Exchange are dictated in the nearly 9,000-page document governing the market. The rules stipulate that if a legal stock exchange holiday falls on a Saturday, which New Year's Day does to kick off 2022, the market won't be open the previous Friday.
But there is an exception that the document refers to as "unusual business conditions," such as the previous Friday being the end of a monthly or yearly accounting period, which Dec. 31 is. Strike out New Year's Eve as a stock market holiday for this year.
In fact, New Year's Day won't be observed at all by the stock markets, either, although it is a traditional holiday. The markets will be open, as usual, on Jan. 3. The last time New Year's Day hasn't been observed as a holiday was 11 years ago when New Year's Eve fell on a Friday in 2010.
What Are the 2022 Stock Market Holidays?
The stock markets will observe 10 holidays in 2022, but New Year's Day won't be one of them.
An extra holiday has been added to the stock market holiday calendar beginning in 2022 – Juneteenth National Independence Day. President Joe Biden signed the holiday into law in 2021, and the stock market will observe it moving forward.
Here are the 2022 stock market holidays:
Holiday
2022
New Year's Day
*
Martin Luther King, Jr. Day
Monday, Jan. 17
Washington's Birthday
Monday, Feb. 21
Good Friday
Friday, April 15
Memorial Day
Monday, May 30
Juneteenth National Independence Day
Monday, June 20
(observed)
Independence Day
Monday, July 4
Labor Day
Monday, Sept. 5
Thanksgiving Day
Thursday, Nov. 24
Christmas Day
Monday, Dec. 26
(observed)
*Not observed this year
Are the Bond Markets Closed on New Year's Eve?
While employees of the stock market will work regular hours on New Year's Eve, the bond markets will close at 2 p.m., giving their workers a few extra hours off.
The bond markets observe the same holidays as the stock markets do, plus two more – Columbus Day and Veterans Day. The bond markets also close early, at 2 p.m., on the following days, in 2022:
Maundy Thursday (April 14, 2022)
The Friday before Memorial Day (May 27, 2022) and Independence Day (July 1)
The Friday after Thanksgiving (Nov. 25, 2022)
Christmas Eve (Dec. 24, 2022)
New Year's Eve (Dec. 30, 2022, observed)
In 2022, the stock markets will close at 1 p.m. on the Friday after Thanksgiving. The standard operating hours for the New York Stock Exchange and other markets are weekdays from 9:30 a.m. to 4 p.m.
Our in-house research team and on-site financial experts work together to create content that's accurate, impartial, and up to date. We fact-check every single statistic, quote and fact using trusted primary resources to make sure the information we provide is correct. You can learn more about GOBankingRates' processes and standards in our editorial policy.