3 Best Stock Market Simulators of 2023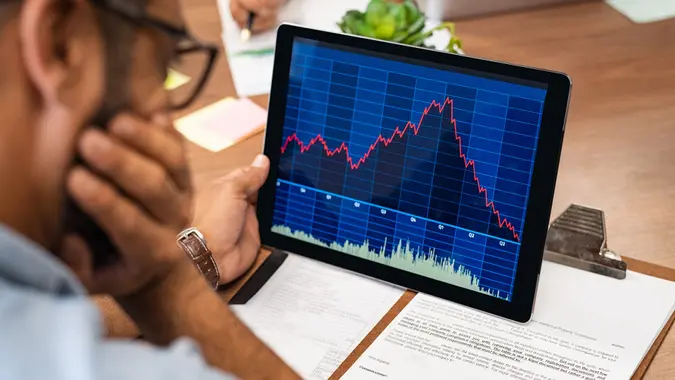 Ridofranz / iStock.com
It's common for new investors to feel uneasy spending their money on real stocks without knowing exactly how the stock market works. The market is notoriously volatile, and it is easy to lose money quickly if you don't know much about investing.
Learn: 3 Things You Must Do When Your Savings Reach $50,000
Luckily, stock market simulators make it convenient to practice investing. Through paper trading, investors can learn the ins and outs of the market without risking their hard-earned cash.
What Are Stock Simulators?
Stock simulators, also known as paper trading, are a way for investors to try out the stock market without buying or selling stocks for real. Some brokerage firms offer demo or test accounts where clients can practice their trading skills by using virtual money to sell and buy stocks on a simulation platform that mirrors the real market. Other simulators operate as games and are unaffiliated with a brokerage.
Paper trading is an excellent way to test out certain trading techniques without risking money. It lets you see how choices are impacted by the market and modify your strategies according to lessons learned.
Paper trading also lets you pick out various companies and stocks you're interested in to understand how they perform under actual market conditions.
What Is the Best Stock Market Simulator?
There is a lot to learn about how the market works, and it is a gamble to jump in before you know some of the ins and outs. While there is always an element of risk when trading stocks, simulators are free tools that can provide much-needed practice to new investors. They're designed to follow real market conditions and exchange rates to give you real-world experience without using real money.
Which stock market simulator is best for you depends on the the types of investments you want to make. Here are three of the best stock market simulators to consider.
1. PaperMoney by TD Ameritrade
TD Ameritrade offers a stock simulator called paperMoney, which can help investors learn how to find stocks and perform trades. TD Ameritrade's real trading platform is one of the most popular available, so the simulator gives investors a good idea of how the process works in real life.
Why It Stands Out
Investors can use the platform to learn about basic investing as well as complex investments such as futures, forex markets and options. 
Pros
PaperMoney is free to use and comes with several functions to test options strategies.
You can use the platform to test various chart indicators and studies to see how they can help your trades in the real world.
Cons
PaperMoney doesn't allow fractional-share trading.
The trading platform is not as intuitive as other stock market simulators. 
What To Look For
If you want to use TD Ameritrade as a brokerage firm in the future, paperMoney is a good choice. To get started, create an account and download and install TD Ameritrade's thinkorswim trading platform on your computer.
2. HowTheMarketWorks
Unlike paperMoney, which is connected with a real online brokerage firm, HowTheMarketWorks is an educational stock market game exclusively for paper trading.
Why It Stands Out
HowTheMarketWorks is the most popular stock game among educators, and it also appeals to investment clubs. However, individuals who want to learn investing on their own can open a free, ad-supported acount to learn stock and options trading with a simulated portfolio or explore the educational resources. The free account includes basic research tools and 30 built-in investing courses.
Pros
HowTheMarketWorks is ideal for novices with limited investment experience.
It offers a library of educational materials.
The free virtual stock market simulator works much like a stock market game, where users can register and receive virtual cash.
Each user is given $100,000 in virtual money and can trade in the stock market in real-time or create contests with friends or family members.
Cons
This market simulator is not connected with a real platform.
The free account is limited to paper trading stocks and options, which may be a drawback for some.
What To Look For
The game-like interface makes this trading simulation engaging and fun to learn how stocks work. However, more advanced paper trading, such as bonds, mutual funds, futures and forex, are available only through schools that purchases site licenses.
3. Wall Street Survivor 
Wall Street Survivor is one of the longest-running stock market simulators available and is considered one of the best ways to learn the basics of investing.
Why It Stands Out
Wall Street Survivor's real-time simulator works as a stock market game by providing players with $100,000 in virtual cash to buy and sell investments. Investments include stocks, ETFs, options and cryptocurrency.
Pros
Investors can simulate success — or failure — in the market by trying real-world strategies.
Users can create custom games to challenge family and friends.
The site offers mini courses to help new investors get started.
Partners include Seeking Alpha and The Motley Fool.
Cons
Wall Street Survivor is not linked to a real brokering firm. 
Some site features could direct users to partners' paid products.
What To Look For
The Wall Street Survivor also offers many investments and personal finance resources users can study at their own pace as they gain more experience with the simulator. However, keep in mind that you might be exposed to promotional materials from Wall Street Survivor partners.
Other Stock Market Simulator Options
The MarketWatch Virtual Stock Exchange simulator is another option for beginners wanting to learn more about investing. This simulator works similarly to other stock market games in that it provides virtual money that people can use to buy and trade stocks. The simulator allows investors to start games and compete against friends or coworkers for leaderboard spots.
Users can register for MarketWatch Virtual Stock Exchange for free.
This stock market simulator is easy for beginners but has more advanced resources suitable for more experienced investors.
Do Stock Market Simulators Help?
Some experts stress that investing in individual stocks may be too risky for new investors because of the challenges inherent in picking stocks and gauging the market. A portfolio of low-cost exchange-traded funds or index funds is a safer way to go.
However, if you're committed to buying stocks, opening a demonstration account with your broker or subscribing to a stock simulator can help you get used to researching, selecting, buying and selling securities. It's a good way to overcome the learning curve to the stock market, try out different strategies and increase your confidence without risking your money.
Paper trading won't eliminate the risk that you'll lose money in the market, but it will help you learn to make educated decisions about where and how to invest.
Final Take
Stock market simulators help new investors learn about the markets, and they give more experienced investors the freedom to experiment with new asset classes and investing strategies. While there's no guarantee that practice trading will lead to gains in the real market, the more newbie mistakes you make using a simulator, the fewer you're likely to make when you're ready to invest real cash.
But no matter how successful your virtual trades are, never invest real money you can't afford to lose.
Daria Uhlig contributed to the reporting for this article.
Information is accurate as of Jan. 8, 2023.
Our in-house research team and on-site financial experts work together to create content that's accurate, impartial, and up to date. We fact-check every single statistic, quote and fact using trusted primary resources to make sure the information we provide is correct. You can learn more about GOBankingRates' processes and standards in our editorial policy.