5 Stocks To Be Thankful for in 2022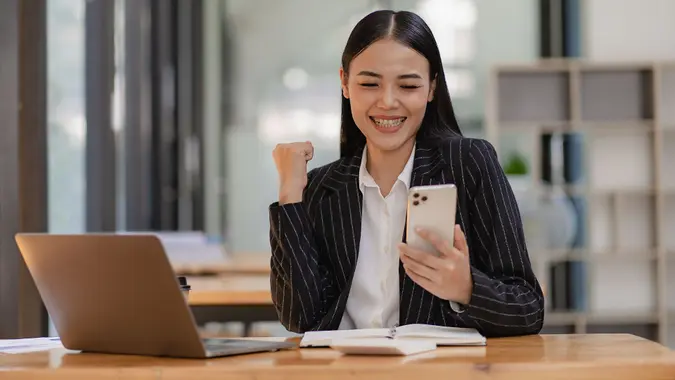 ArLawKa AungTun / iStock.com
With Thanksgiving just around the corner, one of the things many investors are giving thanks for is a handful of outperforming stocks. With the S&P 500 index still down about 17% YTD as of Nov. 18, even stocks that are flat on the year are worth celebrating.
The names listed below have gone above and beyond in 2022, though, and more may still lie ahead. As you take a look at these big winners, realize that even stocks in an uptrend can have sharp downdrafts, and that you should speak with your financial advisor about your risk tolerance and investment objectives before buying them. However, if you already own any of these stocks, you should be giving thanks at your holiday table.
Occidental Petroleum (OXY)
Stock price as of Nov. 22, 2022: $72.12
Occidental Petroleum has been one of the very best performing stocks in 2022, as it's had a number of tailwinds to send it surging. One of the most public votes of confidence has come from no less than the "Oracle of Omaha" himself, CEO of Berkshire Hathaway Warren Buffett.
Berkshire began accumulating shares of OXY aggressively in 2021, and it now has clearance to buy as much as 50% of the company's outstanding shares. Skyrocketing oil prices on the back of the highest inflation in more than 40 years has also boosted profits at the company.
Enphase Energy (ENPH)
Stock price as of Nov. 22, 2022: $316.30
Enphase Energy is a high-flying stock that has posted an incredible 11,000% gain over the past five years, marked by boom years like 2020, when the stock gained just a hair under 500%. Returns in 2022 haven't been quite that spectacular but still hover around the 70% mark, an amazing performance in a year when the broad market is down.
The supplier of microinverter-based solar and battery systems may yet have a bright future ahead of it as the world continues to move towards solar energy and electric vehicles.
Cardinal Health (CAH)
Stock price as of Nov. 22, 2022: $78.64
After essentially flatlining for 2020 and 2021, Cardinal Health has come on strong in 2022, up over 50% YTD as of Nov. 22. As with other stocks in this list, rising revenue is a big reason why Cardinal Health is popping in 2022, but other factors have played a part as well.
The company has paid down more than 50% of its long-term debt over the past five years, and it recently got out from under a settlement that had been weighing on the stock. Healthcare stocks are also generally considered defensive and recession-resistant, so some investors fearing a weakening economy may also see Cardinal Health as a good play in that type of market environment going forward.
Archer-Daniels-Midland (ADM)
Stock price as of Nov. 22, 2022: $97.10
Archer-Daniels-Midland has been on a tear recently, up 34.08% in 2021 and an additional 40%-plus in 2022. The company is enjoying huge demand for grains, which helped boost profits by 96% year-over-year.
Recent results have consistently beaten analyst estimates, and the current economic environment — in which populations are growing and inflation is boosting food prices — may continue to provide a tailwind for the company's operations an on ongoing basis.
Northrop Grumman (NOC)
Stock price as of Nov. 22, 2022: $528.00
Northrop Grumman has posted relatively modest returns of about 75% over the past 5 years, but about half of those gains have come in 2022 alone. Rising global tensions, particularly the Russian invasion of Ukraine, have turned investor focus to defense stocks, and Northrop Grumman is one of the primary beneficiaries.
Sharply rising revenues have provided real-world economic backing for the stock as well. Analyst have a consensus "strong buy" rating on the stock, with an average 12-month price target of $539.18.
More From GOBankingRates