5 Stocks With Major Passive Income Potential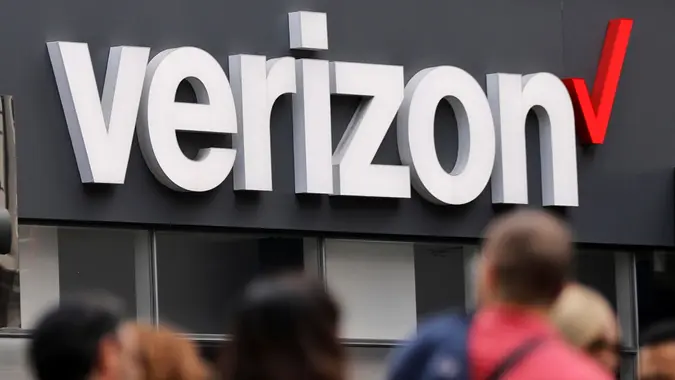 Bebeto Matthews / AP / Shutterstock.com
Stocks are typically thought of as vehicles for capital appreciation. However, some stocks offer the potential for both capital gains and ongoing income via their dividends.
Find Out: How Much Americans Have in Their Savings Accounts in 2023
Advice: 3 Things You Must Do When Your Savings Reach $50,000
Most stocks that pay reliable dividends are also less volatile than the stock market as a whole, which can make them good choices for more conservative investors.
When looking for a stock with major passive income potential, you'll want to invest in a company with a track record of consistent payouts in an industry that generates reliable cash flow. Here are a few candidates that you might consider discussing with your financial advisor.
Walgreens Boots Alliance
Stock price as of Feb. 24, 2023: $35.80
Walgreens Boots Alliance is a mouthful of a name, but it's a great company for income investors. The pharmacy giant is better known to Americans through its Walgreens stores, but it also has a huge British presence under its Boots brand. The company has increased its dividend for 47 years in a row, making it a dividend aristocrat. Even with a quite high dividend yield of 5.31%, the company's payout ratio is just 39.75%, leaving it ample room for future increases. 
In addition to its income potential, the stock has other factors to support it. Pharmacy companies are generally considered defensive, as consumers still need their products even during tough economic times. The stock is trading near its 52-week low and analysts have a consensus "buy" rating on it.
Live Richer Podcast: How To Leverage Your Investments
Verizon Communications
Stock price as of Feb. 24, 2023: $38.74
Verizon Communications isn't quite a dividend aristocrat yet, but it's only because the company hasn't existed long enough. Formed in 2000 by a merger between Bell Atlantic Corp. and GTE, the company has existed for just 23 years but already has increased its dividends for 18 consecutive years.
As one of the largest wireless carriers in the country, Verizon generates a considerable amount of recurring cash flow that can support a large and growing dividend. Currently, the company sports a whopping 6.64% yield.
While not the most exciting stock on the capital appreciation side, the company has a consensus "buy" rating, with an average 12-month price target of $46.50.
3M
Stock price as of Feb. 24, 2023: $107.80
3M is a global conglomerate probably best known for its Post-It and Scotch Tape brands. But it produces a wide range of products for both consumers and businesses, from automotive parts and hardware to cleaning supplies, films and sheeting, electrical supplies, insulation and countless others.
If you're looking for a reliable long-term dividend payer, it's hard to do better than 3M. The company has paid a dividend for more than 100 years, and it has raised that dividend for more than 60 years in a row.
Currently, the stock yields a hefty 5.51% and trades near the bottom of its 52-week range, perhaps offering an attractive entry point for long-term investors. 
Johnson & Johnson
Stock price as of Feb. 24, 2023: $155.97
Johnson & Johnson is not just a dividend aristocrat but a dividend king, an appellation assigned to companies that have raised their dividends for at least 50 years in a row — or 60 in the case of J&J. The well-known healthcare company produces medical devices, pharmaceuticals and consumer packaged goods, and its products are likely in the homes of nearly every American. Some of its most well-known brands include Band-Aid, Neutrogena and Tylenol.
Johnson & Johnson has an above-average yield of 2.90%, and analysts have a consensus "buy" rating on the stock, with an average 12-month price target about 20% above current levels.
Crown Castle International
Stock price as of Feb. 24, 2023: $131.16
Crown Castle International may not be the most well-known name on the list, but it's a reliable dividend payer in a growing industry. Crown Castle International operates as a real estate investment trust providing communications infrastructure to the wireless industry via towers and fiber.
Its REIT structure means it must pass the bulk of its income through to its shareholders, resulting in a generous 4.77% yield. Still, the company also offers significant capital appreciation potential. Analysts see the stock rising 21% over the next 12 months.
More From GOBankingRates