Investing in ThoughtSpot's IPO May Be a Smart Move and Here's How To Buy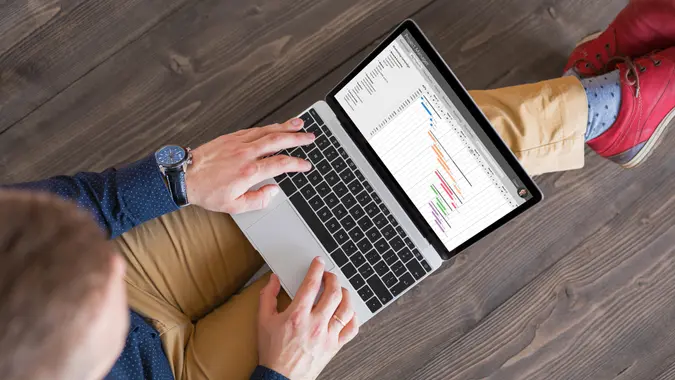 ©iStock.com
Launching its first cloud solution 2019, ThoughtSpot boasts granular data, real-time reporting, and on-the-go insights via its app. ThoughtSpot offers:
Productivity apps
SaaS apps
Data science
ThoughtSpot app
Custom IT apps
Cloud data
Currently a privately owned company, ThoughtSpot is looking to become a publicly traded company sometime in the near future. It announced a record 108% revenue increase for the fiscal year that ended January 31, 2020.
ThoughtSpot vs. Competitors
To fully understand a business, it's important to understand the competition. As a cloud solution, ThoughtSpot competes with other cloud solutions. In 2020, Salesforce paid $14.6 billion for Tableau.
At the time, Tableau was ThoughtSpot's biggest competitor in the market. Both were targeting large, fast-growing businesses to provide solutions for big data and analytics. Before it was acquired, Tableau grew an average of 38% between 2013 and 2018. Revenue growth slowed to 15% in the quarter preceding Salesforce's acquisition.
Tableau boasts customers like Nissan, Morgan Stanley and Home Depot. In June 2020, Salesforce announced that Tableau would add $400 million to its 2020 fiscal revenue. At the end of the fourth quarter, Tablaeu contributed approximately $320 million toward Salesforce's revenue for the fiscal year.
How ThoughtSpot Compares
ThoughtSpot beats out Tablaeu in growth comparison. The company brought in a new CFO in January 2021 along with several other important hires. The company was founded in 2012 by Google alumni, and the newest SVP was previously Google's Global Head of User Growth and Analytics.
ThoughtSpot sets itself apart from competition like Tableau by eliminating the need for structured query language, or SQL, for results. Instead, ThoughtSpot uses artificial intelligence to interpret user responses and provide answers.
Did You Know?

As of August 2020, ThoughtSpot raised $248 million in a Series E round with a $1.95 billion valuation. The company has more than 550 employees and works with around 50 Fortune 500 companies to provide a cloud solution.
In a company press release published in February of last year announcing ThoughtSpot's 108% year-over-year revenue growth, ThoughtSpot CEO Sudheesh Nair said, "It's an exciting time to be in analytics. As the cloud and AI go mainstream, our enterprise customers recognize they have an unprecedented opportunity to leverage their data and drive business value."
He continued, saying that "ThoughtSpot is the innovation partner for these organizations, equipping modern businesses with an advanced yet simple to use platform that unleashes the power of data and allows business users to find insights, add their own knowledge and expertise, and, most importantly, take action."
Global Considerations
When it comes to the stock market, it's important to consider a company's global presence. ThoughtSpot expanded nationally and internationally in 2019. It opened six offices in Singapore, Tokyo, Melbourne, Dusseldorf, Paris and San Francisco. The global team also expanded by adding 33% more employees around the globe.
"Last year's growth and success is a testament to the faith our customers place in us, the combined efforts of our team, our culture, and the incredible work of our partners," Nair said in a press release published in February 2020. "Coming off of our most successful year of growth to date, we will continue to work hand in hand with our customers to transform how they use data, make decisions, and operate."
Private To a Publicly Held Company
When a company first enters the stock market, it announces an Initial Public Offering or IPO. Going from private to public is a challenge for many reasons. Owners of the company must file financial disclosure and a lot of paperwork with the U.S. Securities and Exchange Commission.
After the process is complete, the owners must prepare for significant scrutiny that comes with being publicly traded. An IPO represents the first time the general public can buy shares. These shares represent a stake in the company's long-term success.
It also represents an opportunity for early contributors to cash out on their investment. Early investors may include friends, family, and other professionals who helped establish the business as a start-up.
IPO Terms
As you research an IPO like ThoughtSpot, it's important to understand some key terms. Like everything in the world of investing, initial public offerings have their own special jargon. You'll want to understand the following key IPO terms:
Definitions for IPO Terms

Common stock: The units of ownership that allow a shareholder to vote on company matters and receive dividends from the company. During an IPO, common stock is available for purchase.
Issue price: This is the set price for a share of common stock available to investors before public exchange. Sometimes it is also called an offer price.
Lot size: The least amount of shares you can bid on during the IPO. You must bid in multiples of this increment number.
Preliminary prospectus: This document serves as a disclosure to the public. It includes information about the business's strategy, historical finances, recent financial results and management.
Price band: The company and underwriter work to set a price range for different categories of investors. For example, a qualified institutional buyer may have a different price opportunity than the general public.
Underwriter: An investment bank manages the company once it becomes publicly traded.
IPO Risks
There are inherent risks with any investment. However, an IPO presents unique challenges because there is no track record of success in the stock market yet. As an investor, you make a decision based on a lot of unknown variables.
IPOs are trendy because people think it's exciting to invest in something new. However, don't let the trendiness distract you from the fact that ThoughtSpot is still a brand new investment. From 1975 to 2011, more than 60% of IPOs produced negative returns after five years.
What Sets ThoughtSpot Apart
ThoughtSpot was named the youngest leader in Gartner's Business Intelligence Platforms Magic Quadrant. This edge helps ThoughtSpot stand out in a world of ever-changing technology. As the industry changes, ThoughtSpot is committed to staying ahead of trends.
Good To Know

Before deciding to invest, wait and see what the issue price and lot size is for ThoughtSpot. Ensure the entry price is within a comfortable range for your investment tolerance.
ThoughtSpot leadership is treating an IPO as a small step in a much longer plan, looking to build a company of lasting value. Considering the job is only 2% done, ThoughtSpot leadership are seeking to provide various organizations across several sectors, including Global 2000 companies, retailers, pharmaceutical companies, hospitals, and government agencies, with data that can lead to better decisions and better outcomes.
"We have a deceptively simple vision to create a more fact-driven world by empowering everyone with the ability to get insights from data," said Ajeet Singh, co-founder and executive chairman of ThoughtSpot, said in 2020. "Over the last fiscal year, we've made advances in all areas of the business to help realize this goal, from hiring exceptional new talent to launching transformative products, to securing new funding. With such a strong foundation, we're well poised to take the coming year to the next level and accelerate the innovation we're bringing to market."
The Bottom Line
If you decide to take a chance on ThoughtSpot, you can do so with confidence in the company's short-term growth. The question is can the ThoughtSpot team sustain growth over a long period of time? Don't invest in ThoughtSpot seeking an immediate financial gain.
Instead, treat it as a long-term investment. Keep in mind that you want to balance your investment portfolio between long-term and short-term investments. You also want to strike a balance between safer investments and risks. Consider your overall portfolio before investing in ThoughtSpot.
Our in-house research team and on-site financial experts work together to create content that's accurate, impartial, and up to date. We fact-check every single statistic, quote and fact using trusted primary resources to make sure the information we provide is correct. You can learn more about GOBankingRates' processes and standards in our editorial policy.