Warren Buffett's Biggest Investing Mistake of 2015
Warren Buffett is one of the most successful and well-known investors in the world. Thanks to his investing knowledge and company, Berkshire Hathaway, his long-term returns have trounced those of most other investors.
But in spite of Buffett's notoriety, he suffers the peril of all investors: imperfection. No one, not even Warren Buffett, can avoid the occasional loss. In 2015, Warren Buffett suffered a doozy of a hit to his portfolio: He lost $2 billion on IBM.
Warren Buffett Invests in IBM
Warren Buffett's worst investment mistake of 2015 begins in 2011. As many Buffett followers know, Buffett stayed away from investing in the technology sector for many years. His reason: He doesn't like to invest in companies that he doesn't understand.
But in the first quarter of 2011, Buffett began to buy shares in IBM (NYSE: IBM). According to Forbes, he bought 4,517,774 shares of IBM for an average price of $159. For a reference point, on Nov. 27, 2015, the stock was selling for $138.46. The chart below provides a view of the IBM stock price during the last five years: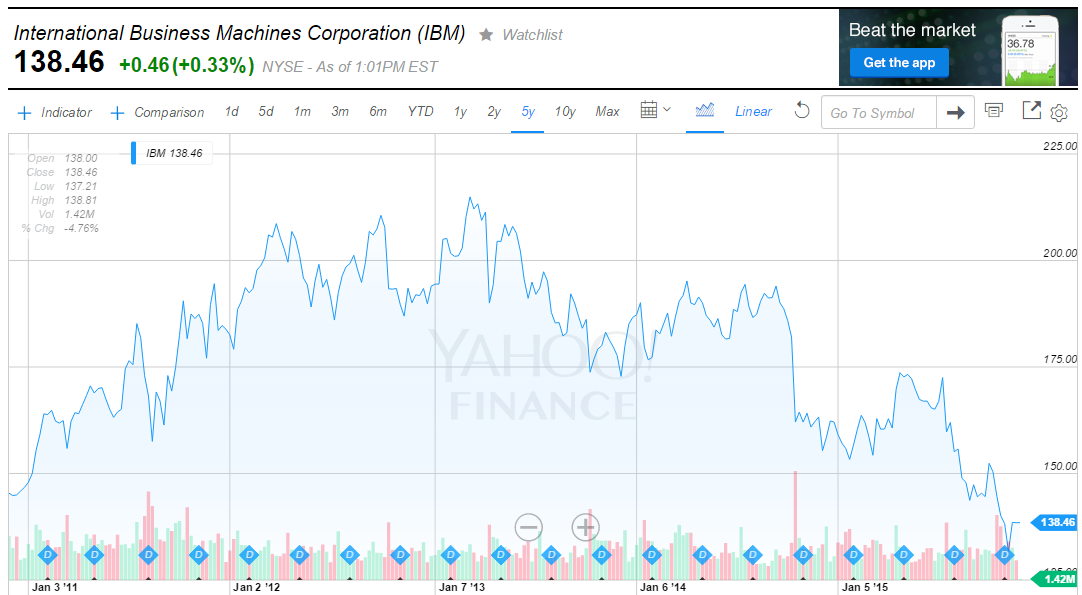 Source: Yahoo Finance
During the second and third quarters of 2011, Buffett ramped up his IBM stock buys and added 82.2 million shares for average prices of $167 and $173 per share. He continued his IBM buying spree in the fourth quarter of 2011, paying average prices from $185 to $197.
By the end of the third quarter of 2011, Buffett owned 67,517,896 shares or 5.98 percent of IBM's outstanding shares, reports Forbes. And, his IBM holdings comprised 18.6 percent of his portfolio.
Related: Warren Buffett's Best-Performing Stocks of 2015
Why Did Warren Buffett Invest in IBM?
So what actually spurred Warren Buffett to turn his technology avoidance policy around and commit to IBM? In his 2011 letter to shareholders, he offered a treatise describing his decision to invest in IBM:
"As all business observers know, [IBM] CEOs Lou Gerstner and Sam Palmisano did a superb job in moving IBM from near-bankruptcy 20 years ago to its prominence today. Their operational accomplishments were truly extraordinary.

But their financial management was equally brilliant, particularly in recent years as the company's financial flexibility improved. Indeed, I can think of no major company that has had better financial management, a skill that has materially increased the gains enjoyed by IBM shareholders. The company has used debt wisely, made value-adding acquisitions almost exclusively for cash and aggressively repurchased its own stock."
Specifically, one reason for the IBM buy was most likely the compelling return on equity ratios during 2009, 2010 and 2011 of 59 percent, 64 percent and 78.4 percent, reports Forbes. This is just one of the important ratios that Buffett uses to analyze a company's profitability.
In the shareholder letter, Buffett continued to explain his five-year expectations for the IBM stock. He hoped for the price to remain in the $200 range and anticipated that IBM would buy back 250 million additional shares for $50 billion. With resulting 910 million shares outstanding, that would give Berkshire Hathaway 7 percent ownership in the company. Ultimately, he concluded that his future profit would be determined primarily by IBM's future earnings and secondarily by IBM's share buybacks.
Warren Buffett's Investment in IBM Continues as Planned
By April 2013, Buffett's IBM purchase decision was validated. As hoped for in his 2011 shareholder report, IBM's share price was trading in the $200 per share range, reports CNBC. Additionally, the company proved Buffett correct as it increased its quarterly dividend by 12 percent to 95 cents and spent $5 billion for share buybacks.
Buffett's 2011 explanation for both why he purchased IBM as well as the future projections for the company is a lesson for all investors: When making a stock purchase, first know why you're buying the company. Next, project what you expect will be the result of your purchase. That helps with future buy-sell-hold decisions.
Warren Buffett Loses $2 Billion on IBM Stock
In early November 2015, Buffett admitted to losing $2 billion on IBM, reports CNN Money. Up until 2013, the IBM buy was going according to plan. But since then, the company's stock lost one-third of its value.
Attempting to uncover Warren Buffett's mistakes isn't always easy, yet his $2 billion loss from IBM's decline is hard to miss. Here's what happened:
In July 2015, IBM posted second-quarter adjusted net income of $3.84 per share on $20.81 billion in sales. Both measures declined 13 percent over the same quarter the prior year. As reported by CNBC on July 21, IBM shares fell $8.96, and Berkshire Hathaway lost $712.9 million.
Look ahead to Oct. 22, 2015. Fortune reported that IBM's third-quarter earnings also disappointed. Third-quarter earnings were down 14 percent from the third quarter of 2014. This third quarter, IBM's losses hit Buffett's Berkshire Hathaway hard with a $680 million decline in value. At that date, Buffett's 79.5 million shares of IBM were worth more than $11 billion.
And in November, MarketWatch reported that Berkshire's shares had fallen 11 percent in 2015, in contrast with a nearly flat S&P 500 return.
The following stock chart compares the share price of Berkshire Hathaway Inc. (NYSE: BRK-A) with the SPDR S&P 500 ETF (NYSEARCA: SPY), which represents the S&P 500 stock index. Notice that during the past year, as of the end of November, BRK-A lost 9.39 percent and SPY gained 1.85 percent. Berkshire Hathaway's losses this year are strongly impacted by his IBM investment.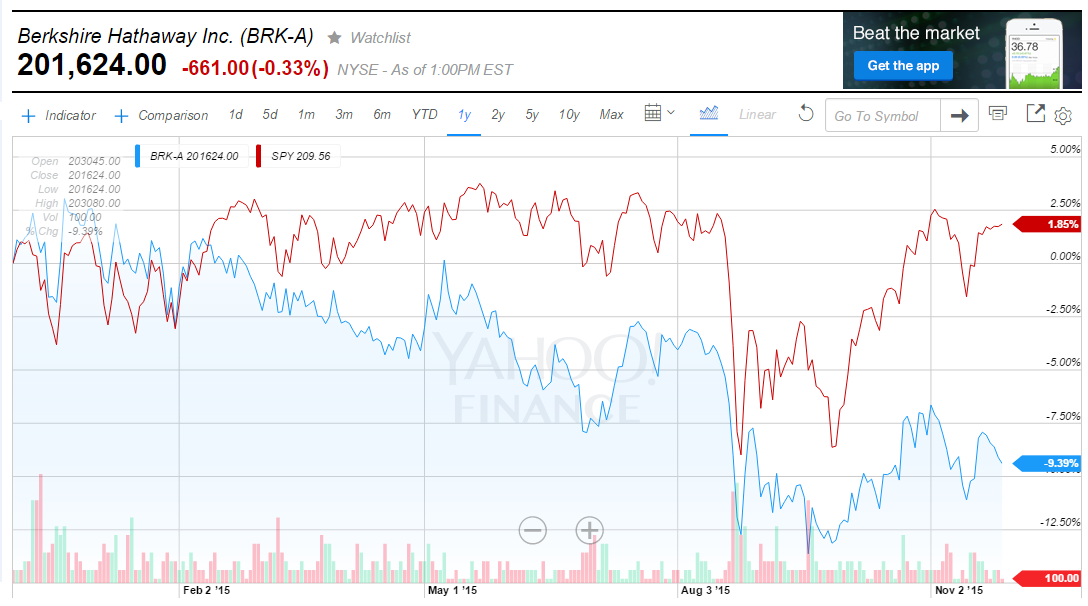 Source: Yahoo Finance
Keep Reading: 5 People Who Could Inherit Warren Buffett's Empire
Still, one year's slump doesn't necessarily counteract the many years Berkshire Hathaway outperformed the S&P 500.
For the record, Buffett admitted to adding to his IBM position in both the first and third quarters of 2015 during the stock's slide. But, Buffett is hopeful that IBM's stock will experience an upturn.
"IBM continues to be profitable and generate significant cash flows," said Buffett, according to CNN Money. "We currently have no intention of disposing of our investment in IBM common stock." In fact, he recently added more IBM stock.
Fortune reported on Nov. 16, 2015, that Berkshire Hathaway added 1.5 million shares in the third quarter, increasing the company's position in IBM by 2 percent.
How Will IBM Impact Berkshire Hathaway Shareholders Going Forward?
No one can predict the future — not even Warren Buffett. But had you bet against him in the past, in most cases you would have lost.
That being said, professional financial advisors and Buffett watchers have several comments about the IBM position, arguably Buffett's biggest mistake of 2015.
Ted Parrish, CFA and founder of investment management firm Parrish Capital, LLC, said Warren Buffett's IBM investment is based on a long-time horizon that's longer than one, four or more years. According to him, currency issues hurt IBM as well as obsolescence.
"The company is trying to play catch up in a few genres of big tech, especially cloud computing," said Parrish. "IBM's stodginess in the application space is also clear as lighter enterprise web-based applications are clearly in vogue."
In spite of these challenges, Parrish cautioned not to count out IBM just yet given its history, balance sheet and management team.
What Can Investors Learn From Warren Buffett's IBM Investment?
Peter J. Creedon, CEO of registered investment advisory firm Crystal Brook Advisors, sums up Warren Buffett's 2015 mistake:
"To make a mistake just proves he is human. But did Buffett make a mistake with IBM? Buffett/Berkshire Hathaway are prudent long-term investors. He and his team see some qualities of management, market position or other fundamentals that if refined or redefined in a better way, can contribute to a more successful company and ultimately Berkshire's bottom line. Some turnarounds take longer than others, but long-term investors need more than a few quarters to effect real change. Time will tell."
It's tough to call IBM an investing mistake until Buffett sells the shares. For now, his losses aren't realized; they're simply paper losses. As Doug Nordman, author of "The Military Guide to Financial Independence and Retirement," said, "The majority of Buffett's investments have been castigated as mistakes until he takes the capital gains and pays the taxes."
If you're an investor, you will make mistakes. It's unavoidable. Many of Buffett's investments took many years to realize their potential, with ups and downs along the way.
As you head into 2016 and buy new stocks, learn from Warren Buffett's investment in IBM. Understand why you're investing in a company, how you expect it to perform in the future and be patient. And keep this Buffett quote in mind when picking stocks: "Price is what you pay. Value is what you get."