What Does It Mean to Invest in a Stock Like Apple?
If you're new to investing, a tried-and-true stock like Apple might be just the ticket.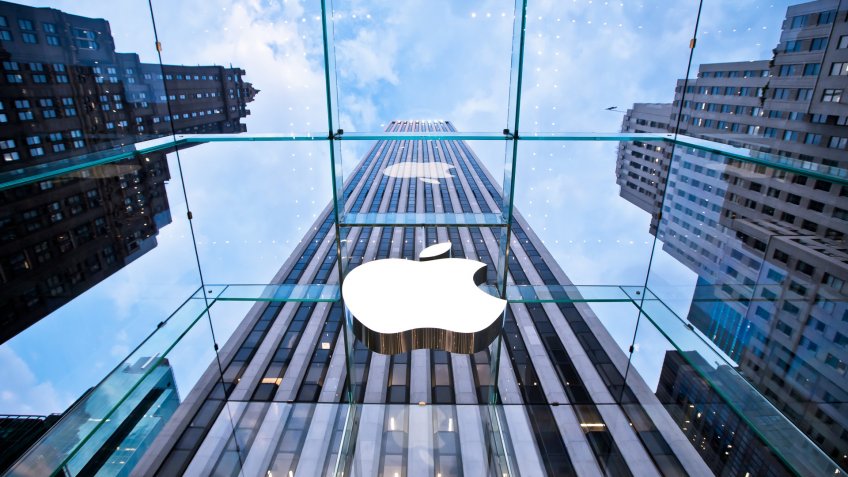 Andrey Bayda / Shutterstock.com
Apple, Inc. (Nasdaq: AAPL) is the largest company in the world according to market capitalization, which represents the number of outstanding shares of stock times the value of each share. If you're interested in how to buy stock and curious about the best stocks to buy, you've probably considered Apple stock.
Learn what it means to invest in a stock like Apple. It might be the golden ticket if you're a first-time investor who's afraid of risk.
Hadrian / Shutterstock.com
You Might be Surprised at How Little Apple Stock Costs
It's actually relatively inexpensive to start investing in Apple. You can purchase one share, which was trading at $150.25 on May 17, 2017. You can't buy shares in Apple directly so you'll need to set up a brokerage account.
Many brokerage houses require a minimum opening balance, but some online brokers have no or low minimums. If you want to buy Apple stock, make sure you're not paying any high fees.
Other large corporations have reasonably priced shares of stock as well. For example, Microsoft (Nasdaq: MSFT) was trading at $67.48, Coca-Cola (NYSE: KO) at $43.93 and Exxon Mobil (NYSE: XOM) at $81.99 on May 17. When you compare those prices with Berkshire Hathaway Class A (NYSE: BRK-A) stock, which was trading at $243,110 per share on the same date, you'll find they can be quite affordable.
Find Out: Investing for Beginners — What First-Time Investors Need to Know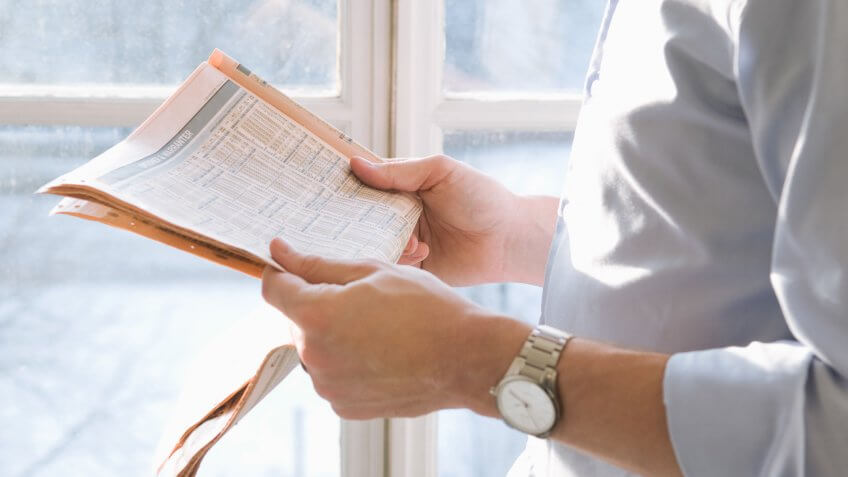 Maskot / Getty Images
You Could End Up With More Apple Shares Than You Bought
Companies like Apple want to make it easy for people to buy their stock. If the price gets too high, some will be priced out of the market, so a company might split its stock.
A stock split happens when a company issues two or more shares of stock for each existing share held. If a company offers a two-for-one split, it basically cuts the price of each share in half.
In 2014 Apple executed a seven-for-one stock split. At the time, AAPL stock was trading at about $700 per share. After the split, each shareholder had seven times as many shares — and each was worth about $100.
Related: What $1,000 Invested in Apple, Netflix and More 10 Years Ago Is Worth Today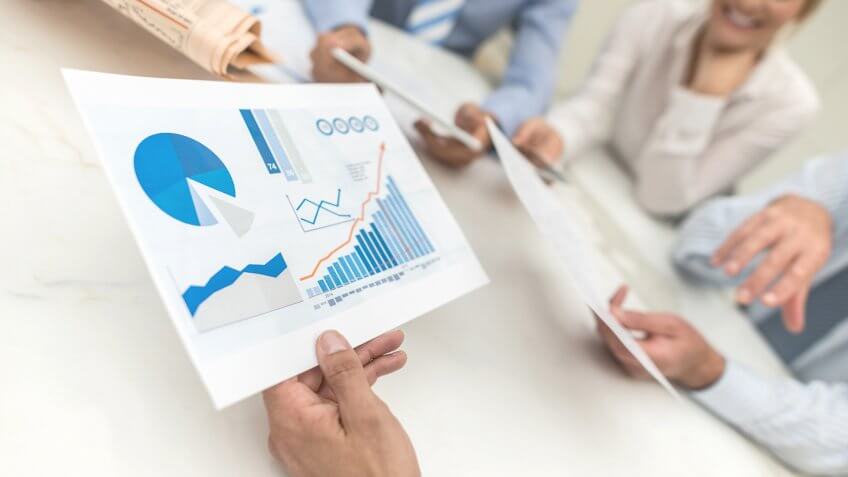 andresr / iStock.com
You Might See a Significant Return on Apple Stock
If you had purchased one share of Apple stock during the 1980 initial public offering at $22 per share, you would now have 56 shares — thanks to three two-for-one splits and that seven-for-one split — worth a total of $8,750.56. Keep in mind, however, that much of that appreciation happened before Apple became the behemoth it is today. Buying a large company's stock usually gives you more modest returns.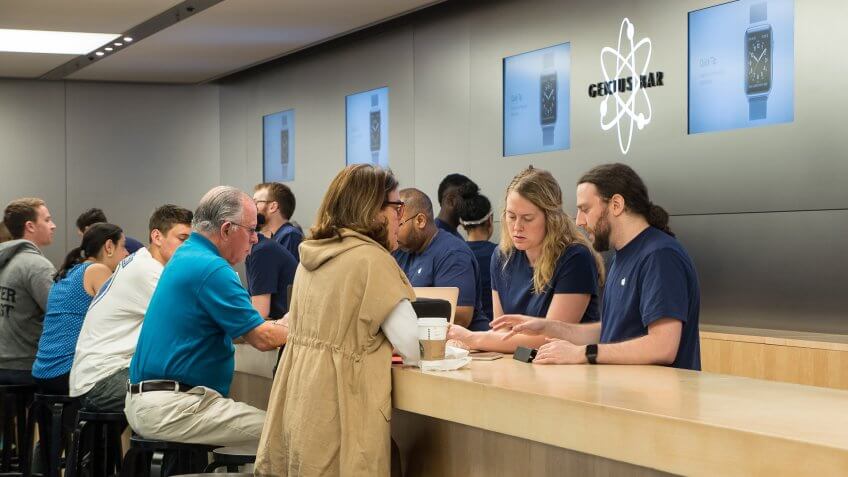 pio3 / Shutterstock.com
You Won't Get to the Front of the Line at the Genius Bar
Even if you own a little piece of the company, it probably won't get you the red carpet treatment at the Apple store. Currently, there are 5.214 billion outstanding shares of Apple stock — although institutions hold 66 percent of those shares, there are still a lot of shareholders who own them, so preferential treatment would be difficult to provide to that many people. In other words, you'll probably still have to make an appointment at the Genius Bar, just like everyone else.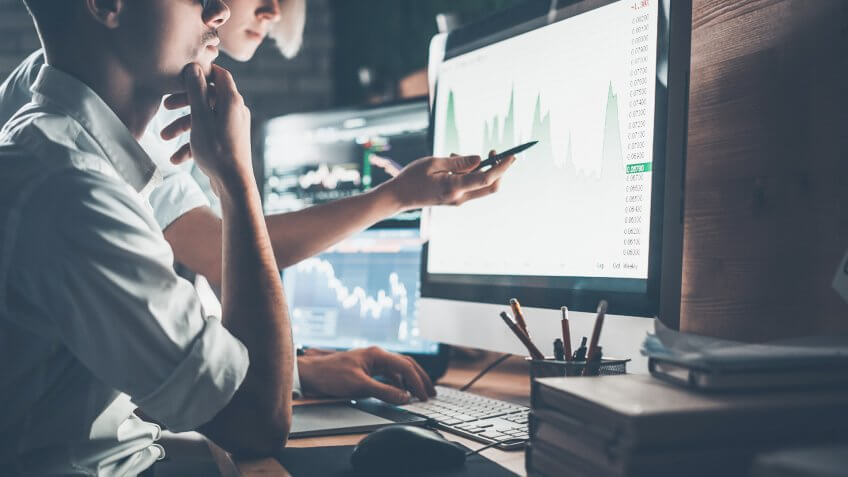 g-stockstudio / Shutterstock.com
You Might Develop an Interest in Other Stocks
Apple might be one of the best stocks right now, but there are other trending stocks with which you should familiarize yourself. If the Apple stock price is too high for you, consider investing in Walmart (NYSE: WMT) for $75.12 per share, General Motors (NYSE: GM) for $34.42 per share or General Electric (NYSE: GE) for $27.41 per share.
It wouldn't be surprising if you start researching stocks other than Apple to learn more about the best stocks and how to buy them. Before you know it, you might find yourself looking up candlestick patterns and 50-day moving averages — all because you took the time to find out how to buy Apple stock.
Compare: The Cost of the Most Noteworthy Apple Products Through the Years