What a Santa Claus Rally Could Mean for Your Investments This Year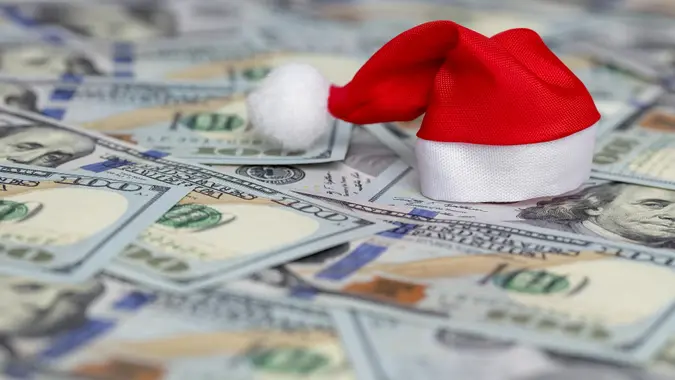 Viorika / iStock.com
As if Santa doesn't have enough on his plate delivering gifts around the world in a single night, now he's being pressured by Wall Street to cheer up the stock market.
Take a Look Back: 2022 Year in Review
Find Out: 5 Things You Must Do When Your Savings Reach $50,000
Investors in an otherwise dreary year are looking for a "Santa Claus rally" to bolster returns before the end of 2022.
The rally got its name because stock markets tend to improve around Christmastime, typically during the last five trading days of the calendar year and the first two of the new year, CNBC reported. Since 1950, the S&P 500 index has climbed an average of 1.3% a year over those seven days.
More recently, the Santa Claus rally pushed the S&P 500 up about 5% between Dec. 20, 2021, and Jan. 4, 2022, according to Benzinga. The year before, the Santa rally led to a 2.4% gain in the S&P 500. Santa rallies have taken place about two-thirds of the time since 1993.
This would be an especially good year for a Santa rally to work its magic. The S&P 500 is down about 16% over the past 12 months, while the Dow has slipped about 6% over the same time frame. A rally of anywhere from 2% to 5% would do wonders to boost investments heading into 2023.
As CNBC noted, December is typically one of the strongest months for U.S. stocks. Since 1926, only July and April have outpaced December's average returns, according to data from Morningstar Direct.
Why this is isn't exactly clear. It probably has something to do with a combination of optimism over the coming new year, increased spending over the holidays and the close of "tax-loss-selling season," when traders and investors sell losing positions to minimize capital gains. Other factors include holiday and year-end bonuses and the expectation that a rally will take place in late December — because that's usually the case.
Take Our Poll: How Has Inflation Impacted Your Holiday Shopping Plans?
"When you think of a Santa Claus rally, it's all about anticipating or looking forward," Terry DuFrene, global investment specialist at J.P. Morgan Private Bank in New Orleans, told CNBC. "Now you have a chance to hit the reset button."
Another potential boost this year could come from the midterm elections, which often push stocks higher. This is partly because Wall Street likes divided government, which leads to legislative gridlock — something that helps bring more predictability to the markets.
"Midterm elections, no matter what, have a tendency to be very bullish, and the Santa Claus rally continues through the next three, six, 12 months," said Ed Yardeni, president of Yardeni Research.
Looking further ahead, the real rally could come not from Santa Claus but from Federal Reserve Chairman Jerome Powell, who will decide how much longer to hike interest rates to tame inflation.
In a recent report titled "Outlook 2023: Finding Balance," LPL Research said that if stocks are going to go higher in 2023, "a prompt end to the Fed's rate hiking campaign will likely be a key component."
LPL projects that the Fed will pause its hikes during the early spring of 2023 amid a better inflation outlook and loosening job market. If that happens, stocks will likely move higher based on historical pattens, which show that stocks tend to produce solid gains after interest-rate hiking cycles end.
More From GOBankingRates