The Year in IPOs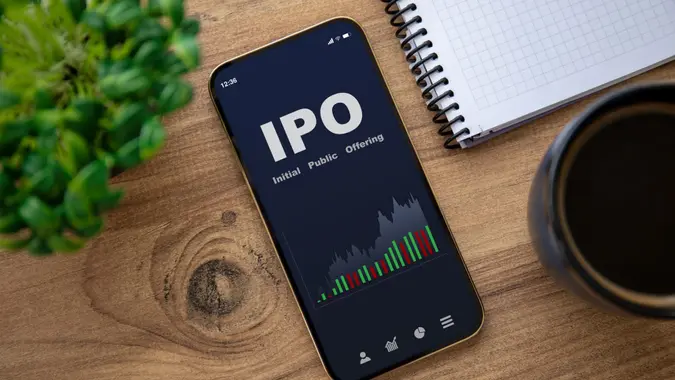 Prykhodov / Getty Images/iStockphoto
You can often tell the health of the stock market by the number and performance of initial public offerings, or IPOs. As 2022 has seen a bear market in the major averages, it's not surprising at all that it hasn't been a great year for the IPO market either. As of Dec. 5, there were 173 IPOs in the U.S. stock market in 2022, a whopping 82.3% decline from the same period in 2021, during which 980 companies had made their public debut.
See: States Whose Economies Are Failing vs. States Whose Economies Are Thriving
Find Out: 5 Things You Must Do When Your Savings Reach $50,000
The performance of most of these IPOs hasn't been stellar either. Whereas in boom years big IPOs often jump 50% or more on their first day of trading, 2022 saw a very muted market, with many IPOs now trading well below their initial offering prices. Here are some of the most notable IPOs of 2022, including a quick look at how they've traded since they went public.
Bausch & Lomb (BLCO)
IPO date: May 6, 2022
IPO price: $18
Price as of Dec. 9, 2022: $15.22
Bausch & Lomb traded up slightly on its first day, to $18.50, but it was priced at a disappointing level, well below its initial range of $21-$24. The stock remains about 15% below its initial offering price. 
Belite Bio (BLTE)
IPO date: April 29, 2022
IPO price: $6
Price as of Dec. 9, 2022: $31.12
Belite Bio is one of the few bright spots in the 2022 IPO market. After coming public in the mid-single digits, the stock has posted a gain of about 425%, as of Dec. 9. The biotech company's products are still in the experimental stage, but it does have one eye disease treatment in late-stage clinical testing.
Take Our Poll: Do You Think People Should Invest In Crypto?
Excelerate Energy (EE)
IPO date: April 13, 2022
IPO price: $24
Price as of Dec. 9, 2022: $27.07
Excelerate Energy, a provider of floating liquefied natural gas terminals, went public at the high end of its $21-$24 initial offering range. In a year in which energy stocks boomed, Excelerate Energy has done better than the market as a whole, sitting about 13% above its IPO price, as of Dec. 9.
Modiv (MDV)
IPO date: Feb. 11, 2022
IPO price: $25
Price as of Dec. 9, 2022: $13.36
Modiv is a real estate investment trust that came to market during a time of skyrocketing interest rates, which increases the firm's cost of capital. As a result, its share price has been nearly cut in half, although it still sports a healthy 8.34% dividend yield.
TPG Inc (TPG)
IPO date: Jan. 13, 2022
IPO price: $29.50
Price as of Dec. 9, 2022: $31.88
TPG Inc. is one of the last big private equity firms to go public, and it did so in a decidedly choppy market. However, the stock has held up relatively well in a rough year, up a few percentage points over its IPO price.
Amylyx Pharmaceuticals (AMLX)
IPO date: Jan. 7, 2022
IPO price: $19
Price as of Dec. 9, 2022: $35.65
Amylyx Pharmaceuticals has been a market darling in 2022, nearly doubling from its IPO price in January 2022. A big part of the year's move came thanks to FDA support for its amyotrophic lateral sclerosis treatment, which drove the stock up about 70% in a single day.
Mobileye Global (MBLY)
IPO date: Oct. 26, 2022
IPO price: $21
Price as of Dec. 9, 2022: $33.70
Mobileye Global has rocketed higher in 2022 on the back of analyst upgrades and a huge potential market. The company develops autonomous driving technology and was spun off from chip maker Intel.
More From GOBankingRates