Acorns Mobile App Review: Simple and Automatic Investing For Beginners
If you're new to investing and like automation, Acorns could be the right app for you.
If you're looking for an easy and accessible way to invest money, the Acorns – Invest Spare Change mobile app could be the right solution for you. The Acorns mobile app tracks users' debit and credit card purchases, then rounds up the purchase to the nearest dollar and invests the difference. Because the app automates the process, you don't need to think about how and when to make your small investments — it's all done for you.
To help you decide if Acorns could be right for your needs, check out the investing app's basic stats:
Acorns Mobile App at a Glance
Cost to Download
Free
Where Available
Number of Downloads (Google Play) 
1,000,000 – 5,000,000
Amazon Rating
3.7 out of 5 stars
Google Play Rating
4.2 out of 5 stars
iTunes App Store Rating
4 out of 5 stars
Get a more in-depth look at the unique features, advantages and disadvantages of the Acorns mobile app so you can decide if this is the right investing tool for you.
Read: Investing for Beginners: What First-Time Investors Need to Know
Acorns App Review
In 2012, seasoned financial markets innovator Walter Cruttenden and his son Jeff Cruttenden founded Acorns. Jeff came up with the concept for the company while he was in college, where he realized that most of his classmates could not invest because they couldn't meet the minimum balance requirements to open an investment account. Seizing the opportunity, the father-and-son team designed Acorns so that people could invest with any dollar amount. The app made its mobile debut in 2014.
What makes Acorns unique is the ability it gives users to customize their options. You can choose to round up change to the nearest dollar and save money from all purchases or just certain types of purchases. You can also schedule automatic deposits on a daily, weekly or monthly schedule.
Overall, the app is easy to use, according to app store reviewers. One Android user said that Acorns is super easy to set up and works seamlessly in the background, investing spare change. "I've already saved over $700! Highly recommended," user Jeff Richards wrote.
How to Download and Set Up the Acorns Mobile App
Getting the Acorns mobile app is easy. To begin, you'll need to sign up for Acorns on the web, or download the free app, which is compatible with Android devices as well as iPhone, iPad and iPod Touch. You can find the app on Amazon and in Google Play and the iTunes app store.
Follow these steps to download and start using Acorns:
Download the app from the app store of your choice. You must have iOS 8.0 or later for iPhone or Android 4.1 or later.
Once installation is complete, open the app.
Create an Acorns account by providing your email address and password.
Link a funding credit or debit account.
Read: 12 Investing Hacks for Beginners
After you've created your Acorns account, you'll need to set up your portfolio by following these steps:
Choose a round-up account. Select which accounts you want to fund your round-ups for investing. Acorns gives you the option to select from six popular banks including Chase, Bank of America and Wells Fargo. If your bank isn't listed, just click the Next button and you can use the search bar to find it.
Once you select your bank, log in with your bank's online sign-in and password to link your credit or debit card.
Select and confirm the accounts you want to use for round-ups.
Connect your checking account by entering your bank sign-in credentials. Similar to the setup step for round-up accounts, you'll select which accounts will transfer funds into Acorns.
Enter personal information, including answers to a series of questions. Provide information such as your full name, birth date and Social Security number. You'll also be prompted to answer a security question.
Provide answers to investment-related questions. As required by law, Acorns will ask you to verify personal information related to your identity and financial standing.
Answer a few more questions to guide Acorns in its portfolio recommendation for you.
View your Acorn-recommended portfolio. Stocks, bonds and real estate options will be broken down for you.
To start using your account, select an investment amount.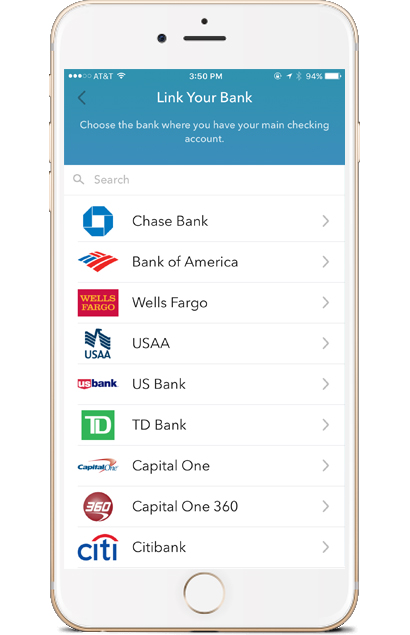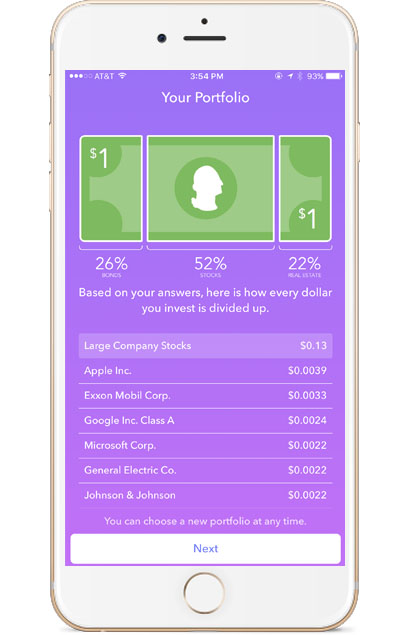 How to Use the Acorns Mobile App
Acorns works with financial experts and a Noble Prize-winning economist to create its portfolios. The app automatically recommends a stock portfolio based on key information like your age, investment goals and amount of risk you're willing to take. Here's how to make the most out of the Acorns app:
Unlimited Investing
Acorn offers investing without minimums or caps. Ultimately, you control how much you invest, and you can change your settings at any time. Users can set up automated deposits or just have the app round up all or some of your purchases — it's up to you to decide on an investment amount.
Build Smart Portfolios
Although Acorns designs your portfolio for you, you do have options to customize your investments.
Choose from five different types of portfolios:
Conservative
Moderately conservative
Moderate
Moderately aggressive
Aggressive
You can also view how your portfolio would look under each of the strategy types; just drag the cursor to select the one you want to view. Additionally, you can see your portfolio's projected value over time by playing around with the displayed graph.
Expert Support
Acorns users have access to the company's Investor Success Team. One Google Play user wrote in his Acorns review that he loved the customer service and that rather than have him wait on hold, Acorns called him back quickly and provided the help he needed. Users can reach the team by phone, email and Twitter. More specific information about the Investor Success Team is available on acorns.com.
Is Acorns safe?
With the Acorns app, all data is protected with 256-bit encryption and never stored on your smart device. Additionally, every Acorns account is insured up to $500,000 through the Securities Investor Protection Corporation.
For further protection, a pin code is required each time you log in to the app on your device. You'll be prompted to create your pin on your first login after setup is complete.
The Pros and Cons of the Acorns Mobile App
The Acorns app might be especially useful for tech-savvy millennials, as investing is done entirely from a smartphone. Acorns also takes out a lot of the guesswork for beginner investors. For example, you don't need to pick your investments because a team of financial experts does that for you, based on the questions you answered during your account setup.
As with most apps, there are advantages and disadvantages to consider before committing to downloading Acorns. Here are some of the pros and cons of the Acorns app.
The Pros: Easy Investing for Beginners and More
Acorns can be beneficial to those who are new to investing or who don't have a lot of extra cash to invest. Other advantages include:
Low cost: No minimum deposit is required and the service costs just $1 per month for account balances less than $5,000. College students and users younger than 24 can use the app for free.
No fees: Accounts with a zero balance pay no fees. No commission fees are applied to accounts with a balance under $5,000.
Easy saving method: You might not even realize the small deductions taken from your account because they are small round-ups of your virtual spare change.
The Cons: Some Risk and No Retirement Options
On the other hand, Acorns does lack some features such as retirement investment options. Other disadvantages include:
Fees that increase with balance: Commission increases for accounts over $5,000; Acorns charges a fee of 0.25 percent on your entire account balance.
No retirement options: Acorns doesn't offer retirement accounts such as a traditional or Roth IRA.
Risk: As with any investment, users run the risk of losing money.
Read: 10 Stocks for Beginners to Try in 2016
An Alternative to Acorns Mobile App
Although Acorns could be the ideal app for those who need an extra push to start investing, other investment tools might be better for you, depending on your specific needs.
One alternative investment app to consider is Betterment – Automated Investing. The Betterment app has earned four out of five stars in the iTunes App Store and 4.4 out of five stars in Google Play, where it's been downloaded 100,000 – 500,000 times. Users praise the company's "awesome service" in Betterment reviews.
Like Acorns, the Betterment app is available for iPhones and Android devices and is free to download. Betterment offers the same level of bank security as Acorns and insures funds up to $500,000. The app features SmartDeposit, a tool that automatically invests excess cash — similar to the Acorns service.
The Betterment app does operate a little differently than Acorns, though: One of Betterment's most notable features is that it offers retirement accounts, including a traditional and a Roth IRA. You can also link Betterment to your outside investment accounts.
Betterment also uses a unique fee structure:
Account balances of $10,000 or less pay 0.35 percent annually with a minimum $100 monthly auto-deposit or $3 per month with no auto-deposit.
Accounts with balances in the range of $10,000 to $100,000 pay 0.25 percent and no auto deposit is required.
For accounts with balances over $100,000, a fee of 0.15 percent is assessed and no auto deposit required.
Acorns Makes Investing Easy — With Limited Investment Options
Acorns' above-average ratings suggests that users are generally pleased with the app's performance and services. The app's biggest advantages seem to be that it makes investing so easy and so accessible for those with little money to invest. Being able to easily view and make changes to your portfolio are also helpful features.
Still, Acorns might not be enough for some investors. If you're looking for retirement investment options, for example, you will find the app lacking.
Editorial Note: This content is not provided or commissioned by the bank advertiser. Opinions expressed here are author's alone, not those of the bank advertiser, and have not been reviewed, approved or otherwise endorsed by the bank advertiser. This site may be compensated through the bank advertiser Affiliate Program.