Bear Market 2022: Where Should I Invest My Money?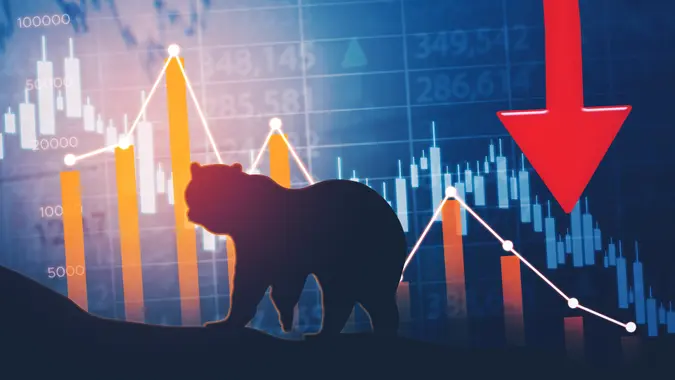 CreativaImages / Getty Images/iStockphoto
A bear market sounds like a terrible time to be investing. After all, bear markets are typically defined by drops of more than 20%, rallies being met by intense selling and extremely negative market sentiment. But, as the Wall Street axiom goes — bear markets are where millionaires make their money.
Student Loan Forgiveness: Mark These 4 Dates on Your Calendar Now
Important: 5 Things You Must Do When Your Savings Reach $50,000
Historically speaking, markets have recovered from every single bear market and gone on to make new all-time highs. While past performance doesn't guarantee future results, it's generally a better time to buy any investment when it is down than when it is at record highs, so the bear market of 2022 could prove to be a great opportunity.
The question is, where exactly should you invest your money? While you should always consult your financial advisor to help you find investments that match your objectives and risk tolerance, here's a list of options that might help you navigate the bear of 2022. 
Defensive Stocks
Defensive stocks are typically found in industries that have mature, consistent revenue streams, like pharmaceuticals, food and beverage, and consumer staples. Regardless of the economic environment, Americans will still be buying food and daily necessities, so those types of stocks tend to hold up well during times of economic uncertainty.
As an added kicker, most of these types of stocks also pay a healthy dividend, and that reliable cash flow can also help prop up a company's price when others are selling off. The tradeoff is that if and when a recovery occurs, more speculative, growth-oriented stocks tend to take off and outperform defensive stocks on a relative basis.
However, if the economy truly tips into a recession and/or the bear market lasts longer than some anticipate, defensive stocks can be a great place to hide out until the dust settles. 
Tech Stocks
Big tech stocks like Apple and Microsoft are market leaders. Generally speaking, when the market turns around, these are the types of names that help lead the market higher. In fact, some analysts even go so far as to say "as Apple goes, so goes the market."
So, if you're betting on a market recovery — and historically speaking, that has been a good bet — picking up shares of these types of market leaders is typically a good option. The tech-heavy NASDAQ market index, which includes stocks like Apple and Microsoft, is already showing signs of a turnaround. While the NASDAQ Composite Index is still down about 30% year-to-date as of Oct. 28, 2022, it has bounced about 6.5% from its October low.
For Wall Street bulls, this is an encouraging sign that the tech-heavy NASDAQ may be leading the markets out of their bear phase.
Take Our Poll: Are You Struggling To Keep Up With Your Utility Bills?
Index Funds
As bad as the market as a whole may look when it trades down 20% or more, individual stocks often fare much worse. When the broad market averages like the Dow Jones Industrial Average or the S&P 500 are down by double digits, it by definition means that some individual companies are getting absolutely whalloped, with some typically down by 50% or more.
As tempting as it may be to scoop up some of these names in the hopes of seeing them return to their old highs, the reality is that many of them will never recover. While the market as a whole has always recovered from past bear markets and gone on to make new highs, this is far from true for every stock that comprises an index. This makes individual stock picking during a bear market a dangerous game.
While speculators may occasionally hit it big, trying to catch these falling knives is not a sound strategy for long-term investors. For many, the best bet in a bear market is to simply own a broad market index like the S&P 500. While you won't likely double your money overnight, you'll be trading the potential for large, rapid gains with a greater likelihood of recovery.
Stocks on Sale
While buying a stock market index might be the "safest" route in the 2022 bear market for long-term investors, hand-picking a select few names can potentially boost your returns going forward.
You shouldn't devote your entire portfolio to individual names that are down 50% or more, but if you and your financial advisor do some research, you may be able to find some long-term winners in the carnage. As of Aug. 19, 2022, there are actually plenty of well-known companies that are down significantly from their all-time highs, and at least some of them are likely to reverse and ultimately recover.
Stocks like Netflix, PayPal, Etsy and DocuSign, for example, fell as much as 79% from their peaks, but some have already begun to bounce back. Whether or not these names and others will fully recover is a question you'll have to answer for yourself, in consultation with a financial advisor, but they are all trading at dramatically lower levels.
More From GOBankingRates