10 Best Investments in 2021: See Your Options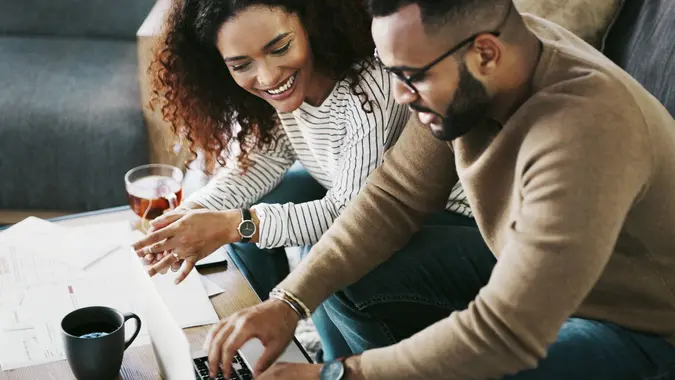 Delmaine Donson / Getty Images
No single investment is the right one for every investor. This is because investors have different styles, objectives and abilities to withstand risk. Fortunately, the investment landscape is rich enough to provide multiple options for every type of investor.
Although the coronavirus pandemic has brought economic hardship to many Americans, many others have benefited from a flood of stimulus money dispersed by the U.S. government.
Between direct stimulus payments, enhanced unemployment benefits and other distributions, not to mention tax refunds, many Americans actually have investible funds sitting in their bank accounts.
If you're looking for a place to invest your idle cash, here's a look at 10 investments that may do well in 2021. Some are lower-risk and lower-return, while others offer potentially high returns in exchange for an added element of risk.
10 Best Investments in 2021
Whichever side of the investment spectrum you find yourself on, there are likely at least a few investments on this list that might be a good choice for you. As always, consult with a financial advisor before committing any of your capital to new investments to make sure they are appropriate choices given your personal financial situation.
1. Large-Cap Domestic Stocks
There's an old expression on Wall Street that says investors should never "fight the tape." What that means is, if something is working, even if it seems irrational or wrong, you shouldn't stand in its way.
Many investors have disbelieved the stock market rally that began right in the depths of the coronavirus pandemic in early 2020, but those who sat on the sidelines have missed out on huge gains. Driven by large-cap domestic stocks, the S&P 500 index surged to a 16.26% gain in 2020, and it's already up an additional 10% year-to-date in 2021.
Although corrections are possible at any time, rising earnings on the back of a post COVID-19 recovery could continue to propel gains in large-cap domestic stocks, both over the near term and for the next few decades.
Risk: Moderate
Reward: Moderate/High
2. Real Estate
If you've ever thought about investing in real estate, 2021 might be a good year to make a move. Yes, most real estate markets across the country have already had big moves, but the fundamental forces driving these gains are still in place.
Although mortgage interest rates have risen from their record lows in 2020, they remain quite favorable on a historic basis. This may not be the case forever, as the return to normalcy everyone is hoping for after the vaccines are distributed will likely continue to push interest rates higher.
Demand for housing is likely to remain high, as billions of dollars in stimulus money has flown into the economy and has been chasing record-low housing inventory levels. Plus, real estate is a great way to invest without putting money into the stock market.
You might not be able to score the bargains you could a few months ago, but if you're looking to get into a hot market at mortgage rates you might not see again for a while, 2021 could be the time.
Risk: Moderate
Reward: Moderate
3. High-Yield Savings Account
A high-yield savings account might not seem like "the best investment of 2021" to many, but that depends on what you're after as an investor. A high-yield savings account typically pays much more than the current 0.04% rate offered by the average national savings account.
In some cases, a high-yield savings account can pay 12x as much or more. But a high-yield savings account carries additional benefits as well. In addition to being insured to up to $250,000 by the Federal Deposit Insurance Corporation, a high-yield savings account will usually increase its payout if market interest rates rise.
Interest rates have already begun to rise, and the fear is that they may spike up if the post COVID-19 economic boom that some forecast actually occurs.
If you're fearing inflation, an overheated stock market or just want to protect your capital, a high-yield savings account could be the perfect investment for you in 2021.
Risk: Low
Reward: Low
4. U.S. Treasuries
U.S. Treasuries are another safe investment if you're looking to protect your principal. These securities are backed by the full faith and credit of the U.S. government, making them the gold standard when it comes to safety.
Although the value of your investment may fluctuate before maturity, if you hold on to your U.S Treasury investments, the U.S. government itself backs payment. In exchange for this security, you won't earn much in terms of yield unless interest rates start to move dramatically higher. But most Treasury investors are after security, and there's no better place to look for that than a U.S. Treasury.
One final note — Treasury securities are also free from local and state taxes. While this won't matter for some investors, those in high-tax states, such as California and New York, may find these investments particularly appealing.
Risk: Low
Return: Low
5. TIPS
TIPS, or Treasury Inflation Protected Securities, are a way to get the safety of government-backed security with protection from rising inflation. Essentially, a TIPS is a government bond that pays interest twice per year.
However, the kicker is that if inflation rises, so too does the principal value of your bond. Importantly, the interest rate you earn on TIPS is tied to the principal value of the bond, so if rising inflation increases the principal value of your bond, it will also increase the interest payment that you earn.
If you subscribe to the theory that inflation will rise once the economy processes the trillions of dollars in stimulus money that has flooded it, then a TIPS may be the way to go for you in 2021.
Risk: Low
Reward: Low
6. Raise-Your-Rate CDs
A Raise-Your Rate Certificate of Deposit combines the safety of an insured investment with the potential to increase your income. This can make it an ideal investment for those looking to protect their principal but who are concerned about the risk of missing out on higher rates.
If rates rise after you buy a traditional CD, you're stuck with the rate you originally received. A Raise-Your-Rate CD typically allows users to bump up their rate to the then-current rate at least once during the term of the CD.
As rates may be rising in response to a post COVID-19 recovery, it's worth the time to find a Raise-Your-Rate CD so you're not locked into a lower-yielding instrument for a long period of time.
Risk: Low
Reward: Low
7. Emerging Market ETFs
Emerging market stocks can be volatile because they are particularly susceptible to external forces such as rising interest rates and falling global growth rates. They are also more vulnerable to internal political and military upheaval than more established economies.
However, great risk often rises great reward. Emerging market economies were hit particularly hard by the coronavirus pandemic, but this also makes them positioned for explosive growth if and when their economies stabilize. India, for example, is forecast to have the fastest-growing economy of 2021 at 12.6%, according to the OECD.
Since picking and choosing rebounding economies in the emerging world can be a tough job even for a professional, most investors are better off selecting a solid-performing emerging market ETF.
The Power of Diversification

Something to note when you're learning about all of the potentially great investment options for 2021: If you're building an investment portfolio, diversification is still the key to maximizing your return while reducing your risk.

Let's say, for example, you're convinced that investing in small-cap domestic stocks is the best way for you to go, based on your investment objectives and risk tolerance. Adding some less volatile components to your portfolio may reduce the volatility of your investments without damping your total return.
8. Small-Cap Domestic Stocks
Small-cap domestic stocks are a good place to be if you're a believer in a recovering American economy. Unlike their large-cap brethren, most small-cap domestic stocks don't have much if any international exposure. They are also more economically sensitive than the more defensive large-cap sector. This makes them a pure play on domestic growth.
If a post COVID-19 boom plays out, America could be the prime beneficiary, as it has been the most successful at deploying vaccines and could therefore be the first to reap the rewards of an economic recovery. Just be sure to do your stock research to weed out any companies that won't participate in the recovery.
9. Your High-Interest Debt
Paying off your high-interest debt may not feel like an "investment," but it may be the best return you earn in all of 2021. According to the St. Louis Fed, the average credit card interest rate is 14.75%, and many cards charge rates of 20% or more.
If you have an average credit card and you use your idle cash to pay off your balance, you've effectively earned 14.75% interest on that money, as you won't be paying that interest. This is an exceptional rate of return on your money for what amounts to a zero-risk investment. In that sense, paying off your high-interest debt may very well be the best investment on this entire list for you to make.
10. Cryptocurrency
If you're a fan of the Wild West, cryptocurrency may be your investment of choice. This digital, encrypted form of currency is the ultimate tug-of-war investment, with naysayers saying cryptocurrencies like Bitcoin are completely artificial and worth $0, and others saying they will be the payment source of the future.
Needless to say, with these types of extremes as possible end games, cryptocurrencies are notoriously volatile. However, there's an argument to be made that cryptocurrencies like Bitcoin are reaching the tipping point, with more and more mainstream institutions recommending an allocation to the asset class.
If you're considering investing here, talk it over extensively with your financial advisor, and don't invest more than you can afford to lose in this ultimate "win big/lose big" asset class.
Our in-house research team and on-site financial experts work together to create content that's accurate, impartial, and up to date. We fact-check every single statistic, quote and fact using trusted primary resources to make sure the information we provide is correct. You can learn more about GOBankingRates' processes and standards in our editorial policy.